As a journalist, I live within the daily cycle of politics and I show how it inextricably shapes history. For lesbians, this goes well beyond that famous George Santayana quote: "Those who cannot remember the past are condemned to repeat it."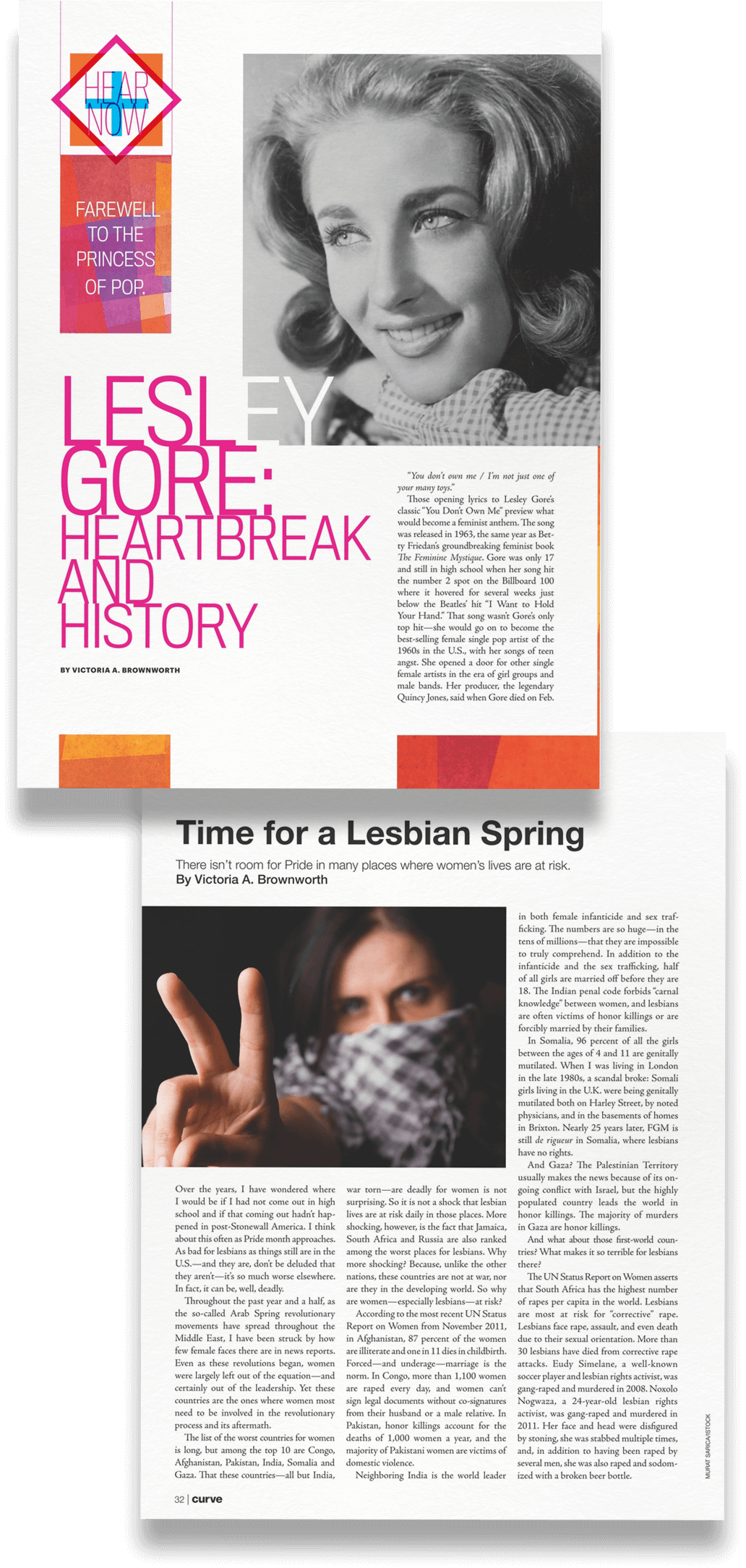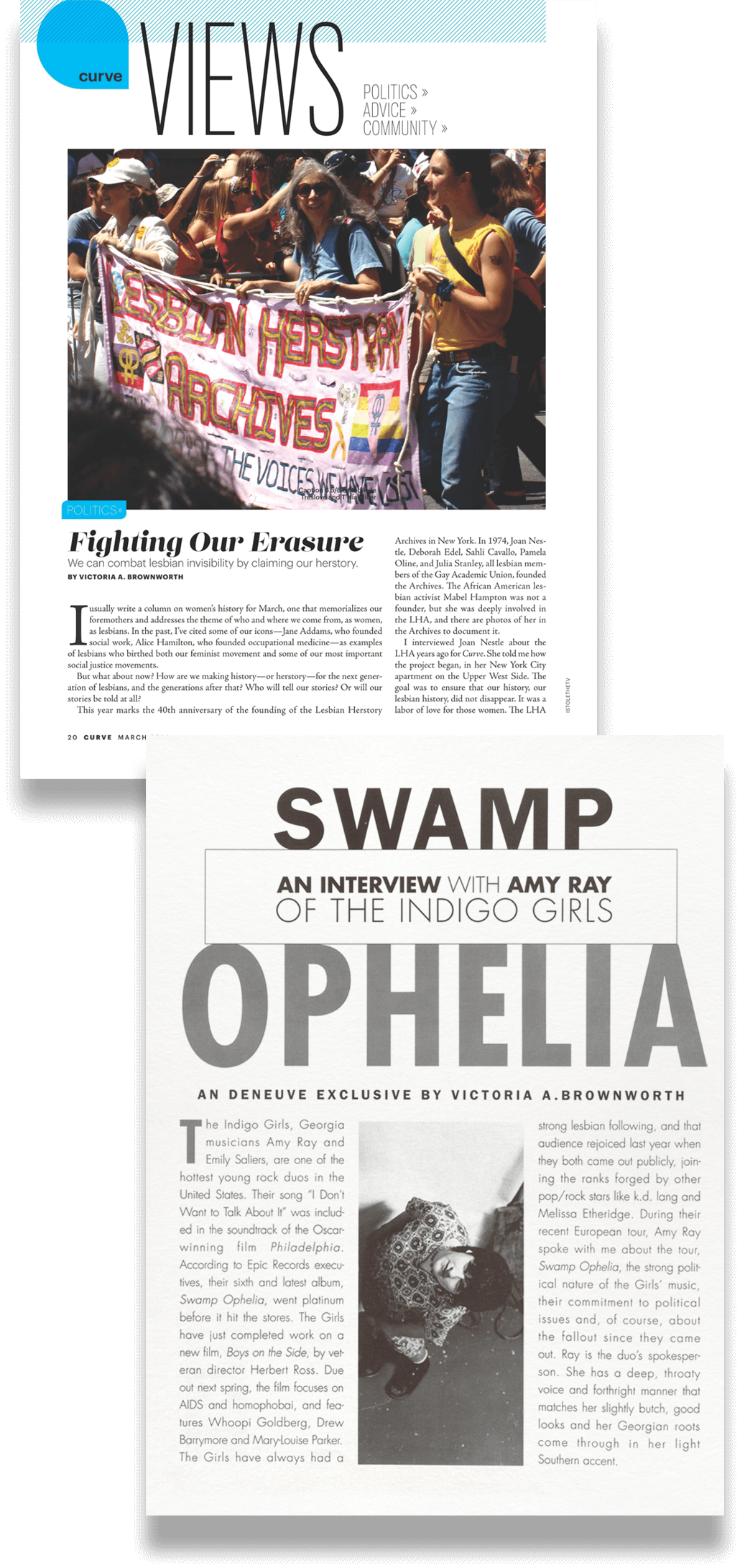 How does our history—herstory—mesh with our political reality? When we look at LGBTQ history, what is it we celebrate—if at all? Are we represented or erased? Is it getting better or worse in 2022 America? And how is it different for Black, brown, Indigenous, Asian, disabled, poor or gender nonconforming queer womxn.
In the nearly 30 years I have been writing about lesbian history and queer politics for Curve, I have focused on uncovering and reclaiming queer women whose lives or lesbianism were purposefully hidden from history. I have worked hard at dismantling the master's version of our history, to borrow from Audre Lorde's famous quote.
Much of reclamation is refutation: writing about ourselves rather than being written about, seeing through our own lens rather than the lens of the oppressor. Our lesbian and queer history is a palimpsest, a draft of our lives as we wish to live them and have them recorded. And for 30 years, Curve has provided the pages and the space for that record.
Even as we have done that reclamation work, what was true to me and many others in 1990 when Curve was founded—especially about queer politics—has shifted dramatically. I voted for Bill Clinton for president because I was a radical AIDS activist who had been arrested in protests and Clinton presented a dramatic shift in consciousness in the White House after 12 long silence = death years of Reagan/Bush. Clinton put wife Hillary in charge of wooing Congress into Universal Health Care and he had gay friends as well as gay and lesbian advisors in the White House. Yet it didn't get us closer to equity but further away from it, as the backlash from the right was swift and harsh. Clinton soon learned that making changes to benefit LGBTQ Americans was considered too radical. Don't Ask, Don't Tell was a compromise, allowing lesbians and gay men to serve in the military, but covertly.
And 1992's truth is not 2022's truth, even as so many elements of the anti-LGBTQ fervor that quelled Clinton's youthful efforts to change gay and lesbian history remain in play. I've reported a few dozen stories in 2022 about our current precarious placement in U.S. politics: We are at risk. There are a record number of anti-LGBTQ bills in state legislatures. These include "Don't Say Gay" bills, parental control laws, and laws restricting trans kids from gender-affirming care and trans girls from participation in girls' sports.
As I write this, midterms are a scant few weeks away. From the local school board, to the U.S. Senate, to governor's races, our LGBTQ identities are being misrepresented and put in danger. There are two lesbians running for governor: Maura Healy in Massachusetts and Tina Kotek in Oregon—traditionally blue states. But opponents attack these qualified women for their lesbian identities in a race that would undoubtedly have been standard content for a Curve politics feature.
I came to Curve in 1993 as a well-known out lesbian writer in the mainstream press, writing for such "straight" publications as The Village Voice, Ms., The Nation, Baltimore Sun, New York Newsday and The Philadelphia Inquirer; and for "gay" publications such as The Advocate, OUT, PGN, Windy City Times, the Bay Area Reporter and OutWeek.
Curve became my primary queer journalistic home for nearly three decades, writing politics, features and doing groundbreaking investigative series. My Curve debut was a hugely hyped and very successful cover story featuring Linda Villarosa, then the first out lesbian editor of ESSENCE magazine. Years later I told Curve editor-in-chief Merryn Johns (2010-2020) about that entré: "I had been writing for the gay, feminist and mainstream press since college, but writing for a magazine devoted solely to lesbian content was definitely a new and different thrill for me. And having a cover story on a Black lesbian was particularly powerful."
A few months ago I interviewed Villarosa again about her new book, Under the Skin: The Hidden Toll of Racism on American Lives and on the Health of Our Nation, only to be reminded of how little has changed over nearly 30 years in these clearly demarcated margins within which lesbians, queer people and people of color remain ghettoized. Recently, an editor referred to me as an "LGBTQ elder." It was said with respect for what I've accomplished as a journalist, writer, historian and activist, but the term "elder" stuck with me.  When did I become an "elder" and how should I unpack that term?
More critically for me as a lesbian/queer was how best should I utilize that elder status and my platform as a journalist to help other queer women in ways that lesbian elders in my teens and 20s had helped me? The term "elder" suggests wisdom and experiential knowledge and with that, the responsibility to pass it on to successive generations. I had been blessed to be mentored by some incredible lesbians, most notably Audre Lorde, who I met in my 20s and who directed my path on two continents until her too-early death at 58.  But would I have survived a tumultuous and tortured adolescence that included an involuntary commitment to a psychiatric hospital for conversion therapy at 16 without the butch lesbians who protected me in the gay bars I hung out in and gave me entré into the lesbian world?
Lesbian health is a crisis I reported on from the front lines for Curve  and over decades it seemed as though I was the only journalist focusing on the issue. It was also personal for me. I have survived breast cancer twice and in 2022, my wife of 23 years is battling a rare and aggressive cancer.
Revisiting the history of Curve and the politics I've covered over three pivotal decades is also revisiting my own history. The issues that compel me still remain, like male violence against women, which I have written about more than any other topic in hundreds of articles for Curve in print and digital. I reported on the honor killings of Black lesbian couple Britney Cosby and Crystal Jackson in 2014, memorialized Kitty Genovese in 2015, and wrote about the killings of lesbians Sakia Gunn, Lisa and Anna Trubnikova and Elizabeth "Lizzi" Marriott.
When I discovered Mary Kristene Chapa, who survived a brutal 2012 attack in which she, 18, and her lover, Mollie Olgin, 19, were stalked, raped, shot in the head and left for dead (Olgin did not survive, Chapa was partially paralyzed), I wrote about the women's story and Chapa's plight. Curve was able to raise more than $40,000 to help Chapa with mobility devices.
While I no longer write about terrorism as I did for Curve in the years of endless bombings, gun violence has impacted lesbians. And my reporting on the Pulse nightclub shooting in 2016 for Curve still haunts me.
And I explained about the 2016 election, that the vote came down to the twin systemic scourges on American society: racism and misogyny. Post-election I wrote how the silencing of Hillary Clinton marked a turn toward more overt misogyny from right and left, and how the quest for a woman president remained elusive, despite women being in the majority.
In 2022, with the State legislating against women and LGBTQ people, queer women are challenged to fight back at every level. We must, as the women of Iran are doing as I write this, threaten the cis, het, white supremacist, systemically misogynist power base with our protests and our votes, our voices and our actions. We cannot presume that it will be done for us by politicians whose first allegiance is never to us. We must, as lesbian revolutionary Angela Davis said repeatedly, no longer accept the things we cannot change, but change the things we cannot accept.
In these 30 years that I have written for Curve and now the Curve Foundation, my voice has been for those not who are voiceless, but for those whose voices have been suppressed. Were I still writing a monthly column for Curve, I would be writing about what we need, what we are doing to access essentials, and how we can empower each other to find common, intersectional ground that is inclusive of all LBTQ women and their cis-het allies.
Having reported on all these shifts in the real politik but very little movement in power dynamics, I am left to question what we lesbian/queer elders bring to the table that still does not exist for us. Davis said, "You have to act as if it were possible to radically transform the world. And you have to do it all the time."
It is not too simplistic to say that I believe that I honor that truth, that I strive for that, that all the work I did for Curve, from the interviews, to the investigative pieces, to the stories about women whose lives and deaths we'd never have known about otherwise was in service to that goal.
Davis also said, "Our histories never unfold in isolation. We cannot truly tell what we consider to be our own histories without knowing the other stories. And often we discover that those other stories are actually our own stories." In this way, Curve has helped marginalized queer women feel more represented and less isolated.
My advice as lesbian/queer elder and Curve politics editor is: tell your stories, tell our stories, never ever let someone else take your voice and tell that story in their words and their revision. There is not yet a place for us at the table of power. But as Lorde said time and again, "our speaking out will permit other women to speak, until laws are changed and lives are saved and the world is altered forever."
Let us alter the world that has tried so hard to silence us and even kill us. Let us alter that world forever. Curve is, as a magazine and as a Foundation, a way to break silence and save lives. Over the years, countless women have told me how much my work has influenced them, supported, and even saved them. When we tell our stories, when we reveal our truths, we open doors and hold them open for others to walk through. Curve is that door—it was 30 years ago and still is today.