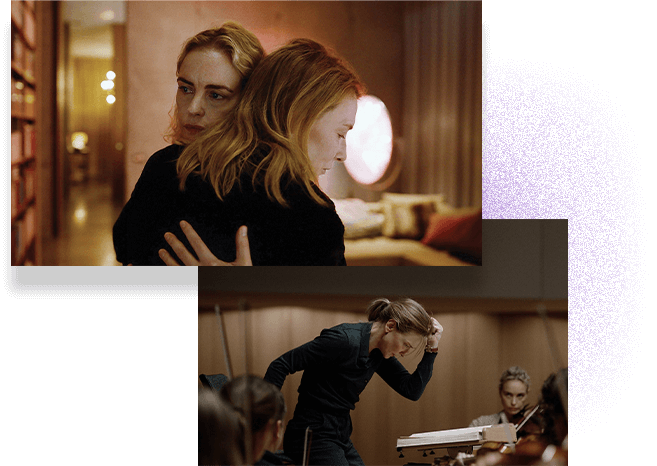 Editor's note:
Films and series that pass The Curve Test help broaden and deepen representation beyond the stories that reduce LGBTQ+ women, trans, and non-binary people to stereotypes. Films and series that don't pass are not to be condemned. Rather, the test is intended as a tool for conversation, a barometer to help us see which films and series are pushing the movement forward and where we need to put more attention.
This year marks the first time in history two films featuring queer women's stories have been nominated for Academy Awards in major categories. The Curve Test was created to spark discussion. This article represents one viewpoint in that discussion.
---
Opinion:
Don't cancel me, but… I thought Tár was horrible. I had to pause the movie multiple times to scream into a pillow. Yes, Cate Blanchett's performance of Lydia Tár, a brilliant musician and Weinstein-esque predator who falls from grace, is flawless. The aesthetics are *chef's kiss,* and the writing is solid.
What fills me with rage is that I don't see myself at all in a film heralded for groundbreaking queer representation.
A pass but also a challenge
To pass The Curve Test, a film, TV show or series must feature LGBTQ+ women and non-binary characters whose stories are (1) focused on more than coming out, and (2) aren't reduced to stereotypes. Media projects also receive a gold star if the film features LGBTQ+ women and non-binary people in front of and behind the camera.
Stereotypically, the LGBTQ hero's journey begins with the agony of hiding their identity. Many obstacles stand in the way of expressing their true selves, until a big reveal — sometimes nonconsensual — forces them into resilience outside of the proverbial closet. The Curve Test begs filmmakers to break that stereotype.
In Tár, this is inverted: thanks to her fame, wealth, white privilege, and notoriety, Lydia is free to be as problematic as she wants to be. The film is about more than coming out, but it still deals in stereotypes: Lydia exists in a world where policies will actually protect her if she experiences discrimination because of her identity.
In some ways Tár passes The Curve Test, but its cast and crew are not out LGBTQ+. Nevertheless, its problematic themes challenge filmmakers to write more compelling stories about LGBTQ+ women and non-binary folx. The film was written and directed by a man, portrayed by a straight actress, and although it is compelling, it takes place in the affluent white world of classical music. As a non-binary person of color who grew up with financial instability, this world is completely alien to me.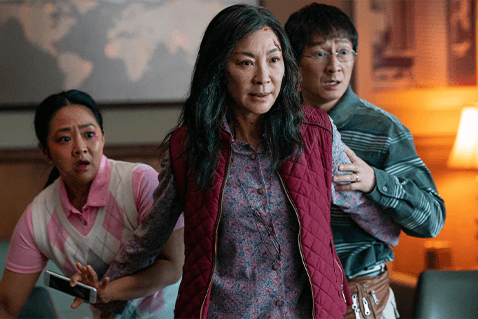 Coming out in a multiverse
In contrast, another 2022 heavyweight Everything Everywhere All At Once is set in an economically disadvantaged world where stereotypes don't allow its queer anti-hero Joy Wang (played by queer actress Stephanie Hsu) the same safety as Lydia Tár.
In the opening scenes, Joy must help her mother Evelyn and her father Waymond by playing translator at an important meeting at the IRS. In exchange, Joy wants to bring her girlfriend Becky to meet her grandfather Gong-Gong. Evelyn ignores her request and lies to Gong-Gong about Joy's queerness, even telling Joy that she is "very lucky your mom is open to you dating a girl."
Understandably pissed, Joy decides not to go to the IRS with her family. Evelyn, Waymond and Gong-Gong now have to face an IRS auditor without their translator, showing the audience exactly how difficult it is to navigate systemic racism. To help her face her fears, Waymond teaches Evelyn how to harness the best skills from her alternate selves in the multiverse.
With the IRS breathing down her neck, Evelyn does not have the time, energy, nor language to understand why Joy needs to come out of the closet — yet she is willing to search every corner of the multiverse to understand what Joy is going through. While Evelyn lacks the resources to support her daughter in this capitalist reality, she is clearly willing to do so. In the end, Joy's coming out journey increases each family member's ability to love and care for one another.
Laying the foundation for future comings out
This brilliant film, however, for me does not pass The Curve Test. The film deals in stereotypes, and covers coming out: Joy and Evelyn's relationship is a stereotypical one where a dismissive Asian mom fails to accept her queer daughter. Joy's story arc touches on mental health, but is ultimately rooted in her ongoing coming out story.
Everything Everywhere All At Once broke me wide open. I saw the film four times in theaters and cried every single time. It's one of the few films that gives Asian-American immigrant families like mine a blueprint of how to make coming out easier for family members in the first place. It uses recognizable stereotypes, and coming out, to lay the foundation for future immigrant storytellers to write films and TV shows that will pass The Curve Test in the future.
About the author
Leo Aquino (they/them) is a non-binary Filipinx journalist and poet living on Tongva Land (aka Los Angeles). They are the founder of Queer & Trans Wealth, a resource hub for anti-capitalist personal finance. They are committed to uplifting stories of BIPOC, queer, and trans people through storytelling. Follow them on Instagram @queerandtranswealth.