Kam Kardashian
Just when you thought you'd seen every last Kardashian grace the cover of your gossip rags, a web series featuring their so-called long lost queer sister emerges.
On any given day, the Kardashians seem to rear their entrepreneurial empire into the spotlight time and time again. Be it Kim's 72-day marriage blunder to Kris Humphries—a field day for social media outlets everywhere, the Kanye West romance rumor mill, sisterly squabbles, book deals, diet commercials, clothing lines, the authenticity of Kim's "assets", or the numerous reality shows and subsequent spin-offs: Keeping Up With the Kardashians, Kourtney and Khloe Take Miami, Kourtney and Kim Take New York, Khloe & Lamar, and Kourtney and Kim Take Miami.
But there's one Kardashian who hasn't taken any cities, and perhaps would love to snag one of Scott Disick's [Kourtney's husband] dapper three-piece suit vests.
Meet Kam Kardashian: the long lost sister, who's mysterious hard, outer shell makes her the ninth wonder of the world, and just so happens to be playing for our team.
Okay, the gig is up—Kam isn't really a Kardashian (but one thing's for sure: She is a lesbian.) Keeping Up With Kam is a web series created and edited by director Ryan Logan, shot by Amanda Clifford, and starring Fawzia Mirza who stars as Kam, one disowned sister with a short, jet black 'do that looks strikingly similar to Kris Jenner, matriarch of the Kardashian fam.
The pilot episode, appropriately titled "The Gay One," in which a bartender serves a very disgruntled Kam, would not have been complete without Mirza's ingenious method acting, who's friend convinced her to "do a gay Kardashian character." Over time, Mirza developed Kam so much—her back-story includes a hook-up session with Marcia Clark. Melrose Place scandal, anyone?
Director Logan says the pilot was a chance for the team to come up with any and all wild questions about the life of Kam—from what a date would look like and if she would pay to what kind of handy work Kam would be into (they went with motorcycle repair).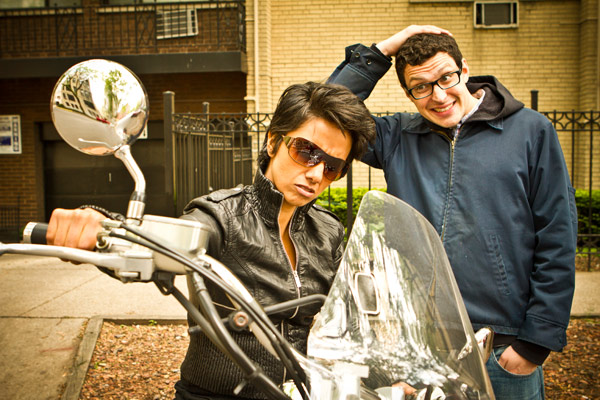 "One thing that was really important though, was not to do "mean-spirited" comedy," says Mirza, who ultimately respects the famous family for their savvy "force in popular culture." And considering the Kardashians frequently wind up as the butt of a joke (no pun intended) on late-night television, it was important to establish a character in Keeping Up With Kam that made sense to anyone watching it. "We wanted to make Kam feel grounded and more like a real person versus a caricature," Mirza explains. The takeaway clearly goes way beyond a spoof of the fame-effect. Kam represents anyone with a sibling rivalry who's struggling to find her place, off the grid, away from a set of standards placed on her to be a certain way—far off from who she is.
A web series like this, that continually finds itself in uncharted territory with its ever-developing plot, is a reminder of our times—the Kardashian family tree should be incomplete without a distant gay relative. It's, perhaps, the one zinger they can't add to their long list of tabloid-worthy accolades. "We can't keep up!" Logan teases. "They're so unbelievably overexposed. There is always something new in the Kardashian world when we sit down to write something. If someone is not pregnant or getting a divorce, there's always a miscalculated outfit or nip slip." Needless to say, there are countless laughs on the set, when the cast and crew gets together to mull over the many possibilities in the script.
With over 100 reported LGBT-centric characters currently slated for television networks across the mainstream tube this coming year, Mirza and Logan collectively add something flavorful and relevant to the evolution of gay characters simply being themselves and doing regular things—instead of ending up in a two-episode guest spot where their storyline is underdeveloped or merely recognized something risqué and out of the ordinary. "Kam is living without a family, something a lot of people—gay, straight, bent—can relate to. She lives in extreme ways sometimes, and that is both beautiful, and sometimes sad, too," Mirza says of Kam's M.O. "She's under a crushing amount of self-imposed pressure," adds Logan, who says Kam verges on being a slight outcast with a deep current of motivation to continuously mold herself into "someone she can be proud of."
Logan is no stranger to LGBT filmmaking. His first short film, A Single Mother, a tale about a transvestite on a journey to recreate the nuclear family—which received recognition on the Iris Prize short list in 2010, the world's biggest prize for queer content produced by short filmmakers, was a testament to the message of awareness Logan aims to shed from his films. The recently acclaimed queer film Pariah was the first to win the Iris Prize back in 2007. And Logan recently co-wrote and co-directed The Queen of My Dreams, a documentary-styled piece, once again working alongside Mirza, which premiered in March at FUSION. In fact, much of Logan's work has been featured across the gay film festival circuit including OutFest, Frameline and Newfest.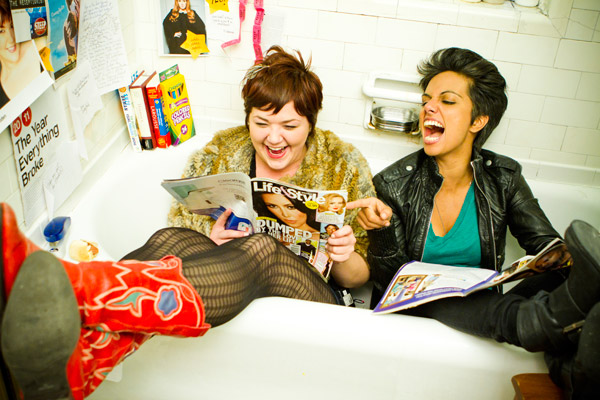 Logan is one of the many who sees a change occurring in the way queer films are recognized on a mainstream level like never before. "It's almost as if the mainstream media is waking up and realizing that people are non-white, gay and starving for their attention. There is such a large spectrum of people living in this country that have gone unnoticed in flavor of more "vanilla" characters and storylines, and now it's exploding all over television."
With their sights set on adding future episodes to their current three—including one shot in Chicago with Second City improviser Mark Rateman, the cast and crew is set to going back into production this winter. That's right—there's more to keep up with in the world of Kam Kardashian, but you won't see her on Page Six anytime soon—the only Birkin she's carrying is her girlfriend's.