This Scandinavian destination presents a winter wonderland to the adventurous lesbian travel.
If you think winter in North America is getting too cold for comfort, here's the perfect antidote: Go somewhere even colder! Scandinavians knows how to deal with, and celebrate, the frostier months, and Sweden—whether you're in the village of Jukkasjärvi, famous for the Ice Hotel, or in the cosmopolitan heart of Stockholm—promises a glorious, warm, gay-friendly welcome.
Things to Do
Culture junkies can go on a bender in Stockholm. There's no shortage of amazing, arty places to experience. For retail therapy and charming village atmosphere, wander the laneways of Gamla Stan or the Old Town, which dates back to the 13th century. For traditional and hearty Swedish fare such as herring, meatballs, cod or ox cheek, stop in at Gyldene Freden (gyldenefreden.se), a tavern established in 1722, favored by artists and writers for its cozy atmosphere.
For a big hit of Scandinavian history the Vasa Museum (vasamuseet.se), which showcases the stunning Swedish warship which sunk on its maiden voyage in 1628 and was raised 333 years later, is a must. For something more modern, feast your eyes on impeccable exhibitions by brilliant contemporary photographers at the superb Fotografiska photography gallery .
Appreciate the artistic genius of one of Sweden's beloved sculptors, Carl Milles, at his very own estate, Millesgården (millesgarden.se), the grounds of which are decorated with some intriguing female nudes and offer beautiful views of the city. Brush up on your Stieg Larsson by taking a Millennium tour through Stockholm—you might just learn the inspiration behind Lisbeth Salander. And for some Swedish nostalgia, visit Skansen (skansen.se), a rambling outdoor museum comprised of charming Nordic structures, a recreation of an old village with traditionally-dressed craftspeople, activities such as glassblowing, and market stalls where you can sample Swedish delights and shop for unique home wares you won't find at IKEA.
Where to Stay
In Stockholm, it is possible to stay in the heart of the city and on your own island. Former army barracks dating back to 1699 have been ingeniously transformed into an eco-conscious, waterfront lifestyle hotel called Hotel Skeppsholmen (hotelskeppsholmen.se).
The rooms are stylishly minimalist and comfortable—many with views of the river, and you're only ever a short taxi ride or reasonable walk from the city centre. This very gay-friendly establishment is both a member of the International Gay and Lesbian Travel Association and Design Hotels. It doesn't get much more Swedish than that.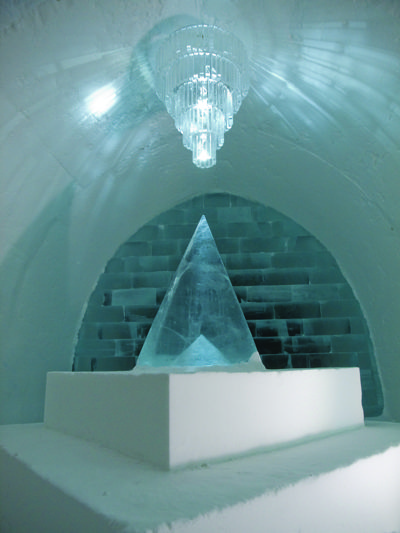 Extremely Cool
Head to the Arctic wilderness for the coolest experience of your life. Only a short flight from Stockholm, the Ice Hotel (icehotel.com) has a legendary status: It is the first and largest hotel made purely of ice and snow, right down to the chandeliers and "glassware" in the Ice Bar. It is also an annual art project with each suite distinctly designed by international artists. If you're fussy about thread count and things like central heating, it's possible the Ice Hotel may not be for you. But adventurous lesbians will be in for a night to remember is they stay here.
Cuddle up on reindeer pelts (OK, not really, they're just for effect) in one of the differently themed suites made out of solid ice from the nearby pristine River Torne.
Alternatively, if you don't fancy bedding down on blocks of ice, check into "warm" accommodation with a Nordic chalet theme. Activities associated with the Ice Hotel include dog sledding, snowmobiling, ice sculpting or staying at a wilderness camp where you just might sample some reindeer stew.
In the evenings, enjoy the Ice Hotel's impeccably served food and wine at modern Scandinavian style restaurant or the Old Homestead restaurant. We loved the carpaccio of elk plated on icewear! You might be in the wilderness, home to the region's only indigenous people (the Sami or Laplanders), but there are plenty of comforts to chase the chills away, from warm lingonberry juice to a sumptuous selection of wine.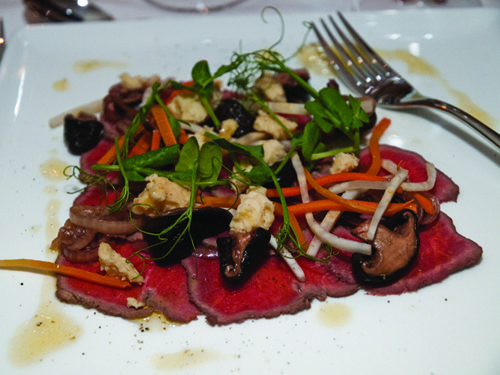 Where to Eat
The Swedes have the simple pleasures, like bread and butter, coffee and chocolate, down to a fine art. Xoko (xoko.se) is great for a simple and delicious breakfast platter featuring a selection of breads, meats and cheeses. Or choose something sweet for morning tea or an afternoon pick-me-up, their chocolates and desserts are drool worthy. A majority of restaurants in Stockholm are reliable, but for something refined and relaxed head to F12 Salongen (f12.se), the more casual cousin of the upscale F12. The food is beautiful and delicious, and the atmosphere warm and club-like. For a more vibey establishment, head to Torget (torgetbaren.com), a magnet for gays, lesbians and hipsters of all persuasions. The service is super-friendly and casual but still offers a good night out with simple and delicious dishes.
Meet the Girls
How lesbian-friendly is Stockholm? Off the charts is the simple answer. Generally speaking, Stockholm feels very gay, as though queer stylists have made the city over just for us. The architecture is beautifully preserved; the restaurants, bars and coffee shops equally gorgeous, many displaying that quintessential Swedish design sensibility and the nightlife is mixed and welcoming. Paradise  is a good gay bar where men and women mingle but Momma (restaurangmomma.se) restaurant and club offers Lezzie Fridays, while Roxy (roxysofo.se) is a popular lesbian dining and drinking destination located in SoFo, a bohemian part of Stockholm. To keep abreast of the several lesbian watering holes and semi-regular girls' nights, check QX magazine (qx.se).
How to Get There
Whether you fly business class or coach, Scandinavian airlines (flysas.com) offers friendly, professional service. (visitsweden.com and stockholmtown.com/gay-lesbian)