GLAAD President and CEO Sarah Kate Ellis & Pamela Stewart, Chair of GLAAD Board of Directors (r) 
On Saturday, GLAAD honored Ava DuVernay, Samira Wiley, and Ms. Gloria Carter at the 29th Annual GLAAD Media Awards in New York.
It was a perfect Spring Saturday night as members of the LGBTQIA and mainstream communities gathered together for the 29th Annual GLAAD Media Awards in what turned out to be a glittering and inspiring evening. Presented by Delta Air Lines, Gilead, Ketel One Family-Made Vodka, and Wells Fargo, the Awards were held at the Hilton Midtown by GLAAD, the world's largest LGBTQ media advocacy organization, helmed by the dedicated and charismatic President and CEO, Sarah Kate Ellis.
This year's awards honored two powerful women of color: director, producer and screenwriter Ava DuVernay, and actor Samira Wiley, as well as paying tribute to outstanding LGBTQ images in film and television from this past year. The objective of the GLAAD Media Awards is to recognize and honor media for fair, accurate, and inclusive representations of the LGBTQ community and the issues that affect our lives.
There were many highlights throughout the evening for lesbians and queer women. The event began with an unforgettable opening duet by Melissa Etheridge and Adam Lambert celebrating the 25th anniversary of Etheridge's landmark album Yes I Am—and a fantastic, toe-tapping rendition of her hit "I'm The Only One."
Fellow out musician Stephanie Rice was also there and when Curve caught up with Rice on the red carpet she shared the story of her struggle to become an out and proud musician in Texas. "I've been writing my own songs since the age of eight," Rice revealed. "After realizing that I was different than everyone else and that I was a lesbian, songwriting is what kept me alive. It was my survival and it gave me strength.
I channeled my pain into my voice. If I don't sing, that pain is going to stay with me forever. I have to get it out." Rice, who is from a very small and conservative town, said she grew up with no out role models or examples of LGBTQ diversity. "I didn't know what gay was. I didn't know what my life could look like," she said, emphasizing why organizations like GLAAD are so important.
Also on the red carpet, Pamela Stewart, Chair of GLAAD Board of Directors, shared some of her thoughts on the passion and thought leadership she aims to bring to the organization. Her main two goals while working for GLAAD for the past three years have been to "help bring federal protection rights to the community, and secondly, to ensure accurate portrayals of who the community is.
We feel, we love, we want the same things in life. And that narrative and normalization and understanding is what will change hearts and minds." Stewart is particularly sensitive to issues surrounding women of color and notes that we are at a turning point for recognizing their powerful contribution and paving the way for more. She cites women like Shonda Rimes, Janelle Monae, Oprah Winfrey and of course, Ava DuVernay as powerful examples of progress.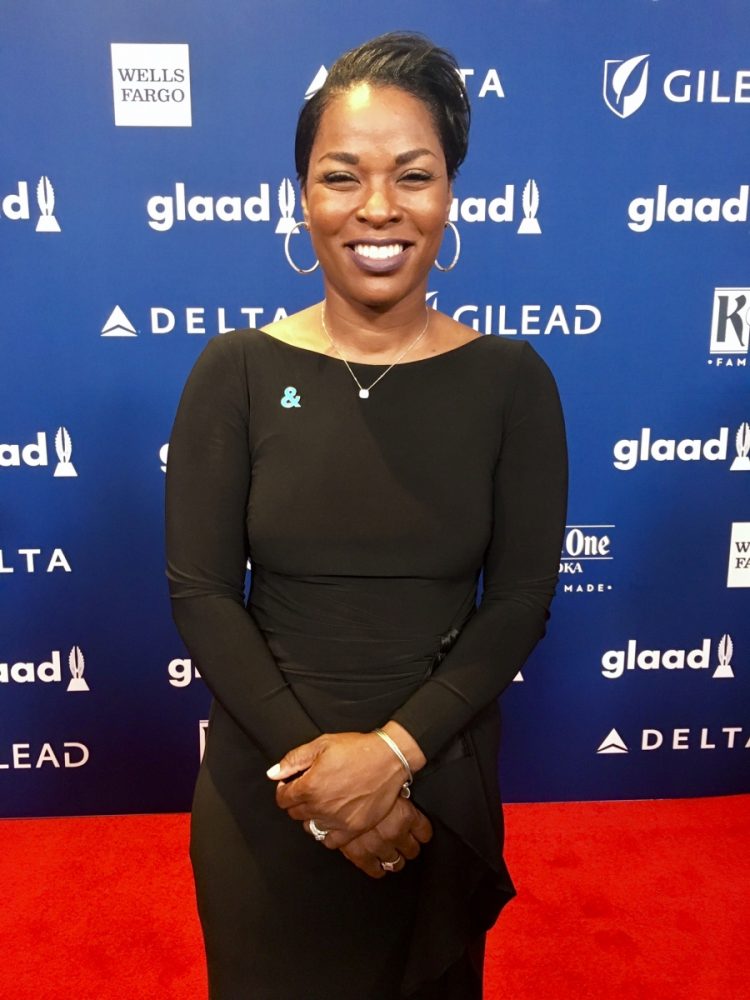 "If I had those images when I was growing up, just the power to be who I am, it would have been amazing," says Stewart. "These women give us the space to be who we are and the courage to dream bigger, and gives us the runway to act on those dreams. That's what I am excited about now that I wasn't before."
There were so many attendees and honorees that Stewart was thrilled to see at the Awards but the fangirl part of her confessed to being "proud of Ava. For me, as a Black, gay girl, just to see what she's been able to do from a young age is so inspiring." Stewart foresees a long future at GLAAD. "Until we see 100 percent acceptance of the LGBTQ community, and acceptance within our own community — we have work to do.
And the power of GLAAD is that we can go into the homes of people where legislation and policy can't reach the hearts and minds — in the rural areas and the sun belts; we can go in the South and the Midwest; we can go in different corners of the world where other people can't get to. And that's what I'm proud of."
Senator Cory Booker presented Ava DuVernay with the GLAAD Excellence in Media Award and Ava delivered an eloquent and inspiring speech highlighting intersectionality. "People ask me a lot about being an activist and an artist. To me they are one in the same. To be an activist, one must be highly creative.
It takes great imagination to envision a world and a way of being that is not there. That's the same definition of art, to me. When I look at the many warriors who have to apply this art, this imagination to their very lives as LGBTQ people, to just survive in this country, I stand in salute. And I feel honored to be able to share some of these stories in the films and TV I make and in the films I distribute."
Lauren Morelli and Samira Wiley spent a long time on the red carpet speaking with reporters and gazing lovingly at each other. On stage, Alexis Bledel presented her co-star from The Handmaid's Tale Samira Wiley with the Vito Russo Award, named for Vito Russo, a founder of GLAAD and celebrated ACT UP activist, who was also an author whose book The Celluloid Closet was the first to discuss the representation of LGBTQ people and stories in films.
In her deeply personal speech, Wiley recalled coming out 10 years ago to her parents while she was still a drama student. She sent a message of support to young LGBTQ people, saying: "You are loved. You have a community that is here for you. Is dedicated to protecting to you. And accepts you for exactly who you are, right in this moment."
Ms. Gloria Carter accepted a Special Recognition Award on behalf of her son, JAY-Z, for "Smile" from his album 4:44. The award was presented to her by out TV news anchor Robin Roberts. Carter revealed that coming out was made possible through love. "Love gave me the courage to take the power that I allowed other people to have over my life for fear of them revealing my secret."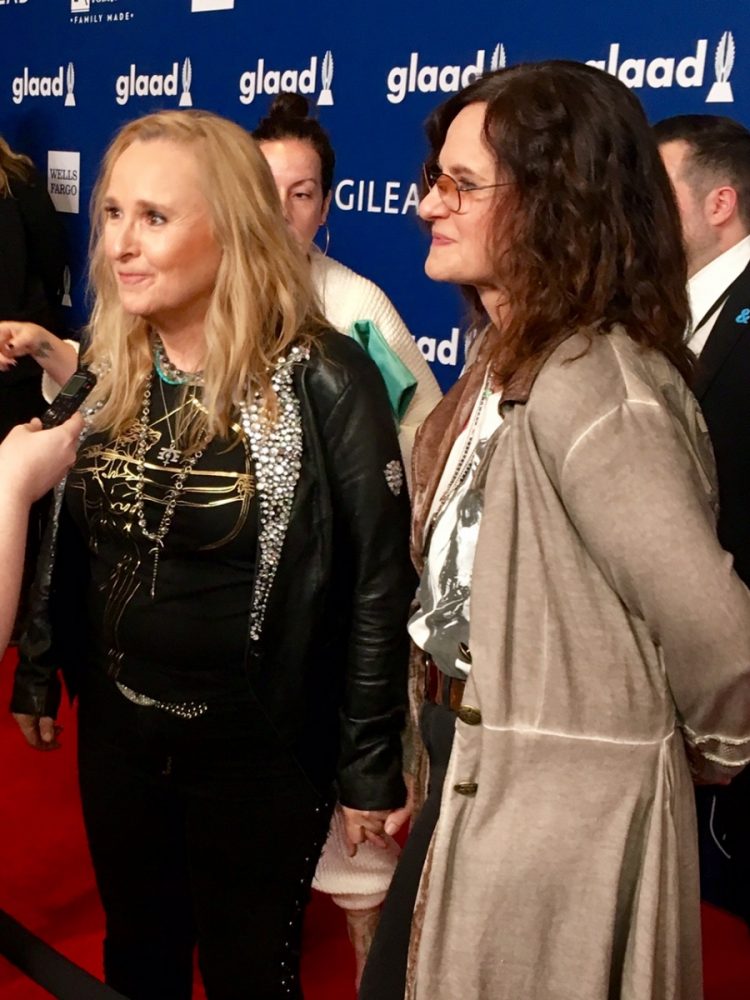 Melissa Etheridge trod the red carpet with her wife Linda Wallem, and as one of the many highlights of the evening, Etheridge and Adam Lambert presented the award for Outstanding Film – Wide Release to Call Me By Your Name to Academy Award-winning screenwriter James Ivory and producer Peter Spears. That film's remarkable mainstream success is further evidence that things are changing for the better, or at least in the hearts and minds of viewers.
But while so much has been achieved this past year, GLAAD President and CEO Sarah Kate Ellis reminded us that political forces are actively conspiring against the LGBTQ community each day, working to undermine our progress at a legislative and grassroots level. She urged us to use the power of media and New York City's prominence as the world's media capital, to our empower our cause.
"GLAAD is working to ensure the spirit of unity and intersectionality that was celebrated tonight extends throughout the year," she said. "Tonight's award recipients are the front lines to ensuring that LGBTQ acceptance moves forward in a political and cultural climate that is working against us."