Lesbians Lament Loss of Landmark Event
It is the end of an era.
Some say that's a good thing.
Others see it as one more erasure of lesbian cultural autonomy.
The era ending is that of the decades-long women-only festival known as MichFest, which turns 40 this August. While MichFest has never been promoted as a lesbian event, it has always been promoted as a women-only event and there's no question that it has been a majority lesbian event since its inception.
This is why MichFest has been so vital to lesbian community. And also why for a good half of its existence MichFest has been mired in controversy.
Lisa Vogel is co-founder and producer of MichFest, the Michigan Womyn's Music Festival, a massive, annual, week-long musical and cultural extravaganza for women only. On April 21, Vogel announced in a poignant Facebook post addressed "Dear Sisters, Amazon, Festival family," that 2015 would be the last MichFest under her auspices.
The sudden and shocking news stunned the thousands of women who attend each year and the thousands more for whom MichFest is a lesbian touchstone—a space of joy, celebration, safety and rejuvenation where women can be free to express themselves sans the threats imposed upon them daily by the deeply misogynist and violent culture in which they live the other 51 weeks out of the year.
As lesbian playwright Carolyn Gage wrote,
"At MichFest, she can experience a degree of safety that is not available to any woman any time anywhere except at the Festival. And what does that mean? It means she achieves a level of relaxation, physical, psychic, cellular, that she had never experienced before. She is free, sisters. She is free. Often for the first time in her life."
MichFest is held every August in Hart, Michigan, in a woodsy enclave of 650 acres referred to as "The Land," harkening back to the womyn-only lesbian separatist land movement of the 1970s. The event is completely built, staffed, run and attended by women. It becomes, for that week (and the month previously as The Land is transformed from woods to sound stages, tents, outdoor showers, disability-friendly areas and separate encampments for women of color, for children, for chemical-free space), a whole city of women and only women.
Which is what some have objected to over the years, calling the women-only "intention," as Vogel has termed it, exclusionary because Vogel has restricted the private event to womyn-born-womyn.
And now, after 40 years, this August will mark the last MichFest unless or until another woman or group of women decide to pick up the venue as Vogel leaves. (Vogel has made no statement about the disposition of The Land, which is owned by MichFest.)
Vogel's announcement elicited hundreds of comments, which poured into social media responding to the news. The love lesbians feel for MichFest was evident everywhere. Feminists who supported the lesbian event were also vocal about its importance and the loss that will be felt if it ceases to exist.
Many of the comments on the MichFest Facebook page referred to the event as pivotal in their lesbian lives. One woman wrote, "Thank you for creating a place for releasing, healing, playing, discovering, accepting, loving, learning, vibrating in a way that brings peace to the entire planet." Another said, "Mich Fest has been my college, grad school and a safe home to learn and grow." Another asserted, "I will never forget my time on The Land. It was nothing short of life changing."
A series of YouTube videos are evocative of these responses: 
Because I Came to Michigan – A Video About the Michigan Womyn's Music Festival


Vogel was only 19 when she and her sister Kristie first founded the event. The 1970s and 80s were an era of women-only music and cultural festivals, intended to create safe, male-free space for lesbians and other feminists. By 1982, MichFest had gotten so large–8,000 women attended that year–that the land in Hart was secured to ensure there would be enough space for women to roam, feel free and also for Vogel to create the separate areas within MichFest that were necessary to make the event work for everyone, including women with children.
There is nothing else like MichFest. Gage captured the reality succinctly. Re-entry into daily heterosexist culture is often a shock. (I remember bursting into tears hours later at a fast-food place, the culture shock was so great.) But in the week during which it is all women, all the time—women of different races, ethnicities, ages, sizes, abilities—the world feels like a very different place. A place where there is no male gaze and no threat of catcalling or body shaming or sexual assault.
Vogel's vision of Mich Fest arose out of 1970s lesbian-feminist fervor, the separatism of the space was predicated on other separatist solidarity movements, like those established by African Americans in the 1960s. It is Vogel's belief that "the subjugation of females is an international phenomenon, experienced across time, culture, nation, class, ethnicity, ability and race." She also asserts that "since its inception in 1976, [MichFest] formed itself as a space for womyn-born-females as a means to resist and survive the debilitation of female subjugation."
Vogel was determined to have MichFest be as welcoming as possible for as many women as possible. Which demanded both that it be women-only and that it be accessible to women of all classes. Vogel also wanted to establish space for women of color to have the option of being in a space solely for them. One African-American lesbian told me that the WOC space was the only space her partner, a rape survivor, had ever felt safe. She said, "She knows no one will come for her in the night." She said no one could imagine her own relief at being able to see her partner sleep soundly, free from nightmares. "That week–"she said.
But while thousands have embraced MichFest for decades with several generations of women becoming part of the festival culture, the charge of exclusion because of Vogel's request that the space be respected as for womyn born womyn-only have intensified with the advance of social media. People who have never attended MichFest nor would attend have worked hard to end the event.
Only one trans woman has ever been excluded from MichFest in 40 years.That was in 1991, and Vogel has apologized for that repeatedly. But MichFest has become the locus of outrage among a vocal group of trans activists who have labeled Vogel as a bigot and MichFest and every one of its nearly half-million attendees over the years as transphobic.
On April 22 Jezebel ran a short blog post  headlined "Trans-Excluding Michigan Womyn's Music Festival to End This Year." There was not one mention of lesbians or safe space for women in the blog post. It does, however, have a photograph allegedly from MichFest with a group of women holding hands in a large circle, their backs to the camera. In the comments the blogpost's author jokes with a male commenter who reposts the photo "this is the exact kind of crowd I'd expect to see at a 'womyns' music festival."
And that's the exact kind of misogynist and lesbophobic comment women flee to MichFest to escape.
Vogel's goodbye letter doesn't mention the controversy, nor does it lay blame. But last year in response to a group founded specifically to demand the end to MichFest, Vogel wrote this: "As the 39th Festival closes and we turn our hearts and minds to our landmark 40th anniversary, we reiterate that MichFest recognizes trans women as women–and they are our sisters. We do not fear their presence among us, a false claim repeatedly made. What we resist–and what we will never stop fighting–is the continued erasure and disrespect for the specific experience of being born and living as female in a patriarchal, misogynist world."
Vogel apologized again for the one ejection of a trans woman, Nancy Burkholder, in 1991 and said, "We have a radical commitment to creating a space where for one week a year, no one's gender is questioned–it's one of the most unique and valued aspects of the Festival. The MichFest community has always been populated by women who bear the burden of unwanted gender scrutiny every day."
Last week both the National Center for Lesbian Right (NCLR), which has increasing devoted its attention to issues for trans women, and the LGBTQ Task Force both withdrew their names from the petition put forward by Equality Michigan to boycott MichFest. Two days later Equality Michigan announced that Executive Director Emily Dievendorf had resigned. Dievendorf, who is neither a lesbian nor transgender, had created the boycott petition in 2014. The boycott targeted any lesbian musicians, comedians, artists or vendors, as well as any women attending the event.
A source said Dievendorf's resignation was forced because Equality Michigan had lost both volunteers and donors due to her petition–lesbians who felt personally attacked by her boycott.
Kate Kendell, longtime executive director of NCLR said that the petition was not productive, would unfairly target lesbian livelihoods and that "intentional dialogue" was necessary. In her letter withdrawing from the petition, Kendell wrote in part, "NCLR has come to a deeper understanding of what MichFest means to our community and seeks to honor that through this process. We also acknowledge the MichFest organizers have been involved in an ongoing conversation over the years on this issue. We are committed to honest and forthright dialogue as a more constructive means for seeking resolution and common ground."
For her part, Vogel had been succinct about the fundamental issues, noting, "The truth is, trans women and trans men attend the Festival, blog about their experiences, and work on crew. Again, it is not the inclusion of trans women at Festival that we resist; it is the erasure of the specificity of female experience in the discussion of the space itself that stifles progress in this conversation. As long as those who boycott and threaten MichFest do not acknowledge the reasons why the space was created in the first place, and has remained vital for four decades, the conversation remains deadlocked."
Kendell, perhaps considering why her own organization was founded, said, "We are grounded in some deeply held principles, including the belief that discrimination and bigotry against lesbians is rooted in sexism, misogyny and the devaluation of women. We do not believe it is possible to win liberation for lesbians in a world where misogyny thrives."
But misogyny does thrive. The day after Vogel's announcement found social media awash with snide, vicious and sometimes even violent commentary from a range of voices about the demise of MichFest.
What was singularly disturbing was the erasure of lesbians from the entire discourse. It was as if Vogel and the thousands and thousands of lesbians–totaling close to a half million over the 40 years of MichFest–not only didn't exist but had no right to their own space, even for one week every year. The news that those lesbians would be erased was greeted by some in the LGBT community with applause.
When did lesbophobia become a cause for celebration within our own community?
I wish MichFest were not ending. I think it's the most important lesbian event in America. Its mere existence makes women feel safe. Its mere existence is celebration of lesbians who are being erased even in their own community. I hope someone else takes the torch from Vogel, who is now nearly 60, and runs with it to keep the spirit of MichFest alive.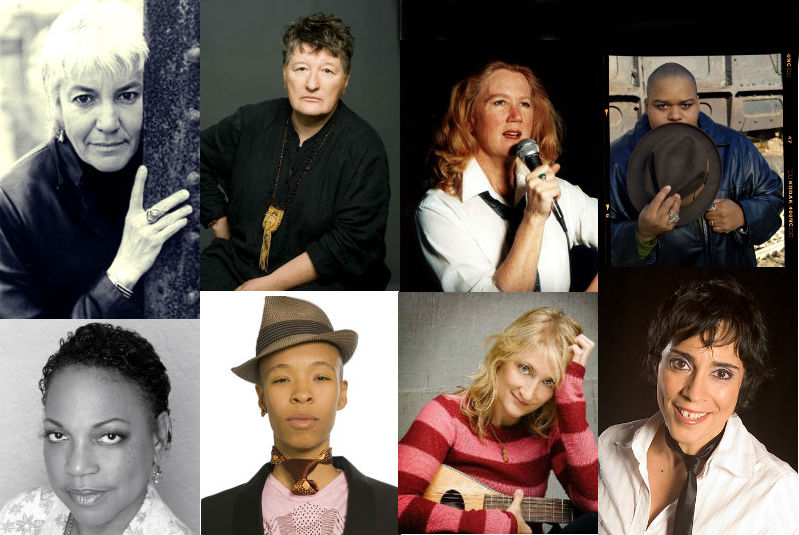 Part of the 2015 Line-up: Cris Williamson, Ferron, Holly Near, Toshi Reagon, Karen Williams, Hanifah Walidah, Jill Sobule, Marga Gomez
I personally no longer have any desire to go camping for a week in the heat of August, even to be with 10,000 lesbians. But a young lesbian I know who attended for the first time last year soon after coming out left MichFest blissful. For her it was a life-altering experience, a validation of both her lesbianism and her feminism. She went home changed and focused and ready to face her life in a wholly new way.
MichFest has done that for thousands of women over four decades.
What the anti-MichFest contingent has never understood, regardless of their particular identities, is that boundaries do matter. Women, especially lesbians, have their boundaries crossed and disrespected daily. We are harassed endlessly, told all we need is a man to turn us straight or told we should act like women or be with "real" men. We are legislated against in more than half the countries of the world including the U.S. We are put to death in others. Correctively raped in still others, including the U.S. We have our children taken away, we have our partners separated from us at hospital doors, we are discriminated against at our schools, our places of work, our places of worship, within our own families. And, as the Dievendorf petition proved, attacked even by members of our own community.
MichFest has allowed lesbians to escape that for one week each year. Escape the peril of being lesbian women in a straight male society that wants us obliterated. Escape and be surrounded by other women. Escape and listen to women musicians and comedians. Escape and talk into the night with no men or male voices causing us to shiver in fear. Escape and walk arm-in-arm with no fear of violence.
MichFest allows women to support women craftspeople and artists. MichFest allows women to take off their shirts in the heat of summer like men do everywhere and let our young, middle-aged, old breasts kiss the sun and not have to fear–either catcalls or body shaming or rape.
Do those things sound small? Petty? Not good enough reasons for a week in the Michigan woods in the heat and mosquitos, with outside showers and vegetarian meals cooked in huge vats out in the open like the 19th century?
Perhaps. But for every woman touched by MichFest, that week has been a lifeline and Vogel was the one who tossed that lifeline to thousands. Some may feel she deserves vilification, but more feel she deserves endless gratitude.
As Gretchen Phillips wrote in the Village Voice, "I've always used Mich as a place to charge my batteries for the rest of the year, planning my life around being there in August and learning my lessons, both fun and hard."
The lesson of community is both fun and hard. But the lesson of MichFest may never have been learned–which is that the bonds of sisterhood should be embraced, not irretrievably broken. . .