C.D. Kirven, an African-American lesbian activist, has been unstoppable since age 16, when her article about corporal punishment in schools published in the "Dallas Teen Age" was a catalyst to restricting the then-common practice in her native Texas.
Now 36, Kirven continues her path of positive change by working for countless causes, including the prevention of GLBT domestic violence, HIV/AIDS and homelessness, in even more creative ways.
Through writing, photography, film and her own artform "electronic collage", Kirven hopes to "convey the strength that is held in telling a story in order to positively impact the lives of others".
The Dark Side of the Rainbow (2008), Kirven's debut documentary, tells us such a story. The 14-minute film, which deals with same-sex domestic violence, is the first GLBT film to be captured entirely on cell-phone, an appropriate medium for the urgent, and often distorted, topic. "There is a dark side to everything including the rainbow which, is [the] GLBT symbol of the world," Kirven says. "I'm hoping this will lead to a healthy discussion about those dark aspects".
And discussion has been sparked; The Dark Side of The Rainbow is now part of abuse prevention programs at Chicago's Center of Halsted and The Dallas Resource Center, was screened at the San Diego Black Film Festival, the Reno Film Festival, and the Austin GLBT Film Festival, and is a finalist for The Texas Award in the USA Film Festival (TBD may 09).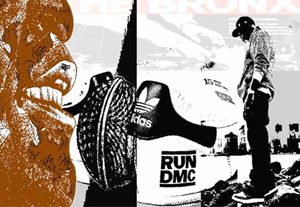 Kirven's other artistic pursuits speak just as loudly to the issues raised in her film-making. Through creative mediums such as "electronic collage", Kirven's own computer-based collage process, Kirven hopes to promote women's understanding of their "inner strength and beauty", an initial step to combating domestic violence. Bold, urban pieces such as "A Bronx Tale" and "Pride", speak to the racism and sexism that continues to exist in GLBT communities and seek to remind us that "without self love we will not reach our full potential".
Kirven hopes to use her art to create more tangible results as well. At the end of this year, she will exhibit her work as a fundraiser with the goal of buying a house in Dallas, Texas, out of which she plans to operate the first GLBT domestic violence shelter, The Kirven House. "Most same-sex victims are turned away from government services due to inequality issues that still exist in our society. So, more often GLBT victims die in a domestic violence situation," Kirven says. "I hope [opening The Kirven House] will inspire others to do the same within their community. One shelter could save up to ten lives a year".
If she hasn't done enough already, Kirven is also a writer, speaks at anti-Prop 8 rallies, and, in 2007, chaired the event "One Man's Trash is Another Man's Dinner" which, saved a food pantry for low-income HIV/AIDS patients. Her karma-packed first novel, What Goes Around Comes Back Around (Outskirts Press), has snagged a Lambda Literary Award nomination and her second novel The Glass Closet is soon-to-come. Leading by example, Kirven's artistic activism shows us that "every journey begins and ends in our ability to love ourselves".
And for Kirven, this journey is far from over.