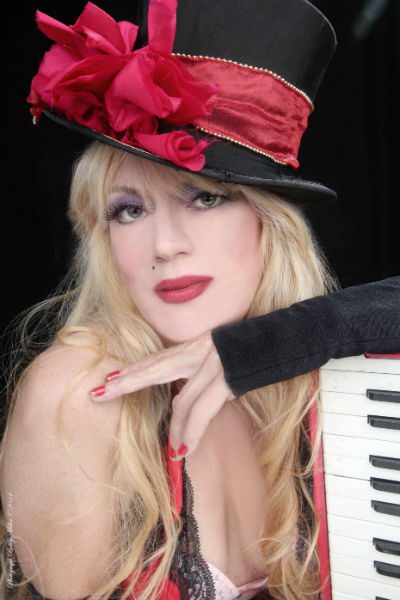 Transmedia artist Phoebe Legere speaks exclusively with Curve about her new project.
Before Lady Gaga, before Iggy Azalea, there was another leggy blonde who mastered musical genres and challenged commercial norms…but she was (and is) gay. Phoebe Legere is an enduring and multi-talented figure on the LGBT scene. She has mastered many art forms, from spoken word, to painting, to making music, but you might not have heard of her.
For the uninitiated, we'll try and introduce you to this remarkable talent, who has been described by Interview Magazine as "a genius" and by Billboard Magazine as a "female Frank Zappa". Legere, a statuesque blonde with brown eyes, possesses a soprano voice and an uncanny ability to master many instruments, especially keyboards (piano is her main instrument, but she loves the accordion, and her favorite instrument is likely to be one that she invented).
An eclectic and zany Downtown NYC artist of the '80s, Legere's adventurous performances gave her tons of "Lady Gaga" cred; and her foray into rap was way ahead of its time. In that edgy, arty, intellectual subculture she rubbed shoulders with drag queens Lady Bunny, RuPaul and her "queer night family," which she describes in her autobiography, Teenage Weimar. She lost many friends to the AIDS epidemic and became an activist for LGBT causes, which she combined with her art.
Legere has studied at Vassar, Juilliard, NYU, and is a guest lecturer in Art, Women's Studies, and Queer Theory at the Gallatin Graduate School of Individualized Study at NYU. She's marched and performed in Gay Pride gatherings around the world, and combines her artistic practice with her activism.
Her new CD is simply titled GAY and includes her "Gay Anthem," originally released in 2008. And, in true Legere style, all proceeds from the sale of GAY will go to the Astraea Foundation for Lesbian Justice. Legere kindly took time out of her busy schedule to share the impulses behind her latest work.
Why did you feel it was important to include the gay anthem on your new CD?
The CD comes at a crucial time in the fight for gay marriage. The U.S. Supreme Court recently announced it will review 6th Circuit marriage cases and thereby decide the future of gay marriage in the United States.
As a transmedia artist, how do you segue from music to art to writing to performance art?
I work across media to critique social, political and cultural issues. I create alternative energy, monumental sculpture, paintings and drawings. I embed music within my paintings and I embed poetic-prose in my music.
I address subjects as diverse as the gay civil rights, the joy and pain of gay love, Native American pride, and women's health. My work is conceptually layered, juxtaposing world music, pop, opera, jazz, rap and spoken word.
Why are 90% of your paintings of the female nude?
My art celebrates female power, female freedom and female beauty. My art originates in the female body. The magical divine beauty of curvilinear forms has been my central inspiration since I was 5 years old. My art is multi-format, transgenre and transgender.
The woman spirit is the basis of all creation and all that is good in the world. When the world learns to respect the Divine Feminine in all manifestations we will see respect for the environment, respect for diversity, respect for the soil, respect for animals and self-respect. 
You've written plays, musicals and operas including Hello, Mrs. President about the first female African-American president, Elizabeth I and Shakespeare: The Reality Show and The Queen of New England. Is there a common denominator to these women?
My art celebrates female on female power. I am blessed to have a tight circle of women friends. We went to Vassar together and we have been fighting, shoulder to shoulder for 2 decades for gay rights and the right to love openly.
When I write the longer works, I inhabit the souls of powerful woman warriors. Elizabeth 1, Madam President and Queen Weetamoo, my Native American ancestor…these were leaders, full of charismatic, supernatural power. They had the courage step into a brighter, more beautiful future.
How many musical instruments do you play and do you have a favorite?
I play seven instruments. My favorite is the Sneakers of Samothrace, a wearable computer I designed for disabled children. These children are incredibly passionate about music but many do not have the fine motor skills required to play instruments.
So I created a pair of sneakers they could wear that would make music using larger movements of the leg and foot. The groove would inspire recent amputees and children with walking problems to take the difficult next step.
The Sneakers, also called the Rap Shoes are my favorite instrument. They run using the sensors they use in smart bombs and gyroscopes. My second favorite instrument is the piano. For me the piano is a dream machine where I can step into future worlds of color, beauty and harmony.  
Tell us about the Shamancycle! What is it?
I am very interested in the environment and engineering. Shamancycle is a 15-person monster Eagle community bike and interactive puppet. It is a ride-able sculpture that runs on alternative energy. Shamancycle is a vehicle for teaching, transformation, inspiration and healing.
The Eagle vehicle was made from up-cycled and re-purposed materials: junk cars, iced tea cans, insulation material. I kind of went through my "18 year old guy working on cars phase" on this one.
I disassembled a Toyota Tacoma with a wrench I learned about brakes and shocks. I learned how to weld, braze and forge. It was loud and hot. I liked it.
Your openly gay band Monad was one of the first female-led bands every signed to Epic Records. You suffered discrimination at Epic/Sony because of your orientation. How did this radicalize your approach?
In those days girls were not welcome on rock radio, and girls were not supposed to be instrumentalists, and they certainly were not supposed to be arrangers, composers and band leaders.
This was long ago, when we were teenagers. I guess in some way I just refused gender limitations from the very beginning. But this caused trouble when we went to be signed to Epic Records.
Madonna's management (Camille Saccer Barbone) said, and I quote: "We will manage you Phoebe, but you have to get rid of your band." I said, "My band is my family." I walked out the door. Of course there was another thing that frightened the hell out of record companies.
Not only was I a strong, openly gay woman, but our band had people of all races. At that time, 1984, they did not allow African-Americans on MTV. You don't remember that but it was real. Michael Jackson changed everything.
The ladies were a rough time for gays. We took a lot of shit for our orientation, but we were having fun, and being lesbian always seemed totally natural to us. We just were who we were. We were always on the fringe, on the margins, fighting for what was right.
Young girls, please remember the Foremothers who took the arrows in their backs so you can walk down the street holding hands and kissing. Read the Monad blog to learn more. We were pioneers. Modern troubadours of gay rights.
You were credited as being "The First Female White Rapper." Tell us about the song that gave you this title.
"Blond Fox in A Fur Bikini Goes to Rio," I wrote that song to go with the fur bikini I designed and sold at Patricia Field in 1983. I took the rap song to Russell Simmons who laughed at me. Listen to the song.
It still sounds fresh and amazing. I even have a Brazilian samba in the bridge. The only thing not quite right about me being the first white female rapper is that I'm not all white. I'm part Native American. But still. Ya know. We were very cool in those days.
You've collaborated with a lot of great artists—gay and straight. How was it working with Hilary Knight and Lena Dunham on the HBO documentary "It's Me, Hilary: The Man Who Drew Eloise." 
OMG. Lena Dunham is so brilliant, so perceptive, so appreciative, so articulate and so kind. Matt Wolf is the director of the 36-minute movie. It's Me Hilary just showed at Sundance. I have a song in it called 'Hip Hop Frog.'
We were a big hit at Sundance. It's amazing. You know Hilary Knight. He did the illustrations for Eloise (at the Plaza). He's the greatest artist in America.
The special airs right after the last episode of Girls. I've been working with Hilary for many many years. True artists have no age. Genius is timeless, eternal, beautiful.
Do you think art can really change the world in light of the white, male-dominated, market driven art market of today?
I use music, art and poetry and wearable sculpture to critique the hierarchically gendered and homophobic nature of arts institutions.
You've created the New York Underground Museum. Tell us about NYUM.
NY Underground Museum gives gay, bi and transitioning artists, artists of color, women artists, outsider artists, Native American artists, disabled artists a place to have their work showcased. NY Underground Museum is dedicated to discovering, encouraging and nurturing visionary artists of all ages.
NYUM was founded to preserve, present and curate the works of this unrecognized artistic community.  We run an Art and Music Festival for low income, under privileged, at risk children ages 9-12.
It's so awesome. Our motto is "Celebrating Visionary Art and Music, Nurturing the Artists of Tomorrow."
What is the biggest misconception people have about you?
I recently changed my name to Chuck because I am really done with trying to be a girl. It's so not who I am. I guess I am a female in some sense, but I don't need to do a surgical or hormone change to feel like a boy.
I'm already there. I am an inter-sex personality. I have so many friends who have made the switch. You realize how artificial sex is…you just dump a few hormones on the person and you have a beard or breasts or whatever, but the soul is exactly the same.
That is the point of all this activism. We are all the same, it's just the exterior—"skin bag" as the Zen masters call it—that changes. The Skin Bag may be old or young, this color or that, rich or poor, this stupid religion or that, but we are all the same: we are suffering, scared children that are forced to wear a completely random mask of identity all the time.
You are already working on your next album on French songs…
Yes, my background is Native American and French-Canadian so the next CD will be a tribute to my DNA.