The Swedish capital of Stockholm is a destination that needs to be on your go-to list. Why? Well, for starters, it's an Open City, with a long history of celebrating diversity…
Not only was homosexuality decriminalised 75 years ago, it's now considered the LGBT+ capital of Scandinavia and the people are open-minded and cosmopolitan, meaning you'll feel right at home.
Secondly, it'll a true all-year destination: the winters are enchanting and festive, and the summers filled with long evenings to be spent drinking rosé alfresco.
Add to that, a world-renowned flair for design and style that provide ample insta-worthy opportunities and excuses for some retail therapy, and you have the full package for a fun weekend away, plus the flight is shorter than a trip on the Eurostar.
So really the question should be: why not? But if you needed any more reasons to make it your next destination, we've got eight:
ABBA: The Museum
A great starting point for diehard ABBA fans and Scandiphiles alike, this hands-on, interactive museum is the closest you can get to the fab four without getting slapped with a restraining order. There are hours of fun to be had reading up on the group's humble beginnings and lives after ABBA in a new special exhibiton.
Plus, the permanent collection features a holographic dance experience and karaoke booths where you can imagine yourself as the fifth member.
Hobo
Lovers of understated, minimalist Scandi design will feel right at home here. Think tasteful, muted colour schemes with playful twists, and plush soft furnishes to ensure you feel warm, fuzzy and relaxed during your stay. Plus, its situation couldn't be more central making it ideal for getting interior inspiration at the department store mecca NK or strolling around Old Town.
StandOut Travel
If it's your first visit to the city, or you want to get a little more "under the skin", look no further than a tour arranged by Erik and Sofia, the premier LGBT+ small group and private tour operators in the city. They offer bespoke packages around your interests, be it architecture, LGBT life, history, design or coffee. Plus, they excel in providing "cosy" tour options for the chillier winter months.
Bibliotekstan
The go-to shopping hub for lovers of Scandi design. Alongside international chic favourites such as Acne Studios and COS, you'll also find more independent Swedish labels like HOPE, who believe garments shouldn't be defined by gender and therefore labels all their clothes in both men's and women's sizes. Just another way that Stockholmers are open and forward-thinking.
Nordic Light
This design hotel is a must-stay for lovers of Scandi interiors. Designed by a team of 12 top Swedish interiors and architecture experts, the hotel takes inspiration from Nordic culture and provides a clean, bright, and tranquil bolthole for your time in the city,
Vasa Museum
Discover the fascinating history of the 17th-century ship that sank in  Stockholm's harbour before it ever saw the open seas. Recovered from the sea bed after three centuries and beautifully restored, this enormous vessel is a feat of engineering (bar the sinking) and a sight to behold.
Learn about the context in which it was built, its designated mission, and what like onboard would have been like, had the crew made it out of the city limits that is.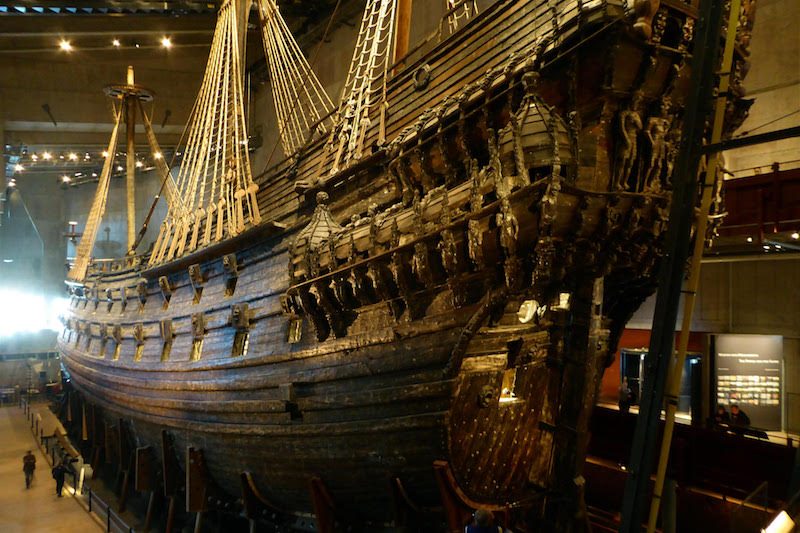 Berns
A Stockholm institution, and the city's most sumptuous grande-dame of a hotel. The super decadent lobby and restaurant – think the biggest chandelier you've ever seen and red velvet as far as the eye can see – will have you feeling like the Queen of Stockholm (perhaps Christina, the famous 17th-century lesbian matriarch) whilst the updated rooms have all the mod cons to make your stay a memorable one.
Sture Hof
One of the city's famous Svenska Brasserier (Swedish Brasseries) that serve elevated local food, all day every day. It's been a firm favourite with the locals for the past century, and here you can sample world-class seafood platters (the lobster is to die and go to foodie heaven for) and traditional pickled herring delicacies.
A must for lovers of Nordic cuisine!
For more LGBT+ travel inspiration from the world's most Open City, visit www.StockholmLGBT.com or follow the conversation on social media at #stockholmlgbt