Marriot Los Suenos Resort Presidential Bathroom
Living pura vida in lesbian-friendly Costa Rica.
As soon as you land in Costa Rica, you can feel it: pura vida! Literally translated, the phrase means "pure life," but Costa Ricans use it colloquially as an expression of eternal optimism and a mantra for how life should be lived: Just relax, be friendly and open to everyone, it's all good. Combine that gentle and accepting attitude with the lush, tropical beauty of the landscape—in one of the top gay-friendly nations in Latin America—and Costa Rica becomes a must visit.
This Catholic country doesn't have gay marriage yet, and a bill on civil unions has been pending for years, but it does have domestic partner benefits. The center-left president, Luis Guillermo Solis, has gone a long way toward supporting and embracing the community, flying the gay flag at the presidential palace and appointing an openly gay man as the tourism minister.
Rather than investing their capital in some of the more closed macho cultures in other parts of Latin America, it's no wonder that American and Canadian lesbian couples and families have been flocking here to start businesses and buy real estate.
Donde dormir 
When it comes to looking for a good night's sleep, you have a range of places and a range of prices to consider, from local inns to private villas to 5 star resorts. You might start by heading to the well-known gay seaside town of Manuel Antonio, near Quepos, about a three-hour drive from San Jose. For a romantic, nature lover's dream, the Prana Rainforest Retreat caters to just one couple at a time; amenities include a private pool and waterfall-side yoga deck. Or check out the Hotel Villa Roca, an adults-only LGBT resort with a variety of rooms and apartments.
For full-on luxury and an ultra-friendly staff, about an hour's drive from the capital is the Los Suenos Marriott Ocean & Golf Resort. It has all the attractions and comforts of a resort without any of the corporate-chain conformity you might expect. You can walk or swim around one of the hotel's myriad gardens and connected pools (I squeezed in a long lap before a tour, but had to bypass the swim-in bar) while soaking up the Colonial architecture. You should also try the irresistible Sibo  Spa & Retreat, inspired by the rainforest nearby and based on all-natural ingredients. The post-treatment setting is world class. Lounge in your robe for as long as you like, enjoying a glass of pinot or herbal tea and a delicious view of the Pacific Ocean and the 1,100-acre rainforest. Or, if those attractions don't excite you, get married! This hotel welcomes gay weddings, and the super-friendly staff enthused about a recent celebration.

Dónde está el bar o discoteca?
Costa Rica is becoming a hotbed of culinary creativity. At the Los Suenos Marriott, start off at sunset with a premier rum- or gin-based cocktail hand-crafted by chief mixologist Elmer. Then get nostalgic for some '60s glamour at the new upscale steak house 18 & Greene. Overseen by executive chef Jose Prendas, it features a wood-burning grill and open-air dining. If steak is not on your personal menu, try the lobster tail with a delicious citrus butter. 
The city of San Jose is considered a less aesthetically pleasing gateway to other more exotic Costa Rican locales, but since it caters to a quarter of the country's population, it has a burgeoning restaurant scene. Experience fine Peruvian dining at the San Jose Marriott's La Isabela, where there's a range of ceviches featuring an evocatively named marinade, Leche de Tigre, or "tiger's milk." Or to really treat her to some romantic ambience, try Restaurante Grano de Oro. Set in a charming tropical-Victorian home with an inner courtyard, it is a special-occasion destination for tourists and locals alike. On the other end of the scale, hit up the 133-year-old Mercado Central downtown. At this buzzing city market, you can try some of the best-ever tamales and casados, (meat, rice, red peppers, black beans, plantains).
For some bar fun, stop by El Gran Escape in Quepos, a gay-friendly bar with cocktails made from the country's most popular traditional drink—Cacique Guaro, a sugar cane liquor of high purity. And while you're in San Jose, head to La Avispa, a local nightclub where you can watch gays and lesbians grinding and shaking their hips Latino-style.
Adventure Costa Rica
In contrast to its relatively new foodie scene, Costa Rica has a decades-old reputation among adrenalin junkies and anyone looking for shimmering beaches and natural diversity. Ladies who zipline add gravitas to their dating profile. Bungee jumping will never be on my list, but cruising through rainforest trees like a monkey, while being educated on the country's ecology, botany, and reforestation practices? Tick! On a Canopy Vista Los Suenos rainforest tour, you'll descend three and a half kilometers using 12 cables and 14 platforms. After spending a morning zipping past kaleidoscopic views of the Gulf of Nicoya, keep up the outdoor rush with a  tour of the gulf by catamaran. Swim at the gay-friendly Playitas in Manuel Antonio National Park, or catch some waves at Playa Hermosa, where international surfing competitions have been held.
If hiking or walking suits you better, Manuel Antonio is one of Costa Rica's best-known national parks, with the broad range of natural biodiversity that this country is famed for. On the way there, try to catch sight of a scarlet macaw—the country's most famous bird. Its population has shrunk over the last 100 years due to a loss of habitat, but this trend has begun to reverse in the past few years. If applicable, macaws can be used for a little relationship inspiration—they are famously monogamous creatures! If not, lots more cheeky creatures abound. Walk the 1.8 km trail to spot numerous species of monkey, two- and three-toed sloths, as well as snakes, deer, and frogs.
Local Lesbian—Laura Lyle
This Manuel Antonio local left Washington, D.C., in January 2011, after a 20-year career in international development. Her dream had long been to open a B&B catering to gays and lesbians, preferably in a foreign country.
Now, four years later, she's on the verge of making her dream a reality. Called Villa Vini Vidi Vici, her B&B opens in Manuel Antonio in May 2015. And as a bonus, she has a state-of-the-art fitness center, Pura Vista Fitness.
She chose Costa Rica for its laidback culture, natural beauty, biodiversity, and inclusive society.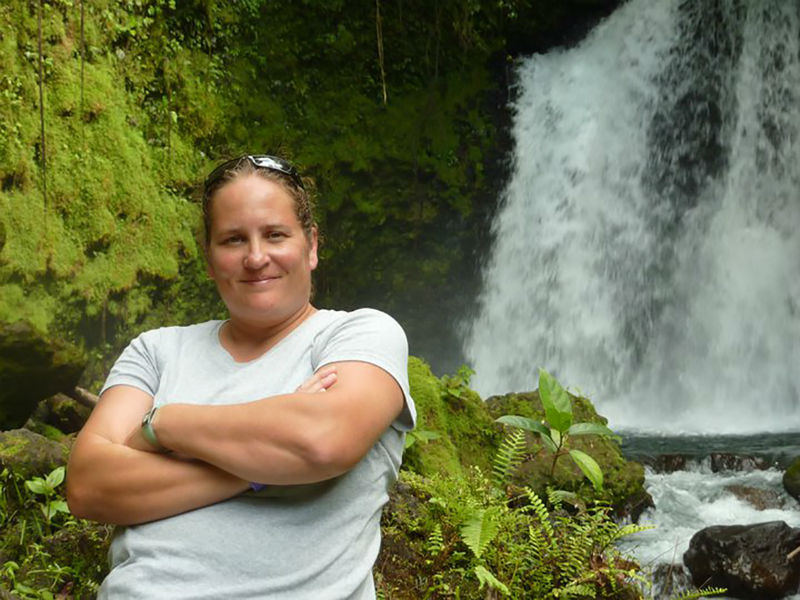 Here are her picks for visiting lesbians:
Top 5 Manuel Antonio activities
1. Take a charter fishing boat out of the Marina Pez Vela for inshore or offshore fishing.
2. Take a guided tour through the national park—the wildlife is varied and the beaches fantastic.
3. Take the all-day tour of Los Campesinos Reserve, where you'll go deep into primary jungle.
4. Spend the day at Playitas, the least touristy beach in Manuel Antonio.
5. Ziplining through the jungle canopy is thrilling. There are four companies that offer ziplining tours close to Manuel Antonio.
The best-kept local secret?
There are many waterfalls in close proximity to Manuel Antonio, but the most beautiful and least known is Nauyaca Waterfalls—one of the most spectacular in Costa Rica! Take a guided tour up to the waterfalls and spend the day picknicking and swimming in the waterfall pool. Horseback tours are also available up to the waterfalls.
Upcoming events for lesbians
Although not lesbian-specific, each year there are two annual events worth going to.  Envision Festival, which is held in late February, is just 40 minutes south of Manuel Antonio. Envision is an annual gathering that aims to bring different cultures together, inspiring everyone to co-create sustainable community; practice yoga, spirituality, art, music, and dance; and acknowledge our fundamental connection with nature. And Gay Pride in San Jose, held in late June each year, is very well attended and worth going to, with a weekend-long party atmosphere in all the gay venues.
Where the girls are
The best local gay bar in Manuel Antonio is Karma Lounge. It is a mixed crowd, not lesbian specific. Currently, there is a lesbian night every second Saturday of the month at Karma. La Avispa in San Jose is a gay bar and disco with a regular mixed crowd, a lesbian and gay clientele. The last Friday of every month is exclusive to lesbians. Manuel Antonio is without a doubt a most lesbian-friendly town. Locals and expats have created an inclusive culture, making everyone feel welcome. There is no bias against LGBT travelers. Many businesses are gay-owned or gay-friendly. Sexual orientation is not a divisive issue to those who live here.