Brittney Griner
WNBA becomes the first professional sports league to establish integrated marketing, media, grassroots and social responsibility program.
The Women's National Basketball Association (WNBA) has unveiled WNBA Pride, presented by cosmetics giant COVERGIRL. The new national platform will promote inclusion, equality and combat LGBT discrimination.
"The WNBA welcomes all fans, athletes, and partners to our game," said WNBA President Laurel J. Richie. "These beliefs unite the 12 teams of the WNBA and we are very excited to introduce the WNBA Pride platform, which celebrates acceptance and inclusion. The WNBA takes great pride in working with extraordinary partners who share these values, and we are so grateful to our presenting partner COVERGIRL along with ESPN, GLSEN and GLAAD for joining the WNBA on this important initiative."
"Every day in the news we see that inclusion is the new standard for our society, and every day we see more and more people reject prejudice and anything that would divide us," said Phoenix Mercury Center Brittney Griner. "I'm proud to be a part of the WNBA and NBA family that has chosen to embrace the LGBT community, not just for the out athletes like me, but also the allies and fans who love them."
Throughout the month of June, WNBA teams will host Pride-themed games where players will wear commemorative Pride shooting shirts designed by Adidas, the league's official on-court uniform provider. The Pride apparel will be available for purchase on WNBASTORE.com and NBA Store on Fifth Avenue in New York City. Proceeds will benefit GLSEN, a long-time WNBA partner.
During the telecast of the Tulsa Shock vs. Chicago Sky gameon Sunday, June 22 at 1 p.m. ET on ESPN2, WNBA will make history as the first to celebrate LGBT Pride on national television.As presenting partner, COVERGIRL will have a strong presence within the Pride game aired on ESPN2, on WNBA.com and on WNBA social media. "COVERGIRL has always supported the strength and diversity of women," says Esi Eggleston Bracey, VP and General Manager, COVERGIRL. "Our recently launched #GirlsCan campaign was established to help women overcome boundaries to break barriers, including in the pursuit of a career where women are currently under-represented, like professional sports."
The Walt Disney Company and ESPN also support the initiative and its partners. "We are proud to showcase the WNBA Pride platform to our national audience," said John Skipper, ESPN President, Co-Chairman of Disney Media Networks.
WNBA will continue to work with leading LGBT community-based organizations GLSEN and GLAAD during LGBT Pride Month. "The WNBA is a sports leader in creating diverse and inclusive environments for all players and fans, and the league's commitment to supporting the LGBT community is sending a powerful message of respect to youth across the country," said GLSEN Executive Director Eliza Byard.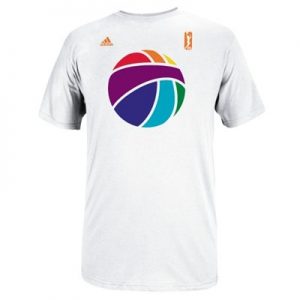 GLAAD President & CEO Sarah Kate Ellis identified herself as a proud WNBA fan, saying that some of her favorite memories are courtside with her wife and children, cheering on their favorite WNBA teams. "For years, the WNBA has been a leading force in building support for equality on the court and in the stands," said Ellis. "The WNBA Pride platform will raise the bar in helping to end anti-LGBT bias in sports, while also celebrating the tremendous value LGBT athletes and fans bring to the game."
The WNBA is the first professional sports league to establish an integrated marketing, media, grassroots and social responsibility program for the LGBT community including a dedicated LGBT microsite, WNBA.com/pride where league and team Pride content, events and schedules will be posted throughout the season. Information will also be shared on the league's social media channels with the hashtag #wnbapride.
Additionally, WNBA has lent support to lesbian media this Pride month, offering sweepstakes for lesbian to win a trip to a WNBA finals game, sponsorship of lesbian events in Provincetown, and advertising with lesbian-targeted outlets and media.
INFO: www.WNBA.com/pride