The IWFFA Women's Flag Football Tournament will have special performances by lesbian comedian, Kate Clinton.
What could be better than watching an international women's flag football tournament, with hundreds of fit females competing against one another? Having the legendary Kate Clinton, a hilarious lesbian comedian, guest star the tournament, making for both an entertaining and exhilarating experience.
Kate Clinton is a faith-based, tax-paying, America-loving and family entertainer. With a career spanning over 25 years, Clinton has worked through economic booms and busts, Disneyfication and Walmartization, gay movements and gay markets, lesbian chic and queer eyes, and ten presidential inaugurals. She still believes that humor gets us through peacetime, wartime and scoundrel time.
And who says football is only for men? The International Women's Flag Football Association is letting our athletic ladies live the dream, by providing an organization that allows women all over the world to form a team and show off their flag football skills on an international level. The IWFFA is an umbrella organization for women's flag football ratings both nationally and internationally. And starting September 20th, the IWFFA will be hosting its 9th Women's Flag Football Tournament. A former flag footballer herself, Kate is a big supporter of the IWFFA.
"It's a great opportunity to play a game you like, meet other women from other parts of the country and have fun," Kate said. "And since it's not full-on tackle, you can live to have a drink after and come to my shows at the Crown and Anchor at 7pm, on Friday and Saturday night. Think of it as a delayed half-time show. We'll be handing out Advil and icepacks. Wardrobe malfunctions possible."
This year participants and spectators can look forward to seeing Kate Clinton play a major role not only on stage, but also on the football field for the 9th annual Kate Clinton Classic women's flag football tournament held in Provincetown, MA.  Kate commented on her participation in this year's tournament stating, "This is the first year I have been able to attend! No stunt double for me this year! I was the organizer of flag football games in my pre-title IX (there was such a time) high school years, so I feel like I am returning to my roots."
Kate will have special performances at the Crown and Anchor on September 19 and 20. She will open the international flag football tournament throwing the ball in to start the games on Saturday morning, September 20th, 9:30AM at Motta Field located at 12 Winslow St. When asked if Kate herself will be getting in on any of the action she said, "I'll be there for cheering and sending in some of my favorite plays. The end around my end.The play/action pass at that cute right tackle. The holding can be a fun play. I will also be at the awards dinner." So immediately following the championship flag football game on Sunday, attendees can look forward to seeing Kate Clinton again as she gives out team and player awards at the tournament awards ceremony.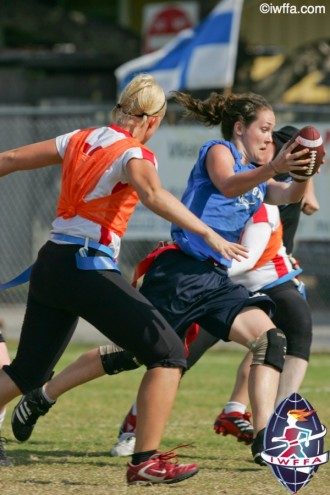 As teams from Norway, Canada and across the U.S.A compete all day Saturday and Sunday, 8 on 8, semi-contact flag football, the tournament sanctioned by the International Women's Flag Football Association (IWFFA) will host on the field "Half Time Games" for fans to join in such competitions as: furthest throw, longest kick, and "who can guess the number in Kate's head," to name a few of the crazy and fun competitions for fans.
The long weekend is filled with social activities for all to enjoy as competitive women's flag football teams are challenged to a minimum of 4 games in this high action competition. Teams play for awards and high-ranking national and international points.
In case you're not entirely convinced that the IWFFA is going to be an amazing and fun event, Kate had some closing remarks: "I love the philosophy of the IWFFA organizers. This tournament is another way to bring women together in joy, fun and physical pleasure. They can take that feeling home to their communities. There is never enough of that!"
INFO: http://www.iwffa.com/index.php/tournaments/2014-tournaments