From living legends like Billie Jean King, to trailblazers like Sheryl Swoopes, to up-and-comers like Ireen Wüst these are the 11 influential queer ladies who've got game.
Billie Jean King
Billie Jean King is quite simply a living legend. But she's not content to rest on her laurels, continuing to work tirelessly to promote the cause of women and gender equality in sports. In her prime, Billie Jean King was instrumental in professionalizing women's tennis.
She began by crusading for equal prize money for the men's and women's games starting in 1973—a goal that was finally reached in 2007, when the French Open became the final tournament to offer equal cash prizes to men and women.
King is the founder of the Women's Tennis Association and the Women's Sports Foundation, which sponsors the Billie Awards, honoring excellence in media coverage of women in sports. She has been recognized by everyone from GLAAD to Life Magazine as one of the most influential women of our time, period.
Violet Palmer
Violet Palmer is a pioneer—not only the first woman to officiate in the NBA, but the first woman official at the top level of any major U.S. professional sport. In 1997, Violet Palmer became the first woman to officiate a regular-season NBA game.
In 2006, she became the first to officiate an NBA playoff game. And in 2009, she officiated in the NBA finals. And despite the catcalls, heckles, and general derision that any referee attracts, if you want powerful, look no further than the yea-or-nay decision-making authority Palmer wields every time she steps on the court.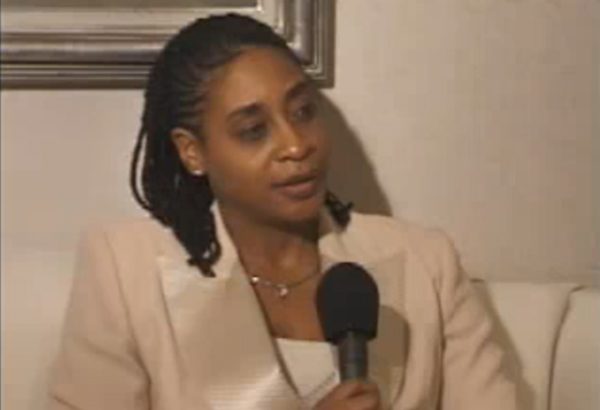 Sheryl Swoopes
Legendary basketball forward Sheryl Swoopes was cut from the roster of the WNBA's Seattle Storm this season; nonetheless, "the female Michael Jordan" remains the highest-profile athlete in U.S. team sports to come out of the closet. She was the first player signed when the WNBA was created in 1997, and she holds several records including the single-game and single-season scoring nods, not to mention multiple MVPs and three Olympic gold medals.
For now, she's spending time as a full-time mother to her son, Jordan, and hoping soon to legally marry her partner Alisa Scott; future coaching opportunities may also be in the works.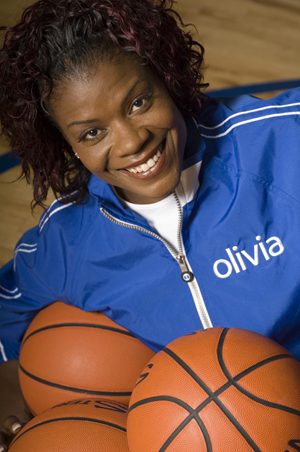 Victoria Svensson
Described as "the stuff of legend" in her home country of Sweden by NBC Sports, forward Victoria Svensson, nicknamed 'Vickan,' is currently the team captain for her country's national team, currently ranked fourth in the world.
She is also the player who has played the most games ("caps") in her career for the national team. She's been the top goal-scorer in the Swedish women's league several times, and named player of the year more than once as well. In 2003, she was offered a contract by a top Italian men's soccer club but turned it down, considering it a publicity stunt.
Carol Blazejowski
Why is the New York Liberty the most lesbian-friendly team in the WNBA? Maybe it's because of their General Manager, Carol Blazejowski. Hall-of-Famer "The Blaze" was a three-time All-American for Montclair State College and played professionally in the short-lived Women's Pro Basketball League in 1980.
Her career college point tally is second in history for both the men's and women's game—she likes to remind fans that this was before the three-point shot. She spent several years working in the front office of the National Basketball Association, and in 1997, she took those skills to the newly founded WNBA.
Also on her resume: a 10-year stint in marketing for women's sports initiatives for Adidas.  Her professional biography calmly states, "Blazejowski resides in Nutley, NJ, with her family: Joyce, Lainey and Luke."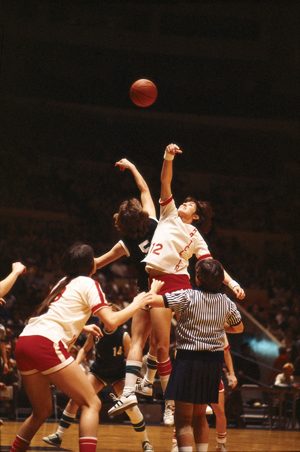 Judith Arndt
Top-ranked German cyclist Judith Arndt is most famous for a photo of her flipping the bird at the 2004 Summer Olympics in Athens as she crossed the finish line to earn a silver medal. The cause? She was angry at her national team for failing to select her partner Petra Rossner for the squad. Arndt has been a Gay Games ambassador (along with Rossner) and continues to race professionally at the highest level for T-Mobile's women's cycling team.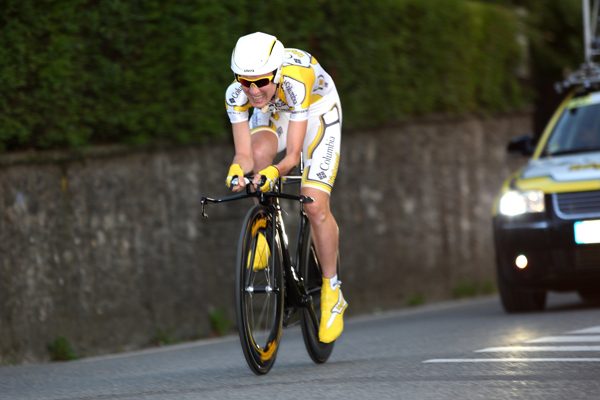 Helen Carroll
Helen Carroll is the Sports Project Director for the National Center for lesbian Rights, putting her at the forefront for combating discrimination against gay athletes in sports at all levels of play.
Prior to her post with the NCLR, she coached the University of North Carolina-Asheville women's basketball team to a national championship in 1984, then spent 12 years as the athletic director of Mills College.
Her most high-profile success to date? The NCLR Sports Project's work was instrumental in getting notoriously homophobic women's basketball coach Rene Portland to resign in 2007.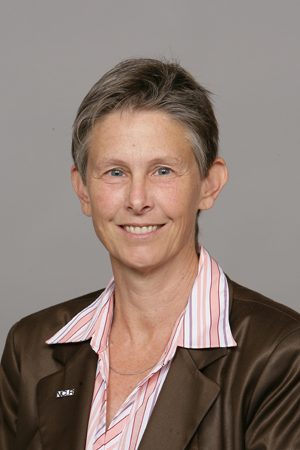 Jenny Allard
Jenny Allard is the head coach of the Harvard University softball team. In 2008, she was inducted into the Athletic Hall of Honor at her alma mater, the University of Michigan.
Under her tenure, Harvard has won four Ivy League softball titles and three NCAA championships. She came out publicly in 1997, one of the first college sports coaches to do so, and since that time has become an important advocate for gay and lesbian college athletes.
Clare Balding
Clare Balding started her sports career as an amateur jockey and was named Champion Lady Rider in 1990. But her fame in Britain derives from her job as a BBC sports presenter, a position she has held since 1994. She has covered the Summer and Winter Olympics and Wimbledon as well as national horse racing events, but she is best known for her regular coverage of British rugby.
She says, "Racing is my first love but I have grown very fond of rugby league—it is a tough, fast moving sport in which the players are always friendly and approachable off the pitch and tough as nails on it." In 2009, she caused some controversy over her remark during a live television interview about Grand National champion jockey Liam Treadwell's crooked teeth; the BBC later apologized on her behalf. Balding came out in 2003 when she invited her partner, fellow BBC employee Alice Arnold, to the London premiere of Seabiscuit.
Leigh-Ann Naidoo
In 2004, Leigh-Ann Naidoo was a member of the first South African beach volleyball team to compete in the Olympics. She is the first African ambassador for the Gay Games, and was the keynote speaker for the Gay Games VII Closing Ceremonies in Chicago in 2006.
She campaigns for racial equality in sports (following in the footsteps of her father, Derrick Naidoo, an early activist for athletic desegregation in her home country), and talks sensitively about the challenges LGBT athletes face as well. She married her partner, Kelly, when gay marriage became legal in South Africa in 2006.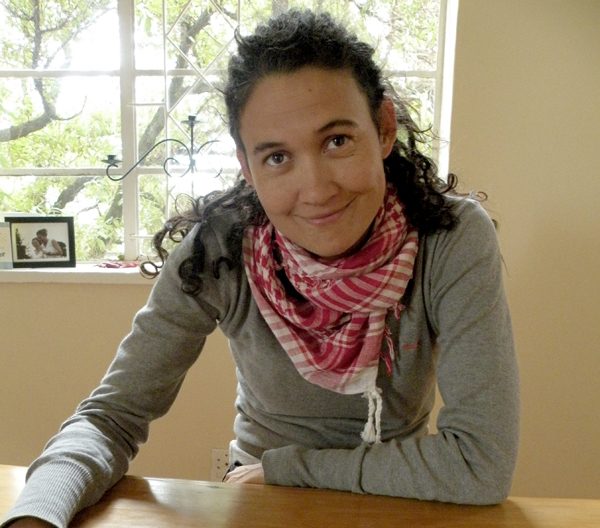 Ireen Wüst
Ireen Wüst has been full of surprises since the start of her career. The Dutch speed skater was only 19 in 2006 when she won a gold medal in the 3000-meter race at the Turin Olympics. Later that year, she earned the honor of being chosen as Dutch Sportswoman of the Year.  In the 2010 Vancouver Olympics, she again earned gold, this time in the 1500 meter race.
Scant months before that, she came out to a Dutch magazine about her "very happy" relationship with an unnamed girlfriend, later confirmed to be short-track skater Sanne van Kerkhof, a fellow Olympian. Wüst is one of only a handful of out Winter Olympian athletes, and she seemed unprepared for all the attention her casual coming-out received, saying, "I want to talk about ice skating." She's still young enough that she should be able to do just that for many highly decorated years to come.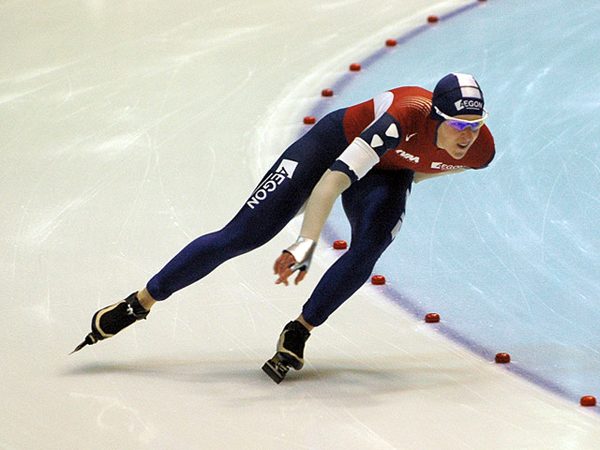 EDITOR'S NOTE: Natasha Kai was removed from this article at her request.
Photo Credits: Michael Cole (Billie Jean King); Bjarte Hetland (Irene Wust); CJ Farquharson (Judith Ardnt); Courtesy of MSG Photos (Carol Blazejowski)