I am a full time TikTok influencer and have been posting mostly LGBTQ focused content since summer 2019.
I have always provided and promoted a positive and empowering space for the LGBTQ community.
As of a couple months ago, I have started seeing countless times of trolls spewing hateful ideology, shaming and bullying me, my audience and my moderators.
My moderators do their best to keep up with muting and reporting hate speech, shaming and bullying but with 400 to 500 plus people in a 'live' it can get very challenging to stay on top of it all.
It has gotten so bad that these trolls have made impersonated moderator accounts and spewed hate speech directly at my moderators and myself, and I have to interrupt my engagement with my supporters to block and report these trolls and it takes a toll on all of us but we don't give up.
These trolls are making inaccurate and false reports on my posts and during my 'lives' which must cause Tiktok's algorithm to delete, block or ban my main account @thelolodee without an actual account of what is taking place.
These trolls are defaming my character and negatively affecting my passion and livelihood due to their bullying and deceptive actions. I believe that TikTok has the power to change this and protect everyone on the TikTok platform from these dangerous and damaging trolls. TikTok's content creators are the ones who pull in the audience, create dynamics and increase revenues. We as large creators should be protected from this type of hate and not punished for it
[From Nina Curtis] Lolo Dee, @thelolodee on TikTok just got wrongfully banned as of last night (1/17/21) for no apparent reason or explanation? She immediately appealed the ban when she found out and her audience quickly realized there was a problem when they could not find her account on TikTok and she began to get flooded with dms on ig and through email and texts. Lolo's fans immediately took to TikTok by reporting the problem, asking why her account had been removed and giving accounts on how much they depend on Lolo's positivity and inspiration to get many of them through their days, on a daily basis. She averages 400 to 500 people in her TikTok lives three to four times a week. We are all still waiting for some form of a response.
Lolo has amassed a large following of people (over 550,000 +) who gravitate towards and are attracted by her positive nature, passion, and her gift to uplift and engage her audience. She makes her fans/audience feel uniquely special, heard and inspired. Lolo is a full-time social media influencer, product ambassador, entrepreneur and all around great person.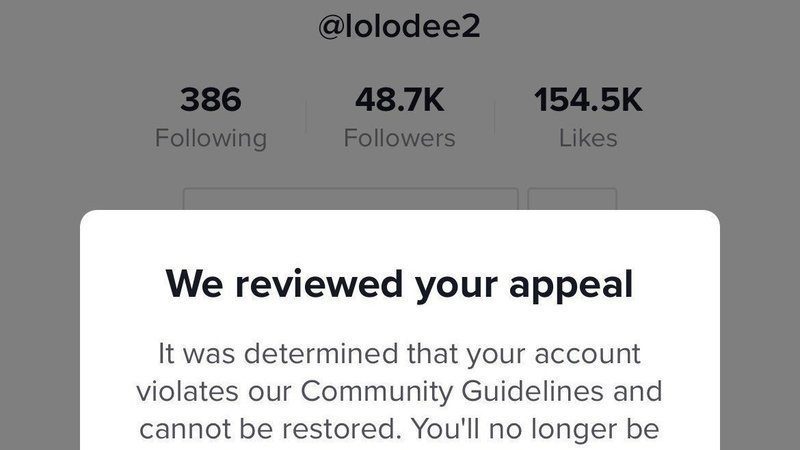 We are devastated by TikTok's actions and lack of concern for Lolo's voice to be heard but we will not stop until TikTok restores Lolo's @thelolodee account and commits to correcting their wrongs toward the LGBTQPIA + community and others who are being marginalized.