Booking tickets to a show with an unknown location can be a little daunting…
Your experience of the The Bloody Beginning, the second installment of Speakeasy Dollhouse, begins well before the show starts.
For starters, you book a ticket for the show without knowing the location. It is only one week before showtime that the address of the performance venue is delivered to your email inbox as part of a series of messages which contain documents that outline the premise of the show.
The Bloody Beginning is based on a true story and the blending of truth and fiction is apparent from their first email message containing "evidence". It's a who-done-it murder mystery, so I won't reveal too much lest I spoil the fun for you.
When you arrive at the location you're told that you need to line up outside the venue. Then the fun really starts —  mobsters shake down someone from the "neighborhood" planted in the line with us. Finally the doorkeepers let you inside — with your password — and you walk through a small alley way with a cannoli and coffee food cart to get to the hidden multi-room lounge. Like much of what the characters discuss with you, these food items don't factor directly into the plot, but serve as part of the back story for one of the main characters. It's the randomness that is intriguing — you're not sure which facts are important to the story and which are simply part of the world you are entering. The job of the audience is to make that distinction for themselves.
Fringe characters helped us along, giving tips about which room we should enter to watch the best action and chatting with us as though we were another speakeasy patron. The cast invited us into their realm and we came walked in willingly, cocktail in hand.
The direction by writer Cynthia von Buhler made the story crystal clear and by the time the main events occur the audience is already invested in the narrative. Stand out that evening was Alison Wright, star of The Americans, who pulled us into her reality as soon as she walked in the room.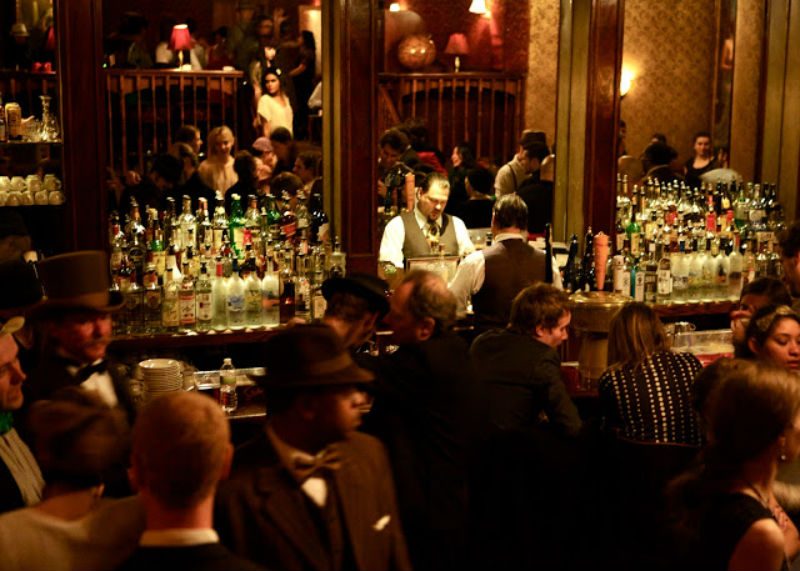 If you're looking for a night out that blends the social and performative, this is a great bet. In between dramatic action there were burlesque performances, live music and lots of mingling.
Throughout the two-hour experience the expert mixologists kept everyone buzzing.  The crowd was very cosmopolitan — there was a little bit of everybody represented there…except people who wear fur, which is not allowed on the premises, another quirk that makes The Bloody Beginning so special. It's the rare place where you can socialize with established friends, meet new people, drink some booze and become immersed in a dramatic story in one fell swoop.
The Bloody Beginning has confirmed bookings twice per month through March at the same downtown venue. Tickets and other information is found here: www.speakeasydollhouse.com