This musical thwarts convention and presents us with a story about an intergenerational friendship between a butcher and a teacher.
Inspired by a short story collection by Leslea Newman, this musical transgresses stereotypes.
You may assume that with a title like Letter to Harvey Milk, the main arc of this play would center around a gay male character, most obviously Harvey Milk, but this musical thwarts convention and presents us with a story about an intergenerational friendship between a butcher and a teacher.
That one of the characters in that equation is an out lesbian writing teacher named Barbara Katsef (played by Leslie Kritzer) is beside the point; there is more to this dame than her pink-triangle shirt. Barbara is a refreshingly fully-formed character who happens to be gay. Not surprisingly, with earnest, genuine characters, Letter to Harvey Milk, directed by David Schechter, has universal appeal. In fact, it came away from this year's New York Musical Theater Festival with five honors, one being the Most Promising Musical award.
Laura I. Kramer, composer; Ellen M. Schwartz, lyricist; and Jerry James, book writer, demonstrated a formula for how get a lesbian character into a mainstream production: make the character choice an organic one (no pun intended).
The musical began its journey at the prestigious BMI Lehman Engel Musical Theater Workshop, a program for new musicals from which has sprung many of the great Broadway smash hits, including Ragtime, Avenue Q, and A Chorus Line. During the second year of BMI Kramer picked up the lesbian-themed short story collection Letter to Harvey Milk by Leslea Newman and started writing songs based on a story idea inspired by the book. Schwartz was interested in collaborating from this early point.
It is perhaps ironic that Schwartz, the straight woman of the creative team, pushed to include a lesbian character as a lead. She didn't have an agenda; "It added to the comedy," she said. This happened through the relationship between Barbara and Frannie, the comic relief and the main character Harry's dead wife. Frannie is extremely homophobic and very vocal about her thoughts on Barbara's presentation and lifestyle. Meanwhile, Barbara, sweet and forthright, sits innocently, trying to teach her writing class,  oblivious to the homophobic ghost traipsing around her. It created a hysterical comedic effect.
The connection between Barbara and Harry also grounded Barbara's Sapphic place on stage. The two met because Barbara was looking for an older person to help her understand her Jewish heritage and Harry was looking for an outlet to understand his recurring nightmare. Their lovely bond stood in for the grandmother missing in Barbara's life and the daughter missing in Harry's life. Barbara and Harry also connected over their love of Harvey Milk. To Barbara, he was a cultural hero. To Harry, he was a gentleman in his San Francisco neighborhood who frequented his butcher shop looking for ballot initiative signatures.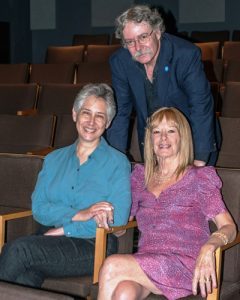 There was also a subtler connection between Barbara and Harry, which isn't revealed until the end of the play, when the story behind Harry's nightmare comes to the surface. Harry confesses that while fighting to survive some of the darkest days in a concentration camp, he had an intimate encounter with another man. He blurted out:  "I… we… we, you know, that was such a place, that hell… The warmth of his body…And soon we would be dead, too, so what did it matter?" Did that mean that he's gay?
Both Kramer and Schwartz shrugged off the pressure to classify him. Schwartz said: "I don't care if people think he is gay or not gay." We all have the capacity for many types human interactions, especially in extreme situations. Barbara accepts this fact. So does Harry. Although they don't know it about each other when they meet, this is one of the reasons that they are drawn together and it is Barbara's comfortability with her own sexuality that draws the story out of Harry and helps him heal.
Kramer believes that people have responded favorably because: "It is a story about humanity, it is not a story about a specific group." With so many lesbian characters in entertainment portrayed as stereotypes, is Barbara the start of a trend in mainstream theater? Kramer says "I hope so!"  Their formula was right on; they focused on function over form and were able to tell a good story, while giving us a little of ourselves on stage at the same time.