Photo Credits: Stephanie Schroeder (Genecco, Martucci, Hansen)
Cold weather and warm voices harmonize at the 2009 OUTMusic Awards.
Despite long delays, technical difficulties and other glitches, the 2009 OUTMusic Awards show went on at Webster Hall last Tuesday, December 8, in New York City's East Village.
After a two-year hiatus, the LGBT Recording Academy re-launched their awards ceremony, which recognizes the best out LGBT musicians and entertainers in the industry.
It was a cold night, but the lesbos showed up and cleaned up. Julie Goldman—without a mic, but with her usual cutting and clever comedic edge—kicked off the event and shouted out the winners at the pre-show in the standing-room-only main space.
Kate Clinton co-hosted the main show, Toshi Reagon rocked the house and won the Heritage Award and all-time faves and lesbian household names Rachel Sage and Athena Reich both walked away with awards. But, it was Jasper James who was the talk of the night. With her eccentric brand of music, enigmatic persona and stunningly awesome andro look, the musician took home the Outstanding Hip Hop/Rap Song award for her song "Rocket." Watch out for more on James in an upcoming issue of Curve—we can definitely think of 10 reasons we love her.
Terese Genecco "a little butch in a tuxedo who bosses around an all-male band," according to a friend of mine who'd been tooting her horn all night—won Outstanding Theatre/Cabaret/Comedy Song for "The Man I Love" from her album Drunk with Love.
The singer says the album pays homage to Frances Faye, a lesbian cabaret performer who began performing in the 1920s. Faye's career spanned almost six decades, and she lived the last 31 years of her life with her female business manager.
The cute and bubbly Genecco is definitely one musical dyke to watch out for.
Julie Clark, whose song, "Courage of our Convictions," was the theme song for the National Equality March earned an award for Outstanding Single of the Year. Her anthem was written in the spirit and context of the historical queer fight for equal rights.
There's more to the story, Clark assures us, but you'll have to wait to read about it in a future issue of Curve.
By now, you likely know Christine Martucci  from our music feature, "Jersey Girls: Queer Girl Rockers Flower in the Garden State" [Vol.19 #6].
Martucci is a star on her way up: She opened the show proper with a mind-blowing performance of her award-winning theme song "There You Are." The Tucci Train—her group of "joisy" girl fans—were in the front rows standing and delivering support, talking back and singing their hearts out for the singer-songwriter rocking the stage.
Despite winning for the song "Breakaway" in the County/Folk category, young hottie Blair Hansen and her manger weren't around when her name was called. "We flew all the way from California for this," they told me, and were very disappointed Hansen didn't get to experience the thrill of accepting her award on-stage. "Breakaway" is also featured on the soundtrack of the film Hannah Free. Additionally, Hansen won the Sonic Bids Humanitarian Songwriter of the Year award for her latest CD, Real World.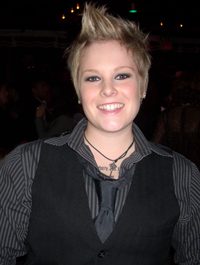 The Stewed Tomatoes are an all-female indie pop punk sex funk rock band—or, as they bill themselves, "phenomena." The group won the award for Outstanding Rock Song for "Leather Daddy" as well as Outstanding Instrumental/Soundtrack for "Goodbye Rachel" from the film Hannah Free, which band member Martie Marro also co-produced and is promoting.
Watch for more in Curve about these gals—they're becoming a powerful force in the lesbian entertainment world.
Can't get enough of these up-and-coming artists and the other queer female musicians you've got on repeat?
Check out Curve's 2010 July/Aug Music issue for one-on-ones and profiles of some of these artists, a feature about activist musicians and fab photos of rising queer female talent.