The lesbian pop rock star lifts our spirits.
Daphne Willis came by her musical talent the old fashioned way—genetics. Both Willis' parents studied music and performed live while she was growing up. "They actually had a little duo thing and they'd play at the club down there and my dad plays guitar so when I was in high school he taught me how to play guitar," Willis explains. But it wasn't until Willis, a lifelong jock, tore both of her ACLs that she began taking her musical talent seriously. "I was laid up with knee surgeries so I started playing guitar since there's not a whole lot else you can do. I'd get chord books and learn cover songs and play them at parties and stuff with friends. It just kind of rolled from there."
Today, the laid back and effortlessly cool singer-songwriter is touring in support of her second album Because I Can, a confident, self-assured sophomore effort so upbeat and lyrically bold that it could just as easily have been titled "Audible Prozac." Willis dishes on the new record, coming out and being discovered at 30,000 feet.
Is it true you were discovered on an airplane?
Yeah. I had this EP that I had done just independently and I got a small licensing. So, I think it was playing in like P.F. Chang's and then they got it onto American Airlines flights and Kevin Welk [President of Welk Music Group] was on a flight and he happened to plug in his headphones into the armrest while one of my songs was playing. We got the call the next week. But it was just hilarious, the serendipity of it, that he plugged it in just at that moment. Right place, right time.
Were you out as a teen and did you experience any bullying?
I was lucky. I came from a really supportive family. I was out to a few friends in high school and then I came out to my parents. It's a big deal to tell your family. But I was so lucky. I think they already knew and they made a joke. My dad was like, Well, I won that one! Like they had a bet going on! [Laughs] They said, well when you were 13 or something, your dad said "I think she's gay" and my mom said "well, we'll just have to wait and see." But they're just so cool and I'm lucky that was my experience. I'm sitting there bawling and a mess and they're just like 'eh' and 'cool.' It was hilarious.
Did you have any concerns as an artist that being gay would impede your career?
My attitude is "hey, whatever" but I understand that not everybody shares that attitude. I guess I don't really think about it that much. The people who matter don't mind and the people who mind don't matter. That's my whole philosophy with that.
A lot of the album seems autobiographical. Was that intentional?
Yeah, definitely, a lot of the songs were pulled from things I've experienced in the past year.
The message of the albums seems to be "Find who you are and accept yourself." Was that a theme you intended?
I definitely just like to write about personal growth and how everybody has their own adversities and struggles. I definitely try to stay positive and I try to write songs that are a little bit more positive for people, too. I always like to feel inspired and uplifted when I listen to [music]. So, I try and reflect that in my own work.
Is writing music therapeutic for you?
It's a big relief for me. If I'm in a darker mood, I'll sit down and try to write something really happy to boost my spirits. Or sometimes when I'm in a really happy mood I'll try and write something really sad, to try and challenge myself. I certainly like to use writing as a release.
Is there any one song on the album you feel closest to?
"One By One." I wrote it with a couple of really good friends. We wrote it during a transitional time—I'd moved to Nashville and I was coming out of a relationship and was just in general feeling kind of overwhelmed. I've definitely come a long way just since we wrote that song and it really does help me to put things in perspective and just slow down and take things one by one. That if there's something about your life you don't like, you can change it.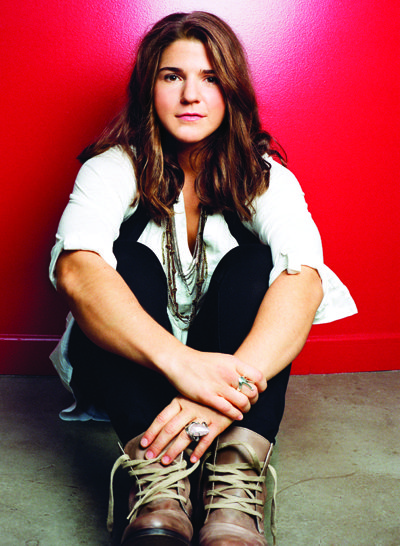 Are there any causes that are important to you?
Oh yes! I have been working with this organization called the Generation Project. They're awesome. They cater to low-income students and low-income schooling systems that need supplies. Their website is like a social networking site, the educators go on and register like: We need three sets of this book or we need baseball bats or we need musical equipment. And you can go on and see what people need and instead of just donating your money, the Generation Project takes your money, buys the product and ships it to the schools for you. You can also design a gift. I donated an acoustic guitar to some students.
What's your ultimate rock star moment, so far?
I played at Notre Dame last Saturday and someone proposed to me. But it was kind of creepy. She followed us from Des Moines and then Chicago…and legitimately busted out a ring and proposed.
What's your weirdest habit?
I'm obsessed with goggles. I have way too many pairs. I have welding goggles and I put tinted lenses in them. The different goggles on the different days are indicative of my mood…if I'm in just a crazy fun mood I'll wear these shiny ones that are glittered out.
Are you a closet steampunk?
No, and I didn't even know what steampunk was. I've heard their events are kind of fun. But I just like the goggles. I'm not a steampunker, but I respect them. Me and the steampunk community, we're cool. (laughs)
If you could tour with anyone, who would it be?
I have mad, mad respect for Brandi Carlile. I've seen her live a bunch of times and I just am continuously floored. I think she's just a phenomenal talent.
Who is your celebrity crush?
Nikki Costa. She's got this strange kind of quirky vibe about her that I'm attracted to in women. (daphnewillis.com)