Los Angeles is home to a new generation of lesbian movers, shakers, and style makers.
This was a big year for lesbian style, and everywhere you looked there were sexy, "cooler-than-cool" ladies coming out as lesbian, bisexual, or queer.
It's become uber-cool to be a lesbian because people like Hayley Kiyoko and St. Vincent have recently reclaimed the term, embracing it after a slew of negative stereotypes made it unpopular for years. Don't get me wrong, I'm not complaining.
I've always wished being gay was in. But I can't figure out why, or when, there was a substantial culture shift away from "That's gross, I hate you" and completely into "I love lesbians." In the early 2000s, when I was in high school, there was a small uprising of "cool."
Ellen and Portia had started dating, Angelina Jolie won an Oscar and was quoted as saying, "I only play women I would date," and one of the best lesbian movies ever, Kissing Jessica Stein, was released. But ladies, now it's 2018 and we're back! Hold on, 'cause now being gay is cooler than when you first saw Kristen Stewart in Panic Room.
Maybe it's because the coolest people in the world always are lesbians.
I interviewed six of the most stylish, intelligent woman I've ever met, who are also gay.
Phoebe Dahl: Clothing Designer
Granddaughter of the children's-book author Roald Dahl, she's a creative force in her own right, as the designer and owner of Faircloth & Supply, a clothing company that merges comfy with stylish and sustainable. Faircloth & Supply is a feminist clothing line with downright dope clothing, and Phoebe is not just one of my favorite people ever—she's also making the world the better place.
On why she started Faircloth & Supply
After I went to the Fashion Institute of Design & Merchandising in San Francisco and then the London College of Fashion I moved to Amsterdam and assisted a designer. We went to Japan for meetings, India for production. As I walked around the streets of Japan, my jaw was on the floor. The way people dressed had me in total and utter amazement. In Tokyo there are thousands of eccentric styles, but there was one in particular that grabbed my attention: Girls were wearing oversized linen dresses over ripped Levi's jeans with espadrilles. It was a very natural, utilitarian style. It was very simple and minimal, but there was something so beautiful about it. We were then given a tour around the most inspiring shops and the most beautiful linen mills. I left Tokyo with a reignited desire, stronger than ever, to start designing again. India followed Tokyo. Because it was the first Third World country I'd ever been to, the economic strife impacted me greatly. The juxtaposition of the two countries struck a powerful chord. Upon arriving home, I quit my job and started Faircloth & Supply, and that was that!
On mixing philanthropy and fashion
I think it's the only option. In today's climate we need to take steps toward creating a better world. I started traveling through different countries, identifying a need, and connecting with the people whose  vision and values are the same as mine. I wanted to find people who actually live in the countries we are donating to, people with inside expertise, with cultural and social knowledge. I was looking for those who had lived through heartbreak and cultural inequality, through imprisonment and racism and hatred for their gender, the color of their skin, or the God they worship. When you get off the computer and into the world, this is how you find these local heroes living among us.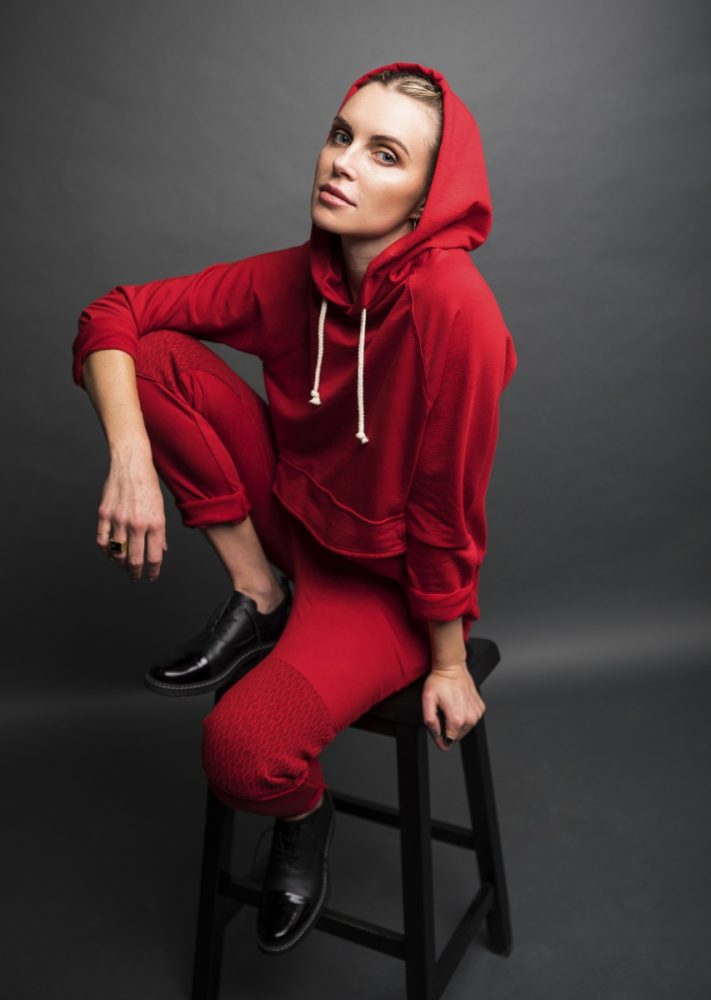 Tat De Leon: DJ/Model
Beautiful (inside and out) and down to earth, Tat is one-half of the cutest couple in the world (she and Phoebe are an item), but that's not all—there is nothing she can't do. Residing in Mexico City, where she's a senior spin instructor, Tat also models and finds time to visit LA and Phoebe. Couple goals, anyone?
On becoming a DJ
I've always loved music, and 15 years ago I got so curious about the electronic music scene that I was going every weekend to raves. I felt so inspired by those DJs, and I fell in love with the possibility to be able to move people that way, so I bought a MIDI controller and that was it. I started DJing at friends' parties, and then when I did my first gig in a club, I just felt that I was doing the right thing and the thing that I loved to do. I was studying graphic design, so I quit and signed on to study electronic music production. Since then, I've been working with music.
On the lesbian scene in LA vs. Mexico
In so many places in Mexico there's still a lot of homophobia. I'm from Mexico City and I can say that it is a gay-friendly city, but it is not the same outside Mexico City, where there's still a lot of repression and cultural conflict. More girls are coming out more easily, compared to a few years ago, when it was still so stigmatized…So the scene is big and is getting stronger, but I think there is a need for more education.
Cam Grey: Musician
A former member of the now-defunct lesbian duo Uh, Huh, Her, Cam Grey has more music projects than you have clothing. She's dark and brooding, with a heart of actual gold. A classically trained pianist who went to the Berklee School of Music, she also plays bass, guitar, and drums, and is attempting to learn the violin. These days, she's playing with the supergroup Summer Moon, which includes some pretty famous musicians.
On playing in bands
My top three jam sessions would have to be: Flea, Dr. Dre, and I got to play a cow bell with Norah Jones once at a Tom Petty Tribute Concert. That was pretty epic.
I play keys and sing in Summer Moon, which includes Nikolai Fraiture of the Strokes, Stephen Perkins of Jane's Addiction, and Noah Harmon of Airborne Toxic Event. I love those boys. We most recently opened for The Killers and just recorded a new EP, out in the fall. I also started a solo project that is still being mixed right now with my friend Luke Brandon Field. It's called RØGUES.
Something she's into that no one knows about
I'm very intrigued by astrophysics, quantum theory, and the study of ancient civilizations, predating what we've been told in our history books. I'm speaking mostly about Anunnaki and ET stuff. I'm a member of MUFON [the Mutual UFO Network]. I'm very into the healing arts and the study of how the mind is our most powerful healing tool. I love meditation and climbing things that are very tall.  I'm a Capricorn goat, so I suppose it is perfect for me.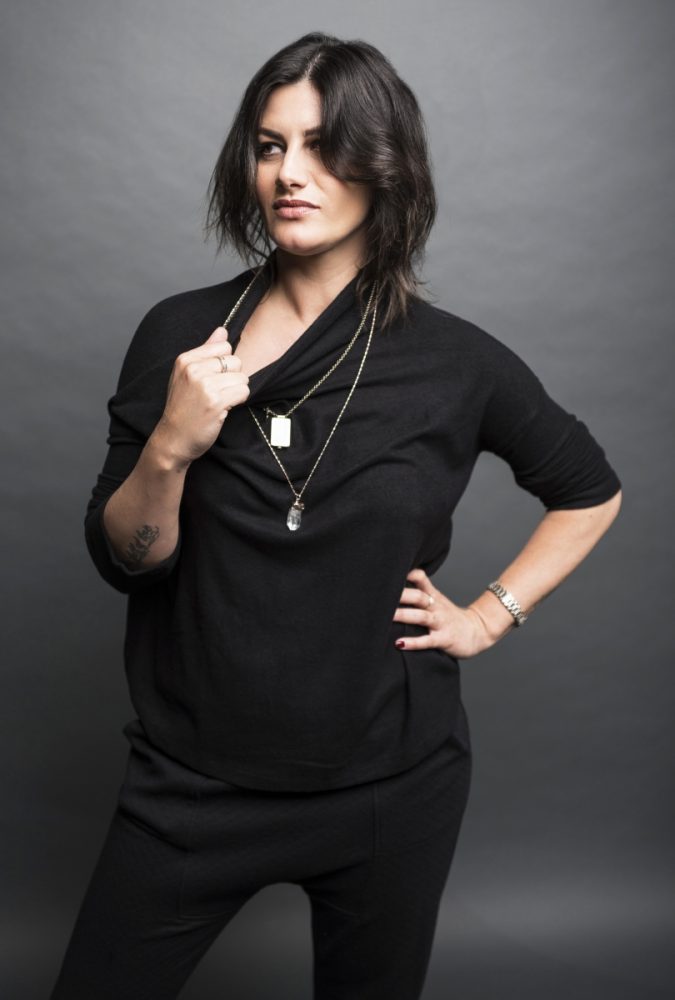 Yel: Rapper/Musician
Mixing flares of old-school and new-school hip-hop to pound out her own unique sound, Yel is about to drop her first EP, and her new single, "4 AM," drips with sick and wavy beats. Her freestyle game is also on point; it's definitely worth checking her out.
How she owned rap
Growing up I listened to artists like Missy Elliott, Outkast, and Lauryn Hill, and fell in love with rap. My mother sang in the church and my father was a musician, so we bumped a lot of Kirk Franklin and jazz in the house. With my parents being music-oriented all my life, it felt natural for me to pick up a mic as a kid and learn to flow. Started rappin' when I was 10, and been stuck on it ever since.
What to expect from her debut EP
You're dropping an EP soon. What can we expect from it?
It's called The Life I Live. This project is my story. Talks about the struggles, life lessons, and situations I've gone through that have made me the artist I am today. Expect to hear about who I am and what I went through to get here.
Samantha Thomas: Artist
Samantha graduated from ArtCenter College of Design in Pasadena, and she's becoming known for her creative and inventive work with paint, enamel, sandpaper, and thread. When she's not slinging paint or doing art shows, you can find her surfing the coast or traveling the world.
On her artistic process
I'm usually hopping from one station to the next, layering paint, sanding, or sewing. Each piece can take months to complete, so it does become about how the material is changing daily until I reach my desired surface.
On where to see her work
I was most recently in Pussy, King of the Pirates at Maccarone Gallery in LA with 20 women artists. I just finished a collaboration with a Mexican textile artisan in Oaxaca, and this fall we'll will be showing seven flags we made in Mexico City with After & Again. I'll do a residency in Oaxaca at the end of the year, while simultaneously working on my next solo show.
How she became an artist
I was grooming myself to be a professional golfer and was on a golf scholarship at the University of Tulsa, [No. 2 in NCAA Division 1 at the time], when I took a still life drawing class, influenced by my roommate. I quit my scholarship and moved to New York to pursue art. I lasted a winter and immediately moved out west. I received my BFA from ArtCenter College of Design in 2004, was assistant to the artist Ed Moses till 2011, and have been lucky enough to carve out my own career as an artist since then.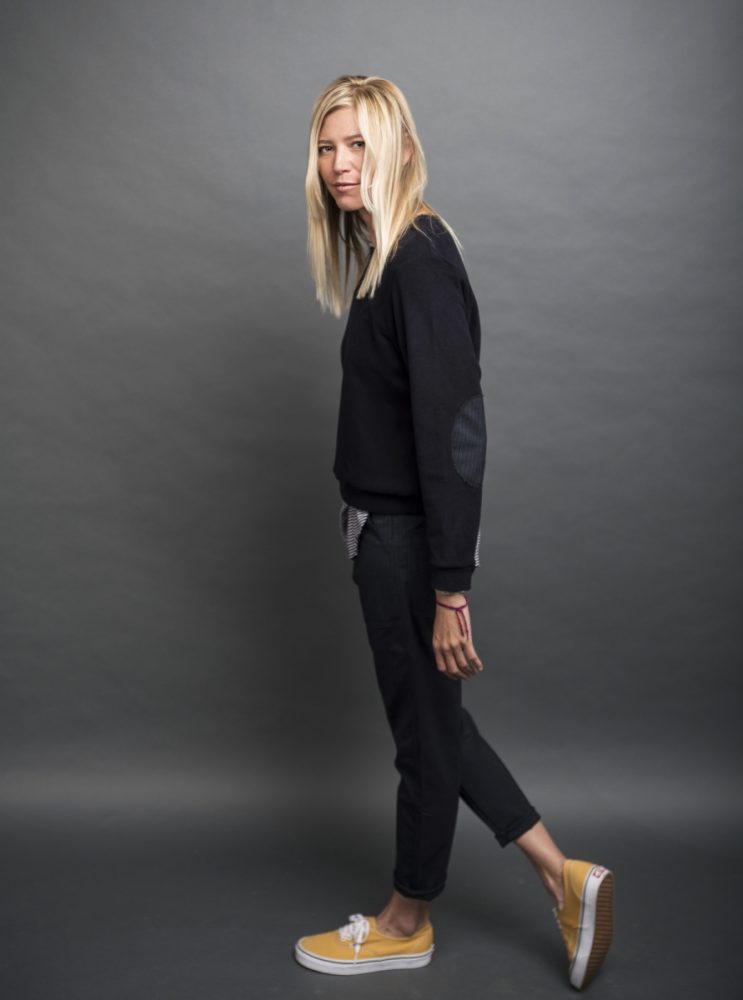 Rachel Paulson: Actress/Writer/Host
West Coast vs. East Coast
I felt like with my career choice it was either here or NYC. My sisters both already lived here, so it seemed like the right choice. I decided the weather was closer to home [Florida] also. I felt like this was the place to be for the writing/acting scene in film and TV, so LA became my new home.
How she describes the LA lesbian scene
Cliquey. I always describe it like a ring of girls that gets smaller and smaller. Like, the single lesbian circle is this big, then it gets smaller if they are single and smart, and even smaller if they are single, smart, and not crazy…and so on. Our friends have this really dope house, and we've been hanging there recently. I just realized: LA needs a new lesbian night. Badly.
Lesbian vs. queer
Lesbian, but I'm not even sure why we need those labels. I wish everyone could just be who they are, no matter who they are attracted to. I know some people feel the need for them, and I respect that, but I wish we could all be just "people." I think being gay/lesbian has always been a cool identity. We always dress better, and smell better, and look better! No, but seriously. We're the coolest.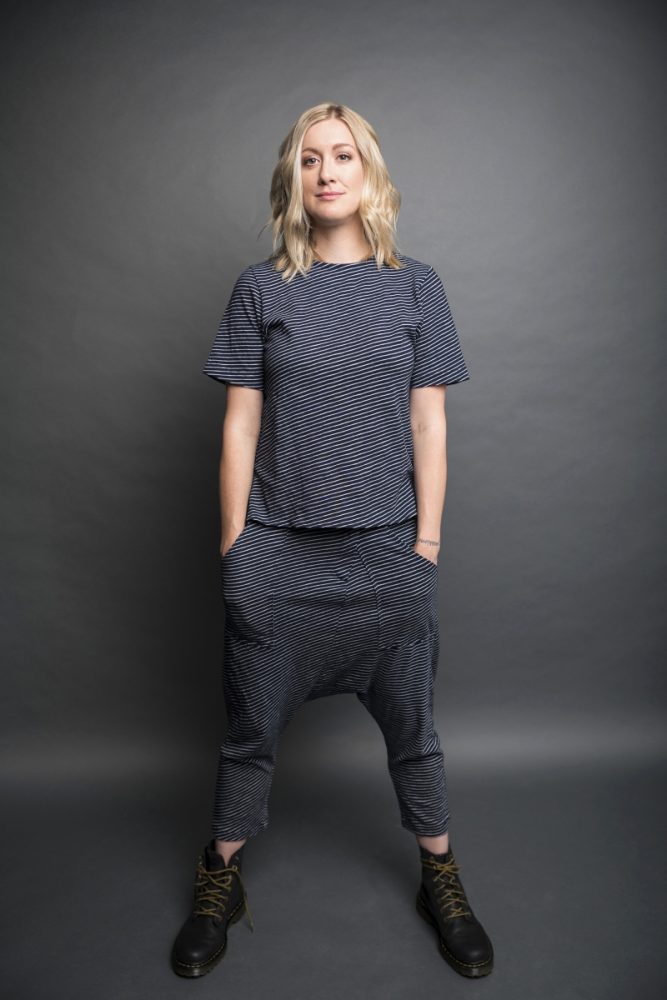 Photos: Amanda Ramon
Clothing: Faircloth & Supply
Hair: Adriana Ortega
Key makeup: Tanya Crosland
Assistant makeup: Corey Bullard