Greta Gerwig's post-feminist, proto-queer version of a classic.
"I can't get over my disappointment in not being a boy," says Jo March in Louisa May Alcott's Little Women. Alcott also wrote in her journal at age 13, "I am old for my age, and don't care much for girl's things. People think I'm wild and queer; but Mother understands and helps me." When Alcott left home to work as a nurse after the Battle of Fredericksburg, her father said that he was "sending his only son to war."
From the moment Greta Gerwig's Little Women opens in a New York publishing house with Jo March (Saoirse Ronan) seeking publication of a story from Mr. Dashwood (a very patriarchal Tracy Letts), it is signaled that this version of one of America's favorite tales is going to centralize the theme of female agency.
The fact that there have been many adaptations of the never-out-of-print book (the word "beloved" is overused) since it was published in 1868 — including eight film adaptations, the first in 1917 — suggests that ambition in young women and their struggle to maintain spaces to realize their dreams is a story worth retelling. And it's fitting that 36-year-old actor-writer-director Gerwig (Lady Bird) gets to tell it.
When we first meet Jo March she is unapologetically hustling, earning money for her impoverished family by selling the stories that have barely left her ink-stained fingers. Her sisters are also balancing doing and becoming while hurtling toward marriages that will either trap them or rescue them — but, either way, make them socially legitimate. Amy March (Florence Pugh) is in Paris studying art while traveling with her rich and bitter Aunt March (Meryl Streep) who is steering her into a profitable marriage.
Meanwhile, Meg March (Emma Watson), who married a poor tutor for love and not money, longs for a better life and impetuously spends a small fortune she doesn't have on silk for a dress.
While in Paris, Amy runs into Laurie (Timothée Chalamet) who is recovering from being turned down by Jo. Beth March (Eliza Scanlen) plays piano in earnest but is already sickly and frail compared to her sisters. At the heart of the story is Jo and Amy's robust competition with each other and their drive to make something of themselves beyond what they were born with — a second-class gender and economic circumstance. The scene in which Amy incinerates the novel Jo has slaved over is elevated by Gerwig from a fireside scuffle to a howling lament of lost authorship and is one of the best scenes in the film.
As sisters in essentially a fatherless family, the March girls are also a sisterhood, with Jo challenging predetermined gender roles and keeping the family financially afloat in spite of tensions between them. Alcott described Jo as the "man of the family" and she is the breadwinner, earning money while being uniformly dreadful at female tasks.
She burns Meg's hair with a curling iron, but she can play the male roles in their theatre group, and wears a military jacket when she writes the stories she sells. She won't marry the tousle-haired, devoted Laurie but she can handle a perplexing romantic friendship with him. He is feminized by Alcott (and also by Gerwig with a perfectly cast, slender and louche Timothée Chalamet). He is beautiful and has an eye for beauty; similarly, the European outsider and Jo's love interest, Friedrich Bhaer (Louis Garrel) plays a muse-like, romantically desirable kind of guy.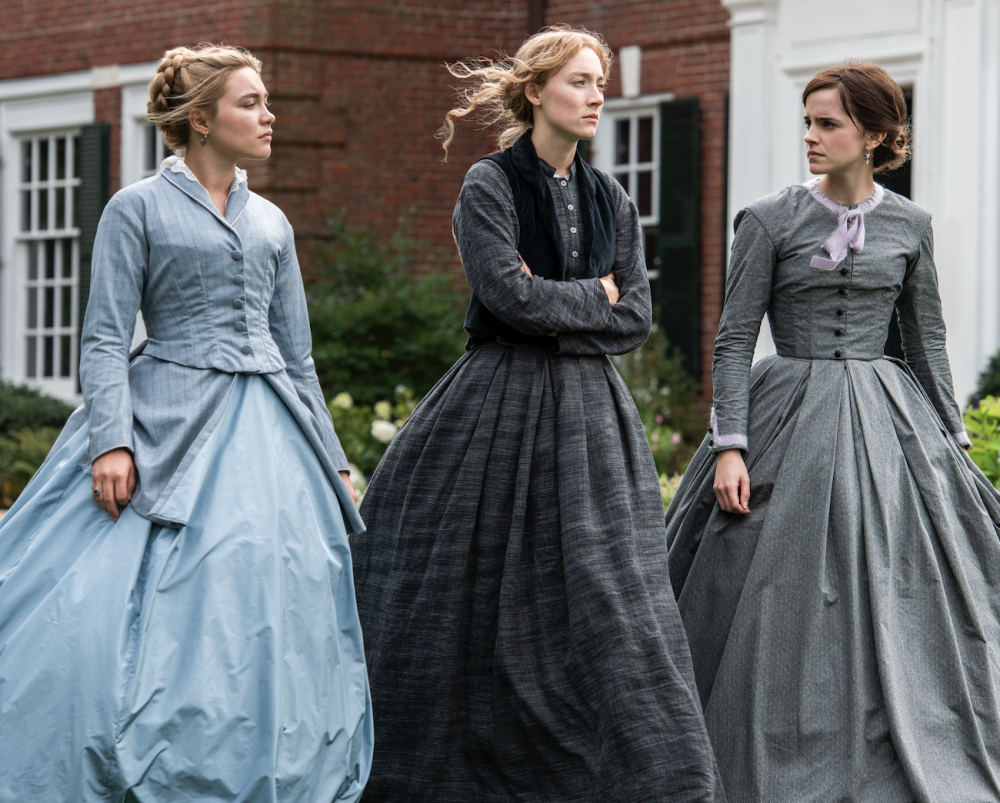 Florence Pugh, Saoirse Ronan, Emma Watson
The film is really about young women wanting to do want they want to do rather than just exist and love. It captures the yearning, the longing in women to be active, significant and impactful in a world made for and by men. The male characters in Little Women, while in the background, have chosen to do or be without any apparent struggle or sacrifice. Only Laurie seems to experience some angst in who he can effectively love, and that Chalamet almost runs off with a picture about women is testament to both his acting ability and his androgynous appeal. When Marmee suggests Laurie join the girls' theatre group she says, "you'll have to fight Jo for the male roles or play a girl." Or at least a boy that girls love to love, and he has no problem with that.
There are many lovely and breathtaking moments in this movie, which frequently looks as if a 19th century painting had come alive. Costumes and wigs are impeccable, thankfully never seeming to stifle the characters but rather expressing their natures. This is no museum piece. Gerwig's direction is energetic and confident, and her script is thoroughly modern and fractures the narrative — a radical move, shaking up our collective comfort with characters over 150 years old. The script flashes back and forth between Jo's childhood in 1861 Massachusetts, which Gerwig describes in her script as "the snow-globe of girlhood and memory"; and her more rambunctious, ambitious future life in New York, set in Fall 1868.
There is some subtextual suggestion that Jo might be queer. Spoiler alert: whether the wedding to Friedrich is real or just the resolution to the book is left open to interpretation. When Jo first meets Laurie at a New Year's Eve party in Concord she delivers the line, "I can't get over my disappointment in being a girl." Then, because she has scorched her dress and can't dance in public, she cavorts wildly with Laurie outside on the wrap-around porch. "Sometimes Jo is the woman and sometimes the man," says the directions in Gerwig's script. And let's not forget Aunt March predicts sourly that Jo is a "lost cause" because it's obvious that she will not marry, or marry "well."
Gerwig has re-read the novel with fresh feminist eyes and seized upon some of its more modern lines. When Marmee (a deeply-affecting Laura Dern) says, "I am angry nearly every day of my life" even though she 'said' it in 1868, we know exactly what she means because we are, too — all this time later — and probably for simular reasons, including the fact that bad things happen to good people, no good deed goes unpunished, and the sociopathic juggernaut known as the patriarchy continues unobstructed.
Whatever spectacles mounted by past iterations of Little Women — for example, corseted 19th century girls bickering cozily in a domestic environment — Gerwig's version is not that. Saoirse Ronan plays Jo with the usual clear-eyed and fierce passion we've come to expect from her, and she is not just Jo March: she is also the intersection of Alcott and Gerwig, and an embodiment of our culture's enduring problem with women, money, and art.

---
Support your LGBTQI Media