Lyra McKee
We are all poorer for the loss of Lyra.
Lyra McKee was a rising star in Northern Ireland. A brilliant writer, keen observer, known for her wit and passionate politics, she was an independent journalist and an in-your-face LGBT activist who took on the Catholic Church and stared down rioters with equal courage.
On April 18 Lyra McKee was shot to death in what police called a "terrorist act." She had just turned 29 in March.
The Belfast lesbian journalist was reportedly covering a riot in Londonderry when she was murdered. Police believe the New Irish Republican Army, a paramilitary nationalist group, is responsible for the killing. The riots were linked to the anniversary of the Easter Rebellion that led to Irish independence from Britain.
McKee was well-known throughout Northern Ireland and frequently appeared on newscasts in Belfast and Derry. Her work had been published throughout the U.K. as well as in the U.S.
McKee had been on Forbes 30 under 30 list of international activist journalists. She had also won the prestigious Sky News Young Journalist Award at only 16. In 2014 she had risen to international prominence when she wrote an essay "Letter to my 14-year-old self" about growing up lesbian in Belfast.
McKee's essay on being gay was made into a short film and landed her a two-book deal with international publisher Faber & Faber, renowned for publishing literary geniuses, including a dozen Nobel laureates and the poets T.S. Eliot and Sylvia Plath.
In her essay, McKee wrote as an introduction, "Yesterday I tweeted a response to the hateful homophobic comments made by a Northern Irish pastor, James McConnell. Mr. McConnell said: "Two lesbians living together are not a family. They are sexual perverts playing let's pretend."
I said: "People like Pastor McConnell made 14 year old me feel like I was better off dead, rather than deal with the shame of being gay."
McKee then writes a letter to her young self explaining how bad it will be but how much better it will get. She begins, "Kid, It's going to be okay."
And the letter she writes is one of heartbreak turned to hope and promise, love and gratitude and joy. Written when she was 24, it tells the reader about what it was like for her and what it became. In the becoming, we meet Lyra McKee and we love her.
But now the very forces she wrote about–the politics of hate and division and suffering–have taken her too-young life.
The introduction to her TED talk explains, "Growing up as a gay teen in Northern Ireland, Lyra McKee had her share of disagreements with the Church and, as a journalist in her 20s, found herself estranged from religious institutions. It wasn't until 2017 and an unexpected conversation about LGBTQ rights in an Orlando mosque that she found herself reckoning with the influence of religion on marginalized lives.
"'I realized that I couldn't run away from religion anymore because religion shapes how LGBT people are treated in the world,' McKee says. In this hopeful talk, McKee points out plentiful evidence that religious institutions are capable of embracing LGBTQ rights and that the process begins with having that first difficult conversation."
Violence has flared in Northern Ireland since Brexit as the question of Irish unification has become a daily talking point. Activists have increasingly been targets. McKee's celebrity in Northern Ireland as an openly lesbian activist journalist had already made her the subject of reprisals, according to officials. McKee had long been subjected to online abuse on social media, an experience she had talked about in panel discussions and interviews.
The Christian Holy Week has long been a contentious period in Northern Ireland. In 1998, the Good Friday Agreement was signed, ending three decades of sectarian violence known as The Troubles. Former president Bill Clinton helped facilitate the agreement.
McKee had written extensively about the political strife in Northern Ireland and her book, The Lost Boys was scheduled for 2020 release. Laura Hassan, editorial director for McKee's publisher, Faber & Faber, said, "As a writer Lyra was drawn to subjects usually met with silence–she wrote about growing up gay in Northern Ireland, the epidemic of suicide among her generation in Belfast and in her forthcoming book she was investigating the unsolved disappearances of children during The Troubles."
Her literary agent, Will Francis, said, "We've lost a tremendous talent, and today I'm remembering Lyra, and thinking of her friends, her partner and her family."
Irish writer Sinéad Gleeson said of McKee, "Public Lyra was a brilliant journalist and advocate; someone who spoke up for others, and fearlessly probed at uncomfortable subjects. The Lyra I got to know was upbeat and kind; a devoted carer to her mother; a cat lover.Her death is utterly senseless. A shocking waste. To wake up to the news of such violence on Good Friday of all days–no political or religious symbolism needs to be invoked, we know what this means. Lyra was a blazing comet–fearless and full of integrity."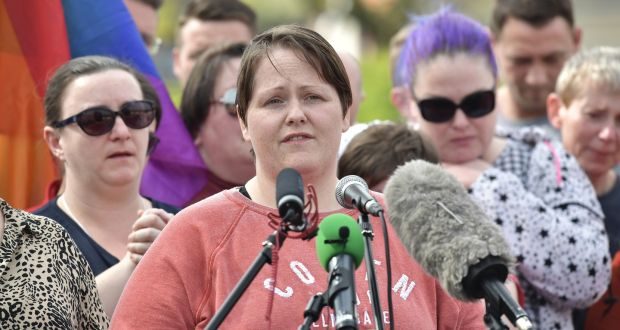 Sara Canning, McKee's longtime partner, spoke on Friday at one of several vigils held for McKee over the Easter weekend. "This cannot stand," Canning said, crying as she spoke. "Lyra's death must not be in vain because her life was a shining light in everyone else's life, and her legacy will live on in the light that she's left behind."
Memorials to McKee have sprung up throughout Northern Ireland and the U.K. and her death has been reported internationally. A video memorial was posted on the TED site. McKee had given several TED talks, which are available on YouTube.
On April 22 protests over her killing were held outside police headquarters.
Two young men were taken in for questioning on April 20, but were released on April 22, without charges.
On April 23, after intense pressure, the New IRA released a statement acknowledging responsibility for McKee's killing. "In the course of attacking the enemy, Lyra McKee was tragically killed while standing beside enemy forces," the statement said.
McKee had been positioned near police officers who were attempting to control the rioting. "The IRA offer our full and sincere apologies to the partner, family and friends of Lyra McKee for her death," the statement said.
According to the German news site DW, the admission and apology came after far-left republican political group Saoradh, which is associated with the New IRA, called for the organization to apologize. Friends of McKee's held a protest at Saoradh headquarters on Easter Monday, using a pot of red paint to place handprints on the walls of the building. Noting the organization had "blood on their hands" for her killing.
"We have used red paint because they have blood on their hands for what has happened," said protester Sinead Quinn, a friend of McKee, who spokeee of how Saoradh had stoked sectarian violence, which McKee and her partner had fought. "They have encouraged it, they have molded these young people into what they are and they are standing behind them handing them guns. They need to take responsibility today for what has happened. They have shirked it so far by saying it was an accidental shooting. You don't shoot accidentally."
In a statement on April 22, Northern Ireland's Detective Superintendent Jason Murphy asked any witnesses with footage of the attack to come forward. "I know there will be some people who know what happened but are scared to come forward, but if you have information, no matter how small, please contact detectives," he said, stressing that the information would be treated "100 per cent anonymous."
At the Good Friday vigil for McKee, Canning said, "Our hopes and dreams, and all of her amazing potential was snuffed out by a single barbaric act. It's left me without the love of my life, the woman I was planning to grow old with. We are all poorer for the loss of Lyra."