Lesbians Are Being Discriminated Against in Every State, Not Just Indiana
Mike Pence couldn't say it. Even when he was asked repeatedly. The Governor of Indiana could not say that the law he signed on March 26–the Indiana Religious Freedom Restoration Act–won't discriminate against lesbians and gay men.
Pence couldn't say it because he knows it isn't true
George Stephanopoulos, ABC News director and anchor of "This Week," kept asking Pence, a featured guest on the top-rated Sunday morning political show, but the governor deflected the question and ultimately refused to answer.
Which is, itself, an answer.
Stephanopoulos began by quoting the anti-gay group Advance America. The executive director, Eric Miller, was ecstatic over both the law and Pence signing it. Miller released a statement from which Stephanopoulos quoted. Of the Indiana law, Miller said, "It will protect those who oppose gay marriage. Christian bakers, florists and photographers should not be punished for refusing to participate in a homosexual marriage!"
That one of the most virulently homophobic groups in the country is thrilled by the passage of this law speaks to its discriminatory tenets.
Stephanopoulos certainly seemed to agree. After reiterating that "Indiana does not include sexual orientation as a protected class," meaning lesbians and gay men have no recourse under the law in the state with regard to discrimination based on their sexual orientation, Stephanopoulos asked Pence if Advance America was correct, yes or no?
Pence asserted that there had been "shameless rhetoric all over the Internet" about the law and plaintively asked, "Is tolerance a two-way street or not?" Claiming that there had been an "avalanche of intolerance poured on our state."
Stephanopoulos listened, then asked Pence, "Yes or no: If a florist in Indiana refuses to serve a gay or lesbian couple at their wedding, is that legal in Indiana?"
Pence claimed that "many states" have similar laws, as does the federal government. He claimed that both President Obama and former President Bill Clinton had signed similar legislation (not even remotely similar nor even recent). Pence insisted that America was "deeply troubled about government overreach and I'm proud that Indiana stepped forward."
Not to be deterred, Stephanopoulos tried again. "Is it now legal to refuse service to gays and lesbians in the state of Indiana? It's a yes or no question, Governor."
He suggested that Pence could "fix" the new law by adding "sexual orientation as a protected class" to the state's anti-discrimination laws. "Would you do that, governor? Would you add sexual orientation as a protected class?"
Pence could easily answer that question: "I will not. That's not on my agenda."
The passage of the controversial law has put Pence, once a putative Republican presidential candidate, in the spotlight. Pence may have thought signing the bill would boost his national optics within the Republican Party, but despite supportive  high-five commentary from the likes of conservative publications like the Daily Caller and the National Review, Pence may have just cost his state a bazillion dollars in revenue.
The timing of the law might have looked right to the right wing in Indiana, pivoting off the announcement by conservative Tea Party fave Sen. Ted Cruz (R-TX) that he was seeking the 2016 Republican presidential nomination. With Easter and Passover looming and surrounded by clergy when he signed the bill, Pence might have thought he literally had God on his side.
But in less than 24 hours a Twitter hashtag #boycottIndiana was trending and celebs from Hillary Clinton to Miley Cyrus were calling out Pence and the entire state for legalizing homophobia.
And then there was the business of business–which is what the law is actually about.
According to Pence, the Indiana law is meant to protect religious freedom. But while anti-Semitic hate crimes are at an all-time high in the U.S. and Islamophobia is a growing concern as well, particularly in the heartland where large numbers of Muslims have settled, that is not what prompted this law. Pence never mentioned concerns over anti-religious hate crimes, nor did he cite any of the recent incidents that have made Jews and Muslims fearful throughout the U.S.
Pence didn't mention any of that because Pence knows the bill was put forward like similar bills across the U.S. which have yet to pass their state legislatures–the law is specifically to allow Christian businesses to refuse service to lesbians and gay men.
Like service was once refused to blacks in the Jim Crow South.
The refusal-of-service trend has paralleled the rise in marriage equality throughout the U.S. As more states have legalized same-sex marriage, more couples are getting married–and having weddings. Florists, bakeries, restaurants, catering services have all been tapping into the business of marriage equality, but some businesses want no part of a gay and lesbian clientele.
In 2013, a lesbian couple in Oregon, Rachel Cryer and Laurel Bowman, requested a wedding cake from their local bakery, Sweet Cakes by Melissa, owned by Aaron and Melissa Klein. The Kleins refused to make the cake, citing their religious conviction that homosexuality is a sin.
In February, the Oregon Bureau of Labor and Industries found the Kleins guilty of discrimination in a lawsuit brought by the lesbian couple. The Kleins could now be forced to pay up to $150,000 in damages–$75,000 for each woman.
"Under Oregon law, Oregonians may not be denied service based on sexual orientation or gender identity," the Oregon Bureau of Labor and Industries statement reads. "The law provides an exemption for religious organizations and schools, but does not allow private businesses to discriminate based on sexual orientation, just as they cannot legally deny service based on race, sex, age, disability or religion."
The Kleins were also investigated for unlawful communication of "future intention to discriminate based on sexual orientation" due to a series of interviews on TV, radio and with print media in which they stated they would always refuse to serve lesbians and gay men because it was against their religious beliefs.
A similar case in Colorado involved a gay male couple and a different bakery. Another gay male couple was refused a hotel room after their wedding. And in a shocking case last month, a lesbian couple, Krista and Jami Dornfried-Contreras were told by a pediatrician, Dr. Vesna Roi at Eastlake Pediatrics in Michigan, that she would not care for their newborn baby daughter, Bay, because God told her not to. (Note that this is exactly what the Indiana law would allow.)
Roi sent the couple a letter after denying them service in which she wrote in part, "I never meant to hurt either of you. After much prayer following your prenatal (visit), I felt that I would not be able to develop the personal patient doctor relationship that I normally do with my patients."
Roi also wrote in the letter, which was published by the Detroit Free Press, that she "believes God gives people free will," and she would "never judge anyone based on what they do with that choice."
The American Medical Association (AMA) rules stipulate: "The AMA affirms that it has not been its policy now or in the past to discriminate with regard to sexual orientation or gender identity."  Michigan does not include sexual orientation in its anti-discrimination laws.
Last week, the Columbus Dispatch reported another lesbian couple was denied service in February by an Ohio videographer for their upcoming wedding.
Jenn Moffitt, 33, told the newspaper that she and her partner Jerra Knicely, 34, went public with the Feb. 4 e-mail from Next Door Stories to draw attention to the discrimination and humiliation they faced. Moffitt said, "We have received many nasty reactions and feedback, but the love and support we've gotten from complete strangers across the globe has been extraordinary. It is our hope that our humiliation and mental anguish being made public will spearhead some much needed overdue (legislation)."
Perhaps the most egregious of the recent cases of overt discrimination against and denial of services to lesbians and gay men involved a lesbian being denied a funeral service in Colorado in January. Vanessa Collier, 33, had been married with two children. But when Collier's family refused to "edit" her life to elide her lesbianism–including her wife–the family was forced to leave the community church and take 170 people in attendance plus the casket down the street to a local mortuary.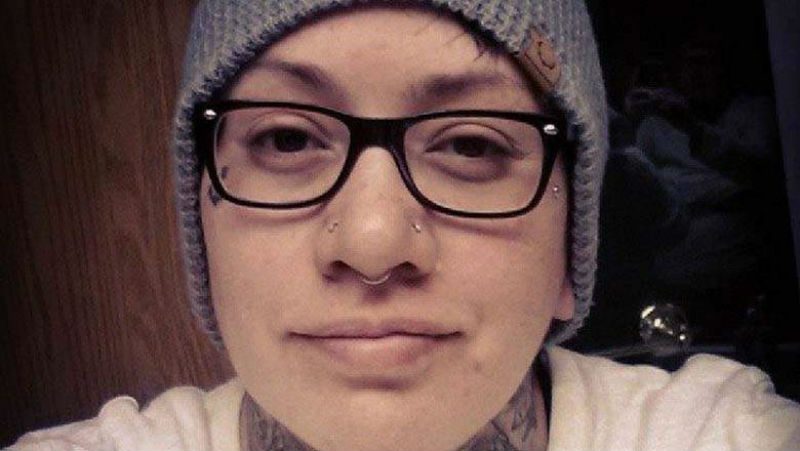 These cases are among dozens in the past year in different states. But they are also merely the cases where the couples involved have been willing to publicize the discrimination and/or file suit against the businesses that have denied them service. (Collier's family was so distraught at having to move her funeral 15 minutes before it was supposed to begin, they went directly to USA Today with their story.)
How many other cases have there been that have not been publicized because the couples went to a different bakery or florist or venue, or they simply didn't feel able to or comfortable with fighting this fight in public?
There has been a flurry of response to the Indiana law, much of it negative. If the law was supposed to protect business (something Pence denies), it's had the opposite effect. Over the past few days since Pence signed the law, major corporations have been pulling out of Indiana. Angie's List withdrew from the state, taking 1,000 jobs. Apple CEO Tim Cook, who came out as gay last year, tweeted his unhappiness with the law. Other businesses have expressed their concern over the law and several cities and states, including San Francisco and Connecticut have stipulated that government employees may not travel to Indiana on taxpayer dollars.
NCAA President Mark Emmert told several national news outlets in advance of this week's March Madness games in Indiana that he was "surprised and disappointed" by the law and was concerned about players and NCAA workers being discriminated against by the state. The NCAA is based in Indianapolis. Emmert released a statement in which he said the law could "negatively impact athletes and visitors" coming to Indiana for the Final Four games of the NCAA basketball tournament. Former NCAA star and out gay Jason Collins tweeted his disgust over the law.
Pence may have side-stepped the questions from ABC News, but in the photo of him signing the law, there are three lobbyists for the original bill: Curt Smith helped write the bill and has said homosexuality is the same as bestiality and adultery. Micah Clark had a public meltdown over a high school lesbian dressed in a tuxedo and supports reparative therapy because he believes being gay or lesbian is a "treatable disorder." Eric Miller sent out flyers claiming clergy could be imprisoned for not performing same-sex marriages.
Pence not only knows these men and their views, they are literally standing with him at the signing.
White House Press Secretary Josh Earnest followed Pence on "This Week." He said, "It should be easy for leaders in this country to stand up and say that it is wrong to discriminate against people just because of who they love."
When asked what President Obama's opinion was, Earnest said that the President had just been at Selma several weeks ago talking about the importance of lesbian and gay civil rights and that is what he stands for.
In June the U.S. Supreme Court is scheduled to rule on the issue of same-sex marriage with what many believe will be finality. But regardless of what SCOTUS decides, if states can pass legislation that actively discriminates against lesbians and gay men, we may have marriage equality, but we still won't have the same legal protections as every other American and in many places, far, far less.