Mattel releases famous women role model barbies.
Frida Kahlo just became the first out bisexual Barbie. How thrilling is that?
The American toy maker, Mattel, released a new line of 17 signature Barbie dolls to celebrate International Women's Day and women's achievements. The "Inspiring Women Series" Barbies are, according to Mattel, role models for young girls (or boys, we hope lots of boys, too) playing with the dolls.
Happy Women's History Month!
Mattel said, "Barbie dolls have long inspired young girls with their beauty and fashion sense. Now they're inspiring them with their brains and bravado, too."
The dolls represent a mix of figures from past and current history that include Kahlo, the iconic Mexican artist. American Olympic Gold Medalist, snowboarder Chloe Kim, 17, who is the youngest of the figures, tweeted her excitement.
Ahh! Im so happy to be honored as a @Barbie Shero alongside these incredible women! #InternationalWomensDay #Barbie pic.twitter.com/U0J7ajM0Sd

— Chloe Kim (@chloekimsnow) March 6, 2018
Also among the new dolls is pioneering black NASA mathematician Katherine Johnson. Johnson, who was recently featured in the film "Hidden Figures," will turn 100 August 26–Women's Equality Day.
Mattel has previously created other dolls honoring specific women they call Sheroes, including a series of women of color: black Muslim Olympic fencer Ibtihaj Muhammad, Misty Copeland, the first black principal ballerina at the American Ballet Theatre, award-winning black filmmaker Ava DuVernay, Instagram's Eva Chen and plus-sized model and body activist Ashley Graham who violates all of Barbie's previously unrealistic body norms.
According to Mattel, the program, which started in 2015, "gives Sheroes the Barbie brand's highest honor, a one-of-a-kind doll made in their likeness, in celebration of their roles in expanding the possibilities for girls everywhere."
Lisa McKnight, Senior Vice President and General Manager for Barbie said, "As a brand that inspires the limitless potential in girls, Barbie will be honoring its largest line up of role models timed to International Women's Day because we know that you can't be what you can't see. Girls have always been able to play out different roles and careers with Barbie and we are thrilled to shine a light on real life role models to remind them that they can be anything."
According to Mattel, "Through its Shero program, Barbie honors women who have broken boundaries in their fields and have been an inspiration to the next generation of girls with a one-of-a-kind doll made in their likeness."
Mattel's decision to make the dolls is based on a global survey of 8,000 mothers it conducted in which 86% of respondents said they were worried about the kind of role models that their daughters were exposed to. "The Inspiring Women" series includes educational information about the contributions that each woman made to society, so children can learn while they play.
Katherine Johnson is too light-skinned and Frida Kahlo is too thin, but we feel so grateful to have these dolls. They should be staples in playrooms around the country. I want a Katherine Johnson doll in every elementary school math classroom just as an icon for girls to see that STEM means them. (Boys need to see this, too. Next there should be a line of Ken dolls in outlier roles like dancer, chef and fashion designer that don't focus on toxic masculinity.)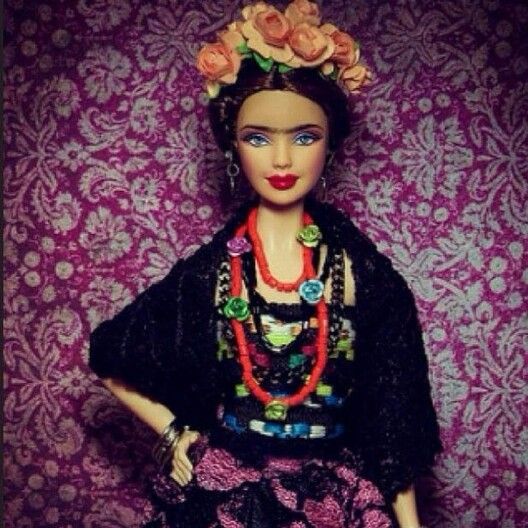 Much as we love Johnson and always found Earhart an alluring and gender-non-conforming figure when we were growing up, seeing the Frida Kahlo Barbie was a game-changer.
Kahlo broke all the rules of everything, including boundaries on sexuality. That Barbie chose to represent her is truly groundbreaking. It says that sexual orientation is normative.
The Kahlo doll also breaks ground in that she is the first disabled figure created by Barbie, although she does not come with any assistive devices, like a wheelchair or crutches, both of which Kahlo used through much of her life. The doll presents as non-disabled, which is a missed opportunity by Mattel as well as erasure of Kahlo's disability, which played a major role in her life and her art. (Mattel did not respond to our request for comment on this aspect of the Frida Kahlo doll.)
Those unfamiliar with Frida Kahlo's story, which is wide-ranging, may not know the artist was disabled, just as they may not know she was a Communist and a revolutionary.
The world-renowned Mexican artist, best known for her Surrealist paintings, many of which were self-portraits, was born with spina bifida, a congenital condition that affected both her spine and leg development. When she was six, Kahlo contracted polio, which paralyzed her right leg.
In addition, Kahlo was in a horrific accident when she was an 18-year-old university student. Kahlo was riding in a bus that collided with a trolley car. She was impaled by a metal bar during the accident and suffered severe injuries: a broken spinal column, a broken collarbone ribs and pelvis, eleven fractures in her right leg, a crushed and dislocated right foot, and a dislocated shoulder. An iron handrail pierced her abdomen and uterus. Later she would have a series of miscarriages which she chronicled in her paintings.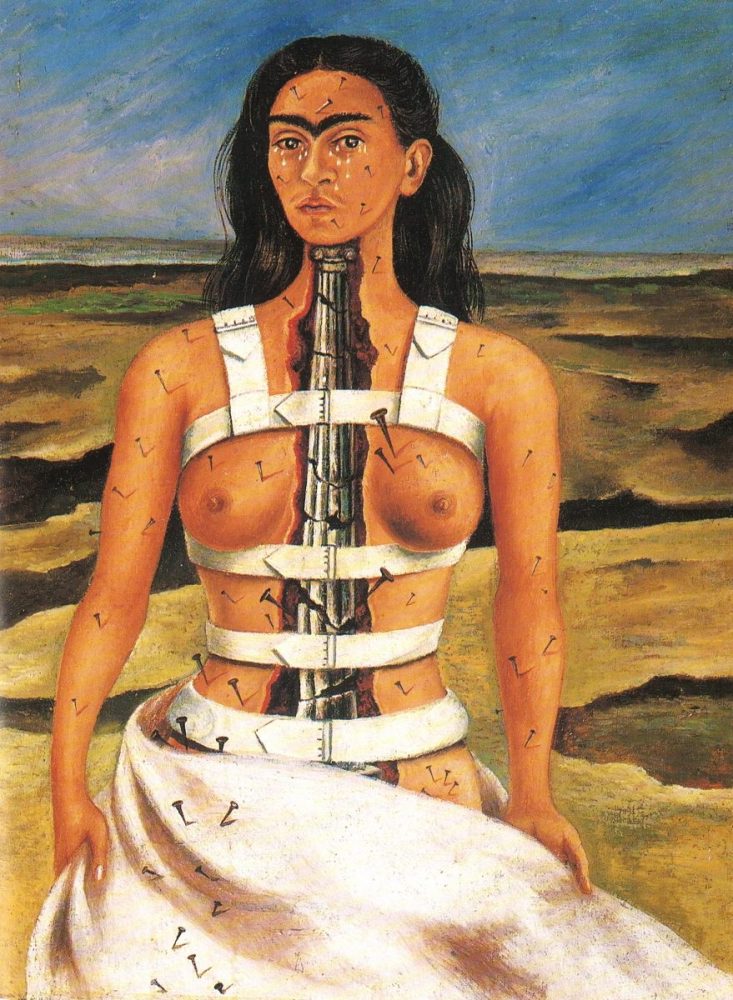 The accident left her wracked with pain and she spent months recovering in a full body cast. Although she recovered from her injuries and eventually was able to walk again, Kahlo was in extreme pain for the rest of her life. She endured more than two dozen surgeries, mainly on her back, her right leg and her right foot. Eventually she had her right leg amputated.
She was only 47 when she died of a pulmonary embolism.
One of the reasons Mattel erasing Kahlo's disability matters is that without it, she might never have become an artist.
Kahlo credited her accident and long recovery with discovering her abilities as an artist. She detailed her injuries and drew sketches of what had happened to her. Later her canvas would be that body, the parts damaged by polio and the parts mangled in the accident. Of her 143 extant paintings, 55 are self portraits.
It is within her self- portraits that Kahlo first revealed her bisexuality. Often representing herself as a dual character with two bodies, she also represented herself as a man as well as a woman. And while Kahlo had a life-long relationship with Diego Rivera, the painter whom she first married at 22 and who was 20 years her senior, she also had affairs with women, including the Mexican lesbian singer Chavela Vargas and the painter and model Tina Modotti.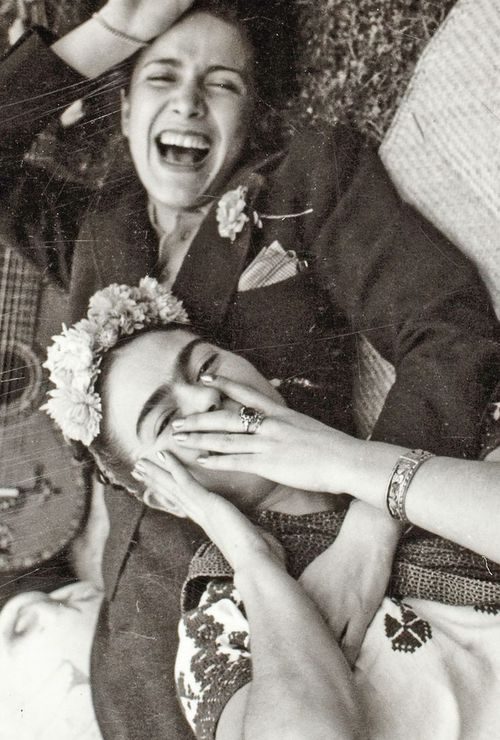 Kahlo was also rumored to have had affairs with the actresses Dolores del Rio and Paulette Goddard. Her diaries and letters indicate she also had an affair with the painter Georgia O'Keefe. In one notation she writes, "O'Keefe was in the hospital for three months, she went to Bermuda for a rest. She didn't make love to me that time, I think on account of her weakness. Too bad."
Kahlo's marriages (she and Rivera divorced and then remarried) to Rivera and his huge presence as an artist overshadowed both Kahlo's art and her sexuality. Her work achieved prominence only after her death, largely due to feminist art historians centering her art which had begun to fade into obscurity. Ironically, Rivera's work has since lost favor as too grandiose, while Kahlo's has gained attention for its Surrealist impact, its technical intricacies and its deeply feminist gaze.
Kahlo's interpretations of the female body–often her own–were complex and told myriad stories. The complicated relationship Kahlo had to her own body and her preoccupation with it due to pain and the repeated surgeries is revealed in painting after painting. Kahlo included text in some of her work, which operates as a template for what the viewer is seeing and often reads as the text of dream and/or nightmare, always devolving from some aspect of her femaleness.
The more one delves into Kahlo's work, the more layered it becomes, which adds an even more provocative element to the choice of Barbie to include her in their Inspiring Women series. Frida Kahlo was bisexual, she was disabled, she was a Communist (her affair with Trotsky was his last before he was assassinated in Mexico) and she was a Mexican revolutionary.
Frida Kahlo is perhaps the most outrageously anti-Barbie Barbie ever made.
In this era of erasure of women who step outside the lines, Barbie has chosen to highlight women whose lives were predicated on doing just that. Kahlo, Earhart and Johnson are women who broke ground and did things no other woman had done or was doing or would do again for a long time. Their stories are still being told.
Johnson, nearing her centenary, is enjoying attention to her work that she always deserved, but was barred from due to both her gender and race.
Earhart has always been an intriguing figure, but the details of her hard work for women pilots has barely been mentioned. Earhart's plane and body were never found and the mystery surrounding her disappearance while flying over the Pacific Ocean has tantalized many since 1937. She was an iconic figure and a staunch feminist. She was the first female aviator to fly solo across the Atlantic Ocean, for which she received the Distinguished Flying Cross. She set many flying records, wrote several best-selling books about her adventures and helped found The Ninety Nines, the first organization for female pilots.
In 1935, Earhart was hired as a faculty member at Purdue University and an advisor in aeronautical engineering. She was also a career counselor for women students–which must have been amazing. A member of the National Woman's Party, Earhart was supporter of the Equal Rights Amendment. She was 39 at the time of her disappearance.
Kahlo, Earhart and Johnson are indeed Inspiring Women. That young girls can now tell their own stories with these dolls is itself inspiring and a fitting gift for Women's History Month and every month thereafter.
Visit www.Barbie.com/rolemodels for more information on the global role models and program. Follow @barbie and @barbiestyle on social media to join in the conversation using #MoreRoleModels. Order the Inspiring Women Barbies here.