Elyse Rich
From alternative rock drummer in Miami to DJ and producer and settling down in Costa Rica – what Elyse Rich has to say on her experience as a lesbian woman throughout life.
Born in New York and raised in Fort Lauderdale Florida, Elyse Rich has let her passion for music guide her through life. In 2013,
Elyse moved to Costa Rica to be with her partner Maria Castro, but they had to leave their home and go abroad to get married legally last year.
In August 2018, the Costa Rican Supreme Court ruled against the country's same-sex marriage ban and gave the Legislative Assembly 18 months to reform the law accordingly, otherwise the ban would be abolished automatically. Same-sex marriage will be legal by May 26, 2020 at the latest. As a couple who have paved the way for the LGBTQ+ community to feel accepted in their hometown, Elyse and her wife have lots to say on what this change in the coming months means to them.
Elyse and her wife Maria have long been advocates for the LGBTQ+ community in Costa Rica and have worked hard to create a safe space for them. They led the first ever inclusive public gay event in Monteverde, in a bar called La Taberna, which is now a popular go-to spot for the LGBTQ+ community. Below shows the rainbow flag that they proudly wave thanks to Elyse and her wife.
Elyse's latest musical endeavour has been working with El Salvadorian blues rockers 'Steady Rollin'. What can only be described as genre-bending art, Elyse has transformed the bands most popular track in an electronic dance track. 'When The Judgement Comes Remix' will be out on the 20th of March. In anticipation of the remix you can check out the original track here:
We interviewed Elyse and her wife Maria on their thoughts on the upcoming legalisation, the role they've played in the community in Costa Rica, as well as their general experience with the LGBTQ+ community in life.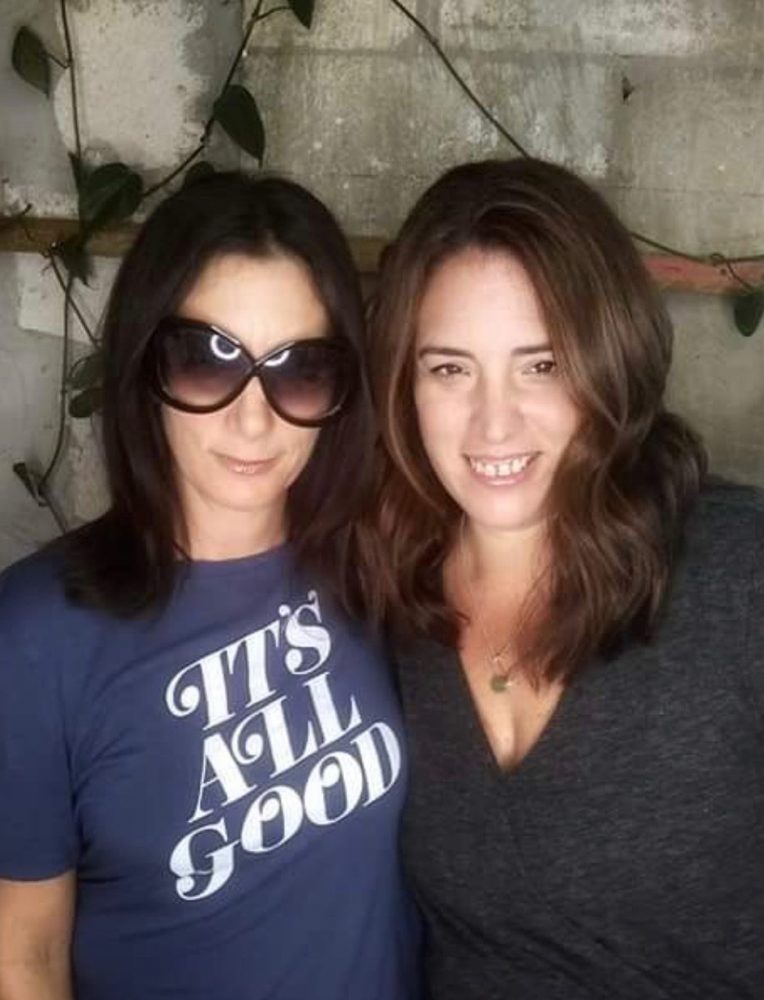 What are your thoughts on the upcoming legalisation of same sex marriage in Costa Rica? How do you think it will affect communities in the country, do you think the impression that locals have of the affection of gay couples in public will improve?
Elyse: For a country with such progressive attitudes & policies towards the physical environment, it only makes sense that it would move in a direction to match that in the social environment. My hope is that it will affect communities in a positive way where more local Costa Rican's feel safe to "be out." I do think over time the local impression of affection between gay couples will improve. The younger generation is taking more of the opportunities to expand their education & are more open minded. As Costa Rica becomes more of an international country everyone is more exposed to worldwide culture.
Maria: I think this is a natural next step for Costa Rica. given the country's motto and vibe is "Pura Vida " which translates to pure life. Costa Rica has become more of a gay friendly travel destination with currently 2 locations that are more open to PDA. It's just a matter of time, given Costa Rica is still mainly a conservative Catholic country where some politicians have denounced homosexuality as a sin. Having grown up in the political world & raised Catholic in Miami. I can see where this view comes from. At the age of 40 when I met Elyse I was clear it was time for me to move to Costa Rica. Growing up I never identified myself as Bi or Lesbian and when I met Elyse I quickly realized its not about the gender is about the persons essence and soul. I support the LGBTQ+ community and I rather focus my attention on equality for all. I never imagined I would marry a woman and "coming out" was something that I didn't feel I needed to do but rather share I had fallen in love. I shared with family & friends (many were surprised) and all were very welcoming and happy for us.
I was born in Costa Rica and left at 10 months old (Ex President of Costa Rica is my Godfather, Daniel Oduber https://en.wikipedia.org/wiki/Daniel_Oduber_Quir%C3%B3s) leaving Costa Rica as a baby because my parents were appointed Consulates of Costa Rica in Puerto Rico. I remember coming back to visit as a child and asking my Godfather if I could sit at his desk. At a very young age I felt a strong connection to his being and having an impact in Costa Rica. My Godfather at a very young age had a huge impact on me. He studied and focused a lot of his time in office as president on reforestation and social issues. I believe labels create separation and distance which goes against "Love is Love" and equality for all. When the word "environmentalist" and "gay" don't exist in our language I believe we have "won" as a human race. I am a passionate advocate for Costa Rica to continue leading by example.
Your role in Monteverde becoming a popular place for the LGBTQ+ community is amazing. Were there any negative opinions of the change at the time and do you think other areas of Costa Rica will become similar to the Monteverde following the legalisation?
Elyse: There was no negative pushback to our event, and everyone involved had really great relations with the community in general, which I think was important. Mutual respect from the beginning. All the other collaborators in putting the event together were "straight." For us, it was all about the music and that's an "inclusive" vibe. We had only positive support from those that attended, the location where we held it & the community (gay, straight, young & old). Mostly people would thank us for being "brave" enough to hold the event openly. I'm thinking after the legislation is passed more locals will feel confident knowing they have rights and acceptance will eventually become the cultural norm. I see this as a steppingstone for all scared, self-caged people to free themselves and develop other communities. There are already a few. I look forward to seeing them grow.
Maria: All was positive, inspiring and uplifting. My favorite was when local Ticos and Ticas came to me privately while Elyse was DJing thanking us for providing an environment where they felt free to express themselves and dance openly. I'm excited for May 26, 2020 when locals can marry in Costa Rica. We plan on returning to Monteverde for a reunion & celebration for all. We will also be hosting an event in our new home (Santa Teresa Beach) in the Blue Zone of Costa Rica
You have said in the past that you're not into labels, do you think the LGBTQ+ community can alienate others in some ways with the image they present themselves as?
Elyse: I always hung out in the art & music scene which felt very free & diverse. There were gay, straight, goth, hippies, intellectuals, party kids, androgynous, people who wore suits by day and anything else you can imagine all coming together. I am in no way a hater on the LGBTQ + community. South Florida has an amazing LGBTQ+ scene and I love going to events and clubs. I worked in partnership with the non-profit Drag It Out as a DJ & Sound Engineer. It's been my personal experience in the US that it can be a very self-separated scene, which is a possible reaction from being a targeted minority. There are groups within the community that are super militant, judgmental, alienating and non-accepting of anyone who doesn't share their exact point of view and I have been at the effect of that. There are also groups and people in the community that are cool as fuck and luckily, I've been at the effect of that as well.
Maria: I had a friend in the US from the LGBTQ+ community tell me I wasn't being "gay enough" and using my straight privileges. I had never heard that before and it left an impression on me that there could be a separation that the LGBTQ+ community is creating which goes against what the whole movement is about EQUALITY. Equality is about ensuring everybody has an equal opportunity and is not treated differently or discriminated against. I prefer to use the word "Inclusive Community" where everyone is welcome just as they are free to express their whole selves!