"LGBTQ+ Americans are living in a state of emergency."
—Kelley Robinson, president of Human Rights Campaign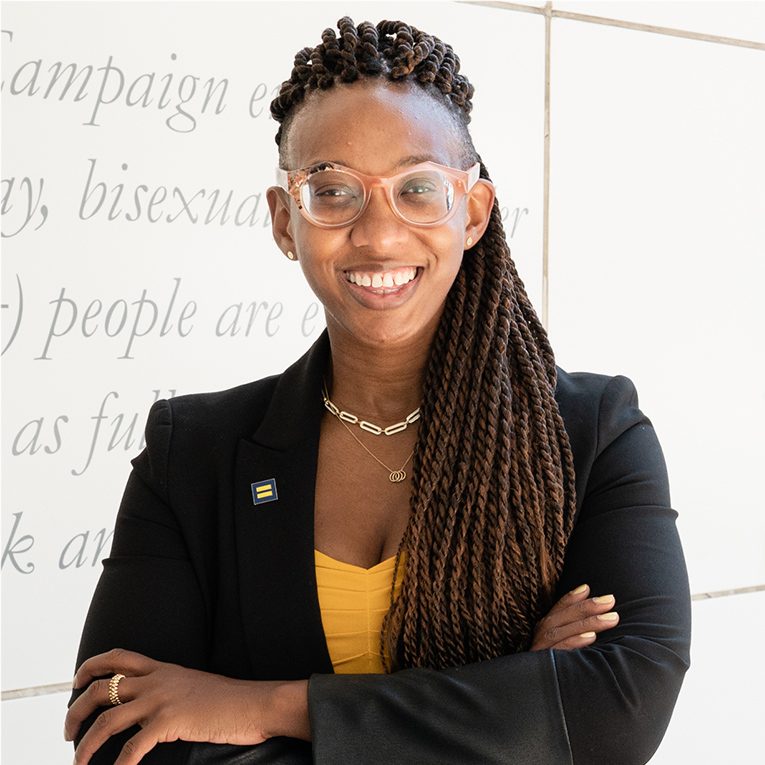 "LGBTQ+ Americans are living in a state of emergency."
That stunning declaration from Kelley Robinson, president of Human Rights Campaign (HRC), was the first such alert in HRC's 40 year history.
Robinson said her decision to issue the alert to millions of queer and trans Americans was essential as Pride Month began. The safety and protection of LGBTQ people is a priority for HRC.
"The multiplying threats facing millions in our community are not just perceived – they are real, tangible and dangerous," Robinson said. "In many cases they are resulting in violence against LGBTQ+ people, forcing families to uproot their lives and flee their homes in search of safer states, and triggering a tidal wave of increased homophobia and transphobia that puts the safety of each and every one of us at risk."
Lesbians and queer women, bi and trans women, are all too familiar with the threat of violence from a cis-het society where toxic masculinity drives policy. For decades Curve highlighted dangers specific to women: corrective rape, honor killings, and lesbian asylum seekers being sent back to countries that would kill them just for being gay.
And the murders of trans women – particularly trans women of color – has become its own emergency, as activist Imara Jones has detailed in her work for the UN and others.
That these threats aren't new doesn't make them less concerning. This has been a tumultuous year in America and globally. On the last day of Pride Month, The Supreme Court ruled 6-3 in favor of legalizing discrimination against LGBTQ+ people in the case of web designer Lori Smith in 303 Creative LLC v. Aubrey Elenis.
The case pivoted on whether First Amendment free speech protections in fact give anti-LGBTQ+ businesses a constitutional right to violate the civil liberties of lesbian and gay couples. The conservative majority of the SCOTUS said yes.
The evangelical Christian website designer had argued that a Colorado anti-discrimination law violated her First Amendment right to refuse to create websites for same-sex weddings and deny service to lesbian and gay couples in accordance with her religious beliefs.
Writing for the majority, Justice Neil Gorsuch wrote that religious conscience supersedes all else. The court had ruled similarly in June 2022 when it found in favor of a Catholic group in Philadelphia over lesbian and gay foster parents. In that case, the SCOTUS ruled that the City of Philadelphia could not force a Catholic foster care agency to violate its religious beliefs just because Philadelphia has a non-discrimination policy.
That 2022 decision was the precursor for the new ruling in the Smith case.
In a blistering 38 page dissent to Gorsuch on Smith's case, Justice Sonia Sotomayor refuted the argument that religious beliefs supersede discriminatory policy. She detailed the long, fraught history of discrimination against LGBTQ+ people and noted a "nationwide rise in anti-LGBTQ+ discrimination" calling it "heartbreaking" and adding, "Sadly, it is also familiar."
She added that "the immediate, symbolic effect of the decision is to mark gays and lesbians for second-class status."
Sotomayor wrote, "Around the country, there has been a backlash to the movement for liberty and equality for gender and sexual minorities. New forms of inclusion have been met with reactionary exclusion."
She also wrote, "When the civil rights and women's rights movements sought equality in public life, some public establishments refused. Some even claimed, based on sincere religious beliefs, constitutional rights to discriminate. The brave Justices who once sat on this Court decisively rejected those claims."
That SCOTUS ruling just served to underscore all that Kelley Robinson said in her alert: to be queer or trans in America is to be unsafe. 
BODILY AUTONOMY AT RISK
The SCOTUS ruling came a year after Roe v. Wade was overturned after 49 years of being established law. That ruling put women at more risk: bodily autonomy has always been imperiled in America for queer women–overturning Roe made it all the more difficult for women and trans masculine and nonbinary people to maintain bodily autonomy and personal safety.
The HRC alert highlighted all the laws that state legislatures are enacting and how those laws endanger queer and trans people of all ages, but that a significant number specifically target queer and trans youth. More than 400 anti-LGBTQ bills were introduced in the first months of 2023 – a new record and twice the number of similar bills introduced in all of 2022, according to American Civil Liberties Union data.
"Dehumanizing anti-LGBTQ content on social media such as misinformation and hate have an outsized impact on real world violence and harmful anti-LGBTQ legislation, but social media platforms too often fail at enforcing their own policies regarding such content."
—Sarah Kate Ellis, GLAAD President and CEO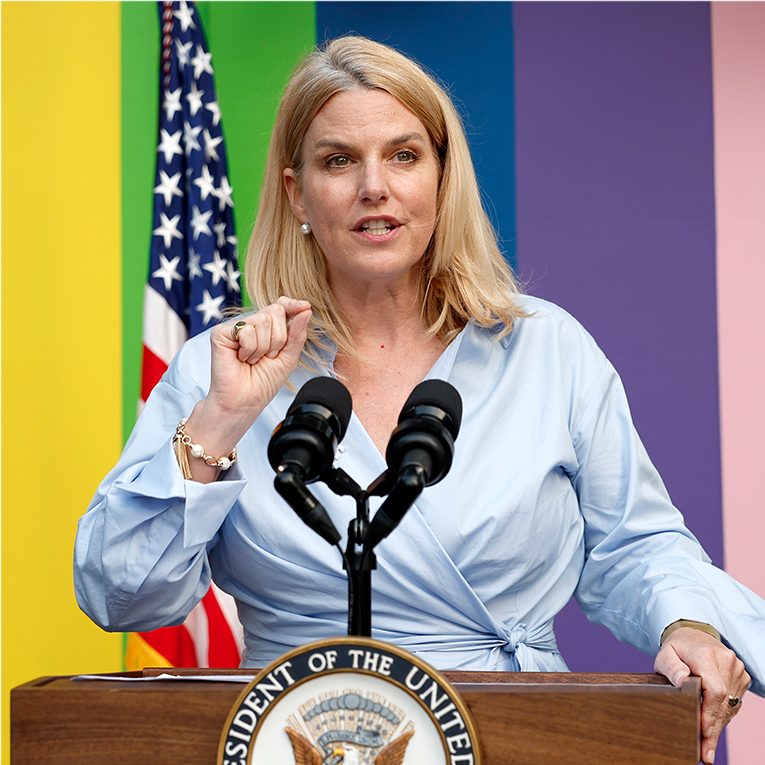 LGBTQ WOMEN AND ONLINE HARASSMENT
Since the 2016 election, social media has played an outsized role in the lives of LGBTQ people and in politics. Donald Trump's impact on both cannot be overstated. That's evidenced in the annual reports from GLAAD on the state of social media and of anti-LGBTQ bullying.
GLAAD's third annual Social Media Safety Index (SMSI), a report on LGBTQ user safety found all five major social media platforms – Facebook, Instagram, TikTok, YouTube and Twitter – received low and failing scores on the SMSI Platform Scorecard for the second consecutive year. The SMSI found that the platforms continue to fail at enforcing the safeguarding of LGBTQ users from online hate speech, fail at providing transparency in the use of LGBTQ-specific user data and fail in expressing commitments to protecting LGBTQ users, specifically, policies and commitments to protect transgender, nonbinary, and gender non-conforming users from being targeted.
GLAAD's Platform Scorecard in the 2023 SMSI found Twitter, now X, was the most dangerous platform for LGBTQ people. Of the five major platforms included in this study, Twitter/X was the only platform with scores that declined from last year's report. The issues related to Twitter/X are likely due to owner Elon Musk who is virulently anti-LGBTQ and was known for anti-gay and anti-trans posts prior to spending $44 billion for the site in early 2022. Musk has a trans daughter who has changed her name and "divorced" her father due to his blatant transphobia.
Not included in the lineup is the new platform from Meta — Threads — that was generated in June to compete with Twitter/X. But while there was a flurry of sign-ups in the first few weeks the site was open, in less than a month the feminist action group UltraViolet launched a petition demanding changes to protect women and LGBTQ people from misogyny and harassment on Threads. UltraViolet wrote, "Threads is shaping up to be the new playground for white nationalists and men's rights extremists keen on spreading misogyny, racism, and disinformation."
Of the 2023 SMSI GLAAD President and CEO, Sarah Kate Ellis said, "Dehumanizing anti-LGBTQ content on social media such as misinformation and hate have an outsized impact on real world violence and harmful anti-LGBTQ legislation, but social media platforms too often fail at enforcing their own policies regarding such content."
She added that even though "many of the companies behind these platforms recognize Pride month," they were not prioritizing the safety of queer and trans people. Ellis said, "They should recognize their roles in creating a dangerous environment for LGBTQ Americans and urgently take meaningful action."
LESBIAN MOTHERS ERASED
In October 2022 Italy elected a neo-fascist government with Giorgia Meloni's Fratelli d'Italia (Brothers of Italy) party. Meloni won an absolute majority in the Italian Parliament.  Meloni's radical-right political party with neo-fascist roots in the post-World War II neo-fascist Italian Social Movement is virulently anti-LGBTQ. In July, Meloni, who had pledged to make the country more 'family friendly' began erasing lesbian mothers from birth certificates.
As Human Rights Watch reported, the names of non-biological lesbian mothers were struck off their children's birth certificates under the new legislation passed by Meloni's government. Only the biological parent of a child can be named on a birth certificate in Italy now.
GOP politicians applauded Meloni's election and championed much of her platform. As the GOP presidential campaign heats up, it's apparent that LGBTQ and women's issues will remain at the forefront for the MAGA GOP base.
Donald Trump was the most virulently anti-LGBTQ+ president in U.S. history, and despite his increasing legal challenges, he leads the pack of 13 GOP contenders for the 2024 presidential nomination.
WOMEN'S AND GIRLS' SPACES
Florida's Republican Gov. Ron DeSantis is the most anti-LGBTQ+ politician in the U.S. He has built his personal brand on "Don't Say Gay" laws and other anti-LGBTQ policies. He also signed one of the country's most restrictive abortion laws. DeSantis has provided a national template for banning sexual orientation and gender identity from classrooms, and banning transgender women and girls from female sports and restrooms by invoking the protection of children and women's spaces. Even DeSantis's much discussed battle with Disney began as a fight over LGBTQ civil rights and the "Don't Say Gay" law, which President Biden deemed "hateful."
Trump is a known entity and a scary one, but DeSantis represents a new and alarming rise in fascist leadership. HRC and the NAACP both issued warnings about travel to Florida due to DeSantis's stances on LGBTQ and Black people.
Vivek Ramaswamy, the Millenial billionaire who polls third behind Trump and DeSantis, is using Nazi language about queer and trans people: "social contagion." The entrepreneur also claims that LGBTQ people are "interfering with our kids" and says, "In the name of rights, what they've actually done is created a new culture of oppression in the opposite direction, imposing that on kids."
And Robert F.Kennedy, Jr., Democratic challenger to President Biden, and a notorious anti-vaxxer and conspiracy theorist, has taken the tack that pollutants in the water are causing a rise in queer and trans people in America.
CLIMATE AND OUR COMMUNITY
The summer of 2023 is officially the hottest on record. The climate crisis has impacted our lives in an almost daily way, with record-breaking weather events. Climate will exacerbate structural inequalities, creating divergent challenges for LGBTQ+ people. The Center for American Progress (CAP) states, "Environmental injustice disproportionately affects women, low-income communities, and LGBTQ+ people; what's more, people who share more than one of these identities may be even more disproportionately burdened."
CAP states, "LGBTQ+ people have long been subject to a disproportionate burden of pollution compared with cisgender heterosexual people… Studies have found that areas with higher proportions of same-sex couples saw increased amounts of hazardous air pollutants compared with areas with lower proportions of same-sex couples."
CAP adds, "This has resulted in LGBTQ+ people suffering higher rates of chronic diseases associated with environmental exposure, such as respiratory diseases, cardiovascular disease, and cancer."
As Greenpeace explains, LGBTQ+ people are "often forced to leave their homes due to family conflicts, threats of abuse or actual violence, which makes them experience higher rates of homelessness" and "tend to move to segregated locations to reduce the risk of discrimination and harassment from neighbors and landlords."
HOPE
Lesbian feminist writer, activist and historian Joan Nestle co-founded the Lesbian Herstory Archives nearly a half century ago so that lesbian history would not be erased. In an interview on the publication of her most recent book, A Sturdy Yes of a People: Selected Writings, Nestle, now 83, said that it's essential that lesbians and other queer and trans people pay close attention to the language being used against them and the actions of politicians and their followers.
Nestle said, "When you have presidential candidates, when you have major political parties who are culturally cleansing—your imagination, lesbian imagination, lesbian writing, anti-racist writing and what's acceptable—the closest I think of is the McCarthy era—that's on a level that stuns me, too. That even a minority of Americans—and I am hoping it's a minority—should turn to this rightward swing is stunning."
But Nestle is hopeful and thinks lesbians in particular and their queer and trans allies will fight on as they always have, leading change. "Like always, they oppress, we resist," she says.
HRC's Robinson is equally declarative, saying, "LGBTQ+ people nationwide will not be erased—not now, not ever."
The coming year could see radical change and the possibility of another GOP presidency is a pervasive threat. The main question is: Who will create the change in the coming year—us, or them?