Meshell Ndegeocello landed on the April 1994 cover of Deneuve magazine just two years into a musical career that has seen her showered with critical acclaim, 10 Grammy nominations, and credit for sparking the neo-soul music movement. The wide-ranging, explosive, unapologetic, and joyful cover story helped set the publication's benchmark for the kind of up-close-and-personal "celesbian" interviews that would make Curve America's best-selling lesbian magazine.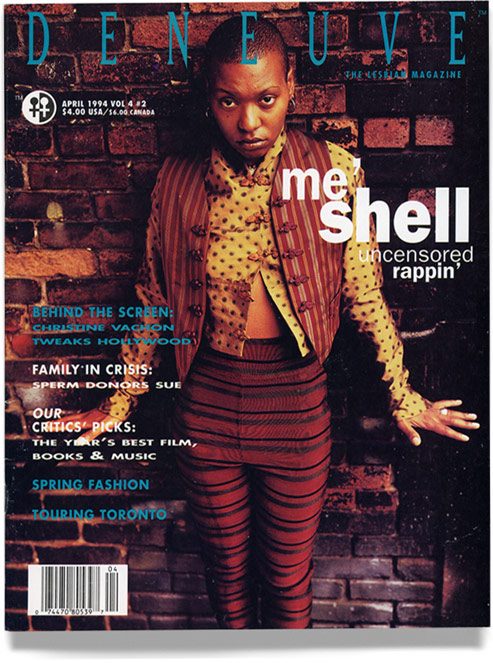 "Me'shell Un-censored, Un-fettered" by Val C. Phoenix delivers a portrait of a 24-year-old trailblazer who came out when she was 16 despite homophobia in the Black community; who riffed on her identity in a way that thrilled the reader — she was variously "a female homo sapien"; "a femme in a butch body"; and "gay."
Signed to Madonna's Maverick label at the time, Meshell was coming into her full power as the brilliant musical artist the world knows her to be today. But she was already a lesbian icon beause queer women are culture-savvy early adopters — so all the queer women loved Meshell!
"I've had a massive crush on her since 1993," says Ahead of the Curve producer Rivkah Beth Medow, who recalls fan-girling when she and director Jen Rainin called Meshell to be part of the documentary for an on-camera interview.
Meshell, who was fresh from the success of composing the music for Ava DuVernay's Queen Sugar, was more interested in scoring Ahead of the Curve than being in the film. Medow remembers putting her phone on mute so that she could scream with joy when Meshell signed on.
"Working with her was extraordinary," reveals Medow. "She's so sensitive — and such a hardworking, phenomenally talented human being. She's one of the best in the business. Part of me still can't believe we got to work with her. Our lucky stars definitely aligned for that."
Rainin remembers the collaboration as "generative, juicy, creative" with Meshell bringing a lot of her own ideas and emotions to the project. "This film is a part of her history, too, so she shared our deep connection to the story," she says.
More than 25 years after Meshell was on the cover of Deneuve, here she was again, this time helping to tell the story of how the magazine came to be and how it will continue to stay relevant and beneficial to the Curve community.
Former Curve publisher Franco Stevens savors the sweetness of that serendipity.
"I remember standing in the hallway of the old Curve office on Haight and Market and finding out that we got the interview with Meshell and being like, Whoa — we are getting this famous powerhouse on our cover. It felt like we moved up to a new level with that interview, that we now had the clout to get somebody that big," recalls Franco. "It made us ecstatic because she was the epitome of cool."
And she still is.