There is perhaps no other celebrity who is as iconic in our community as Melissa Etheridge. We looked to her to see how it was done. Somehow she managed to remain true to herself while becoming a super-famous rockstar, all the while singing about loving another woman in all its heartrending glory.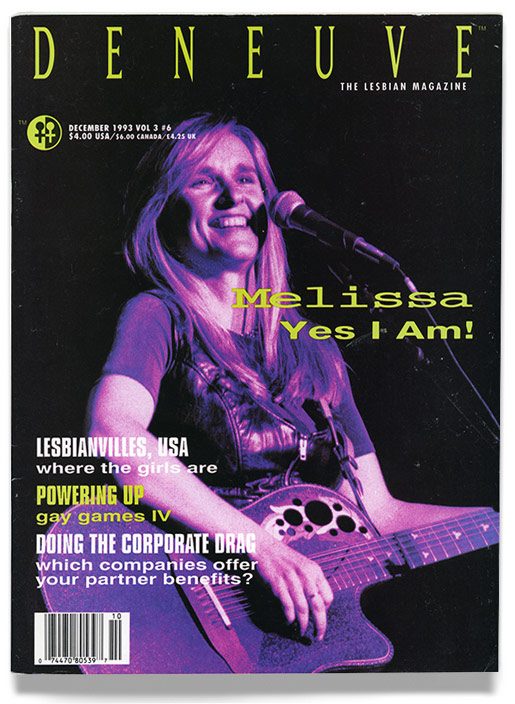 When Melissa agreed to appear on the December 1993 cover of Deneuve — the magazine's first celebrity covergirl — the community felt so utterly validated. Talk about a Christmas present!
"I think almost every lesbian in the country knew who Melissa Etheridge was at that time," says Curve Founding Publisher Franco Stevens. "So to have her agree to be on the cover of Deneuve was like her extending a hand to lift us up with her. After Melissa said yes, it legitimized us in the community and opened the door for other celebrities who were more apprehensive."
The minute we clapped eyes on Melissa we claimed her as our own. And then we followed everything she did — every lyric, every breath, every move she made. She taught us so much about ourselves in a culture that was blind to us. She taught us how to stand up for ourselves and our beliefs, whether that was animal rights or protecting the environment. How to be in love and have a partnership before same-sex marriage was legally recognized. How to have children. And how to live through breast cancer. Melissa did it all with passion and guts on the world's stage.
She was and is as American as the stars and stripes themselves. Even the straights sat up and took notice. Yes, she had her start in lesbian bars, but there was no denying the broad-appeal of this Grammy-winning singer-songwriter and guitarist powerhouse. And there were 15 Grammy nominations to prove it, thank you very much.
Melissa hit lesbian playlists everywhere in 1988 with her self-titled album Melissa Etheridge and those confessional lyrics, those raspy vocals, that passionate folk-rock guitar — and that black leather jacket — every lesbian stateside and beyond recognized themselves.
"Bring Me Some Water" told us just how thirsty we were — and had been for years. It was a hit and gave Melissa her first Grammy Award nomination for Best Rock Vocal Performance, Female.
In January 1993, Melissa came out publicly at the Triangle Ball, the LGBTQ+ celebration of President Bill Clinton's inauguration. There she proclaimed, "I'm proud to have been a lesbian all my life."
The September 1993 release of Yes I Am was her coming out on a scale never previously witnessed. You like me as a musician — she seemed to say — then you need to like all of me. Melissa was coming out for all of us. Who can forget the power of "I'm the Only One" and "Come to My Window"? Those songs told lesbians everywhere that they and their love were real and powerful.
Curve featured Melissa on the cover six more times and wrote countless articles and news bits over the years. When music writer Kelly McCartney interviewed her for the February 2017 issue, the article referred to Melissa as "our eternally favorite rocker" and "an ever-visible, ever-vigilant LGBTQ icon." Which is exactly what she is.
"When someone comes up to me and says, 'Knowing about you saved my life,' I get that. Or, 'When I was a teenager you made it possible for me to come out.' That means everything to me," Melissa told Curve. "So, if anyone has the chance to do so much in the world just by being themselves — and, in reality, we all have that chance just to come out — I've always been honored to represent and to inspire a group of people."
And oh, how she inspired us!