Shivering at 4 a.m. in an empty, dusty parking lot at a California drive-in theater was not how we expected to spend the day before the world premiere of our film Ahead of the Curve. A sky streaked with salmon and gold told us we had 20 minutes before the sun came up to solve a vicious sound problem. It was just the latest in a round of strange new moments for us as independent filmmakers, figuring out film distribution during a pandemic.
Ahead of the Curve tells the story of lesbian visibility and community from the early '90s to the present day, through the journey of Franco Stevens, who launched Curve magazine with nothing but a fistful of credit cards, a lucky run at the horse track, and chutzpah for days. The film industry is just beginning to value authentic storytelling. Queer women's stories have historically been under-resourced and narrowly distributed. Over the past three years we've been told by some influential industry players that our "little queer film" has no place in the festival world, so when we got the call from Frameline awarding us a grant and a guaranteed spot in their festival, screening at the majestic Castro Theater in San Francisco, we were over the moon. Then Covid hit. SXSW cancelled, other festivals followed suit and several went "online only." Frameline postponed their festival from June until September, with the optimistic belief that we'd surely be able to gather in person by then.
As independent filmmakers, we rely on the critical festival-to-press pipeline to bring our film to the attention of audiences and buyers so it can attract sales and distribution. The idea of an online festival was deflating and the word was streamers were forbidding any participation. Even though streamers purchase a dwindling number of indie docs every year (only four were picked up at Sundance in January 2020) the fear of voiding an opportunity for a sale is overwhelming and many filmmakers we knew were choosing to wait it out.
We dove into research, attending Zoom panels with industry leaders around working remotely and being resilient. The advice was at times confusing and contradictory. We played out several scenarios and then asked ourselves what Franco Stevens would do. After all, in 1989 she had been told she couldn't put the word 'lesbian' on the cover of a magazine.
When Frameline offered to stream Ahead of the Curve during Pride weekend as its world premiere, we decided to make the most of it. What if we got our audience to dress up, decorate their cars, and come to a Covid-safe drive-in theater for a socially-distanced screening?
We could do it on Pride weekend, gathering our community safely to celebrate Pride and our premiere together. It would also allow us to draw attention to the film, attract potential buyers, and help them to understand our audience. Frameline loved the idea, and we were all in.
Just as our world seemed to find some equilibrium around the virus, the murders of George Floyd, Breonna Taylor, Ahmaud Arbery, and so many other Black Americans ignited a racial justice reckoning. Centering Black lives became an unequivocal priority and as two queer, Jewish, middle-aged white women, we thought long and hard about whether this was the right time to launch our film.
We had intentionally built an inclusive team of world-class advisors who could help us navigate our weak spots and we took this question to them. They came back aligned, reminding us that telling queer stories is in itself an act of resistance; that we had made this film in a deeply intersectional way with a talented, diverse, all female-identified cast and crew; and that sharing the story of a visionary and unapologetic celebration of lesbian life and illuminating the call for radical intersectionality in the LGBTQ+ movement was appropriate.
Making this film accessible to everyone who wants to see it has always been important to us. We decided to risk allowing limited online streaming during the drive-in premiere to ensure disabled audiences could enjoy the film. We included open captions at the drive-in to assist D/deaf audiences. And Frameline provided an ASL interpreter for our pre-recorded Q&A.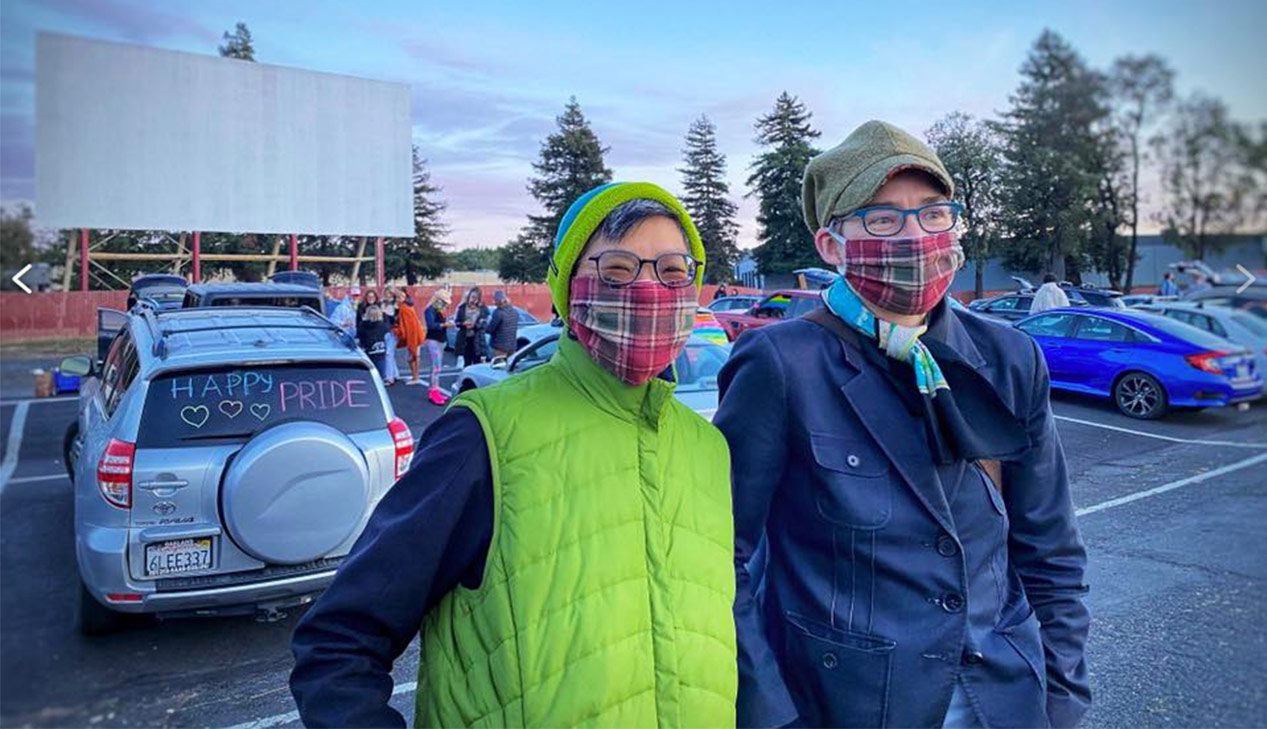 At 4.am. we realized the audio system at the drive-in compressed our beautiful theater surround sound mix into two channels to squeeze it through the FM dial. Twenty-four hours before our premiere, we raced around town making a revised version, did another tech check at the drive-in, and began obsessively checking the weather reports, which predicted a windstorm to kick in when our gates were scheduled to open. Really? A windstorm?
The next 24 hours passed in a blur of last-minute promotion, checking in with our team, outfit indecision, and a lot of prayer.
We pulled into the drive-in lot with our cars stuffed full of Philly Pride flags, rainbow stickers, handmade Black Lives Matter posters, inflatable toys for the press line, film merchandise, tons of hand sanitizer, and our sequined face masks. We decorated our cars, as the wind whipped iridescent garlands and rainbow bunting furiously around our bodies.
Then the magic happened. Decorated cars started lining up an hour before the doors officially opened and Paul Struthers, Frameline's Head Programmer, let us know we had officially sold out!
We were astonished to see the number of folks who came out to the only in-person Pride event in the Bay Area to celebrate together and share this moment, and to see Franco's story. So many people of every age, race, size, and background, came together in proud celebration of our community. They decorated their cars and the fence between the screens with signs that said 'Love is Love' and 'Black Trans Lives Matter' and 'We Keep Us Safe'. After being isolated from each other for so long, it was overwhelming.
Thirty-six hours after that early morning tech check, we were standing in the same spot, thronged by masked queer humans distance-dancing in silhouette in the beams of a thousand car headlights, our faces streaked with happy tears. Cathartic doesn't come close; we were six feet away from each other, masked and bouncing and cheering and sweating, exuberant and joyous, to be dancing together with our community. Ninety minutes later, the film credits began to roll and the crowd erupted in a chorus of shouting, cheering, and honking horns — the drive-in version of a standing ovation. Franco turned to me with eyes glistening and said, "There's so much love and gratitude in this moment. I feel really proud."
Our gamble paid off — with nearly 2500 people, this was the largest premiere in Frameline's history, and likely the largest in-person film premiere in 2020. Our community was making itself heard, claiming this film, and showering us with love.