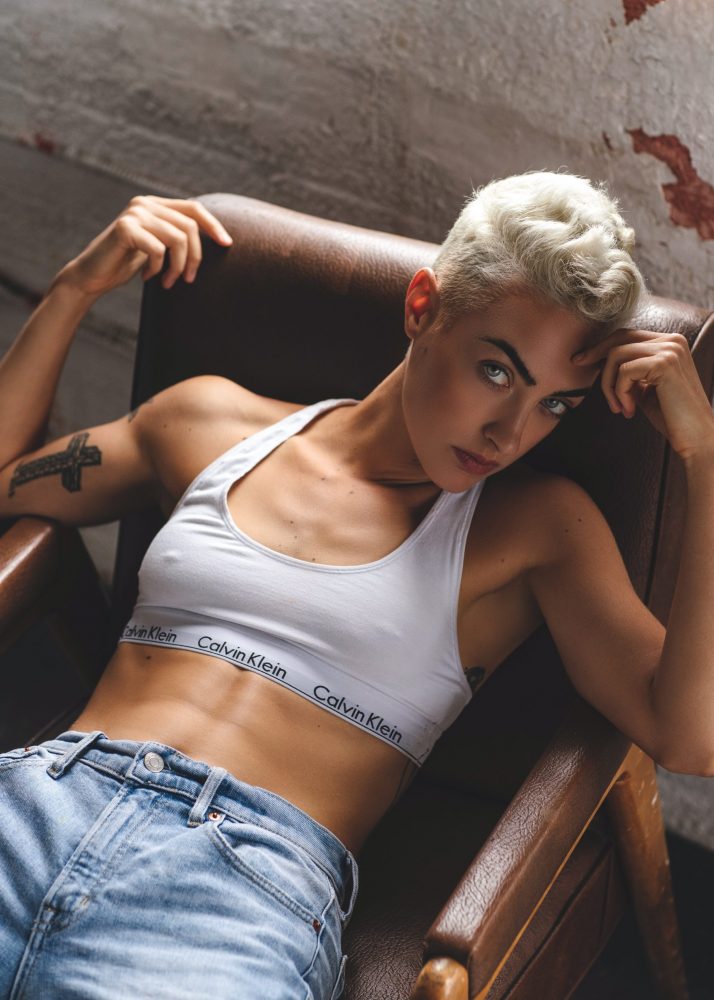 Season 2 of the CW's In the Dark is set to premiere on April 16, with episodes available to stream free the next day on the CW app.
The first season, which enjoyed notable success on Netflix follows Murphy (Perry Mattfeld): a blind, messy twenty-something who struggles to balance her random hook ups, hangovers, and solving the murder of her friend, Tyson.
Murphy and her two friends, Jess and Felix, run Guiding Hope (a school for guide dogs), but in the process of Murphy's detective work, she finds herself deep in Chicago's underground heroin trade.
Season 2 picks up in the aftermath of this mystery when Murphy is forced to turn Guiding Hope into a drug front. Liconti comes into the picture in Episode 2 with the character of "Sterling" – a new employee at Guiding Hope who catches Jess's eye.
We caught up with Liconti to chat about lesbian representation, Canada, and her hopes for the future.
How did you first get into acting?
I actually started in theatre and performance art. I was doing exactly the kind of thing you picture when you hear "performance art" – wanky, like, 4-hour-long, immersive shows in abandoned warehouses. I was living in Montréal (Canada), and then worked and trained in the UK (Glasgow and London) in my late teens and early twenties. I only started acting for film and television in the past few years.
You're currently based in Toronto, Canada. What is the Canadian experience in Film and TV been like?
Toronto is my hometown, but after moving back recently I've realized that it's actually an exciting place to be for film and tv right now. A lot of US projects shoot up here, and we also have an incredible pool of emerging and established Canadian directors and creators. I've noticed a major shift in the past few years in which diverse creators (and marginalized creators who have, historically, had less opportunities and access to funding) are really becoming central storytellers, and producing beautiful work. Some cool web-series I can shout out that have come from queer Canadian creators are D.W. Waterson's That's My DJ, and from Montreal: feminin-feminine.
On the topic of diversity, you've played a number of queer characters. Do you feel limited by these roles or do you identify with them? What do you want to see more of in terms of queer narratives on television?
I think that I would only feel limited if the writing is limited, which I've been lucky enough not to experience. So I'm very grateful to be playing queer roles.
When I was a teenager it was basically, like, The L-Word and Will & Grace in terms of queer representation – and many queer folks don't identify with the white, cis-gendered, privileged narrative, but that was the only one available in the media.
I want more queer characters in lead roles. I want more queer leads whose storylines have nothing to do with them being queer.
I've realized is just how many voices collaborate to create what you see on screen, so "an authentic queer storyline" or "authentic queer character" is the end result of a bunch of green lights from so many people at different levels. That's why I'm a big advocate for educated showrunners and more diversity in writers' rooms.
Without giving too many spoilers away, what aspects of your character, Sterling, resonate with you the most?
Oh, man. It's funny because there's a scene in Episode 9 where Sterling finally shares a bit of her backstory, and I remember sitting at the table read for that episode, reading the lines and being like, YIKES I'm either a massive stereotype or I am this character. So, yes, we're very similar: persistent, a bit impulsive… but also deeply selfless towards the people we decide to love.
What kind of shows are you watching right now?
I love dark comedies, so I've been raving about Search Party lately. Back to Life is a British show that is a great comedown once you've finished Fleabag; and obviously, I'm highly anticipating the Killing Eve return.
Who is your ideal role?
I want to play, like, a lesbian mob boss. I grew up watching The Sopranos, so I'm thinking like Tony Soprano… meets Ari Gold from Entourage.
What else can we expect from you in the future?
Woof, the future! Right now I'm just making lists of all the people I want to kiss, and all the doorknobs I'm going to touch without a glove when this quarantine is lifted.