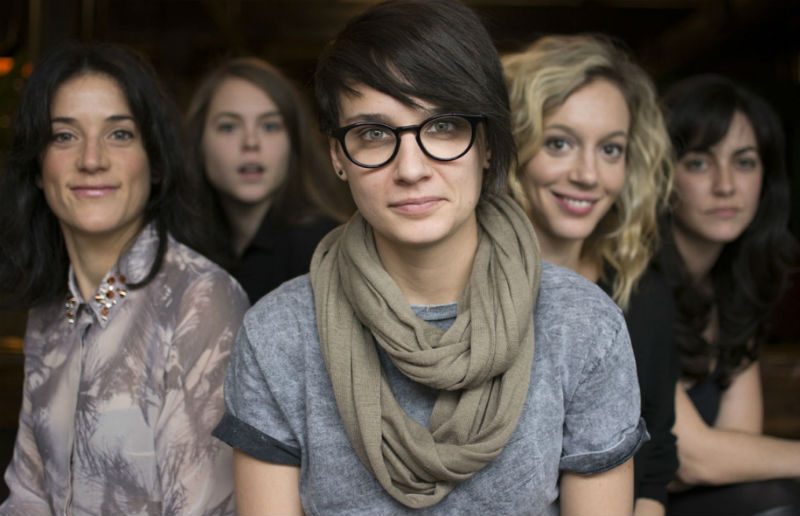 Féminin/Féminin revolves around events within the everyday life of a group of characters whose paths come to intertwine.
Offering a contemporary look into the lesbian community in Montreal, Quebec, the original idea was created by Chloé Robichaud and Florence Gagnon, president and founder of the organisation LSTW, the lesbian connection.
The webserie stars actresses Eve Duranceau, Noémie Yelle, Eliane Gagnon, Kimberly Laferriere and Carla Turcotte.
Special guest stars will also be making notable surprise appearances throughout the season, starting with well-known Quebec actresses Hélène Florent (Café de Flore (2011) and Sarah prefers to run (2013)), and Suzanne Clément (I Killed My Mother (2009) and Laurence Anyways (2012)).
« When Florence Gagnon of LSTW approached me with the idea, I immediately recognised the audacity and relevance of this particular project, recalls Chloé Robichaud, who will be film-reviewsing the seven upcoming episodes until the end of spring. This self-funded pilot episode was created with the idea of presenting the lesbian community in a positive, realistic and whimsical way. »
« Many socially-engaged lesbian women grow in their respective fields and are eager to make a difference. They want more role-models and less stereotypes. With Chloé, the goal was to transpose this to the screen and we were thrilled to have the community offering us such significant support. The webserie has been well-awaited for by the lesbian community, adds Florence Gagnon of LSTW, the lesbian connection.  »
The first episode of Féminin/Féminin centres on a group of friends. We follow Lea's character, played by Noémie Yelle, as she embarks on a clumsy quest for love.
Support your LGBTQI Media