Talking nuanced lesbian representation in film and music, with the creatives behind web series Back To Goode.
As we reported back in May, Back To Goode is the creative brainchild of Lisa Habermann and Suzanne McKee.
Habermann and McKee set out to create an Australian web series with a predominantly female production team, highlighting the authentic stories of queer Australian women.
The five part series follows the journeys of two lesbian couples who decide to move to the rural Australian town of Goode (IRL location being Daylesford) for a sea-change, and to get their lives in order. Once there, they realize that perhaps a change of location is not the fix-all that they'd been hoping it would be.
If you watch the trailer, here, you'll get the sense that the show is deeply rooted in a particularly Australian, as well as gay, sensibility, and a lot of that has to do with the music that has been chosen to accompany (and inform) the show.
Habermann has collaborated with gay Australian musician Michelle Chandler, whose music features both as the theme song for the show ("Wishful Thinking") and throughout the series in both live performances and backing.
Chandler's songs have a relaxed country vibe that is intermingled with a kind of muted melancholia, and sometimes a muted sense of hope – the combination of which leaves you much more emotionally affected than you might have guessed likely from the slow, acoustic sound.
Chandler tells usL, "Writing for film and television is something I've always wanted to try but haven't really found the opportunity.  For some reason too I've never really been able to establish much of an LGBTQI+ following, and being involved with Back to Goode may potentially change that, but really it was just a wonderful prospect to work with other creative lesbians like Lisa."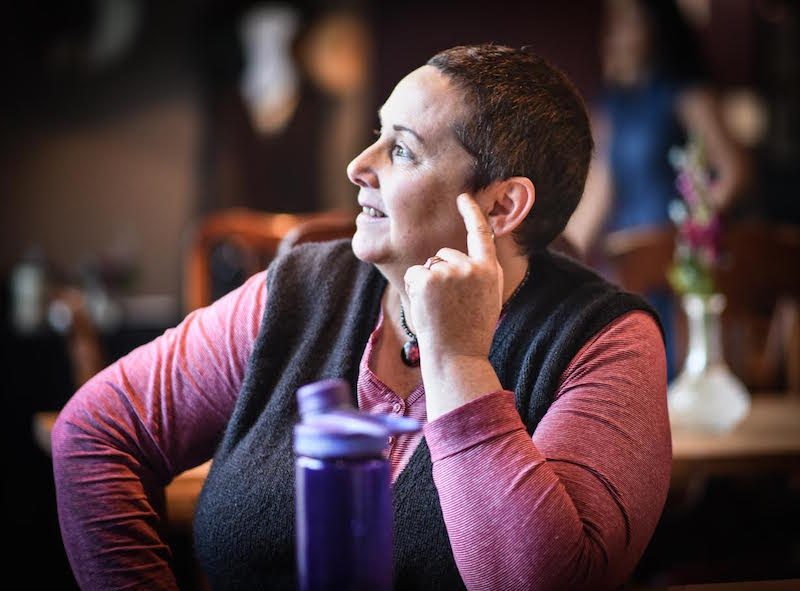 Michelle on set as an extra in the cafe scenes. Image: Michele Bennett. 
Habermann is clearly a huge fan of Chandler's. She says, "Michelle's songs have provided a soundtrack to my creative vision. I am so fortunate to have found her and her music. I listened to all her songs on her CDs as I drove to work and I kept saying, 'Yes, Yes!' and knowing exactly which scene it would fit. Even now, thinking about Season 2, I have another song in mind.
"I hope that Back To Goode can give Michelle another platform to open her music to a new audience. Michelle, as a person and an artist, stands for so much that I admire in the queer community – dedication, commitment, community and speaking your truth."
Back To Goode's production team is more than 80% female, which is basically unheard of in the film and television world. This is something that Habermann was determined to achieve.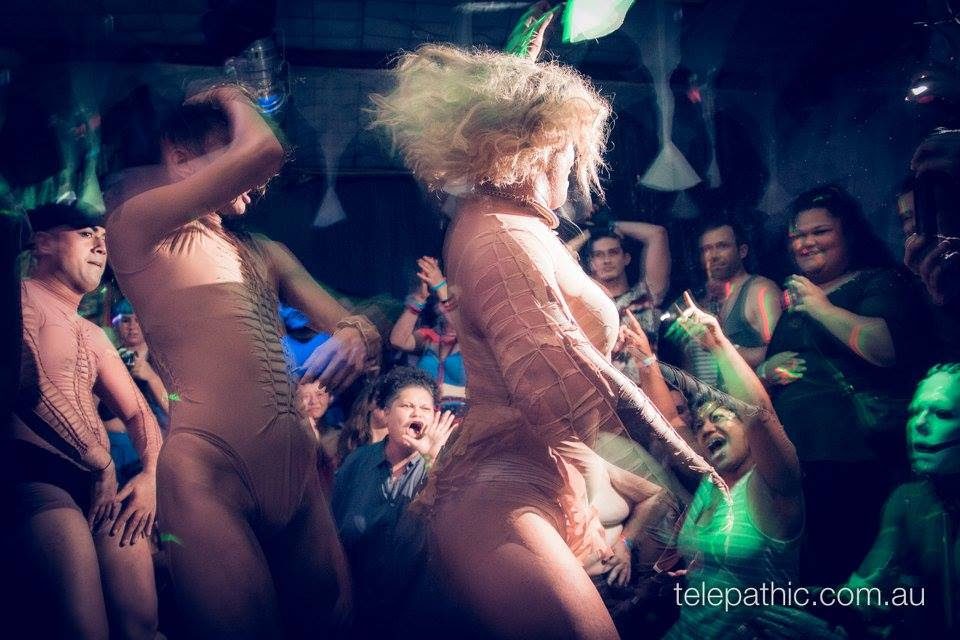 Lisa Habermann post filming at Sagi Bar, Northcote an LGBTQI venue in Melbourne. Image: Raphael Chan
"Working with a predominantly female cast and crew has been fantastic. I was given a lot of professional chances when I was young and I have continued to do the same to other talented young people throughout my different careers.
"It really made a difference especially when we were filming our intimate scenes, where we had closed sets. In one of the scenes, males were present, but our cast and crew have been together for about four months since filming our teaser trailer, hanging around to talk and eat and drink after filming. There is a friendship and a level of trust. I think females too are naturally better communicators and that really helps.
"I prefer to work in predominantly female-led creative teams or on LGBT content and with LGBT creatives. My views and my creative vision are taken more seriously in these environments," says Habermann.
Habermann is passionate about telling female LGBTQI+ stories, explaining, "I think female stories and in particular queer female stories are few and far between. My goal is to increase queer female visibility on screen. I have lesbian friends who lament the 'dead lesbian screen syndrome' where lesbians are often portrayed as an evil side-bar character who usually get killed. I have boasted that no lesbian character was killed in the making of our web series!"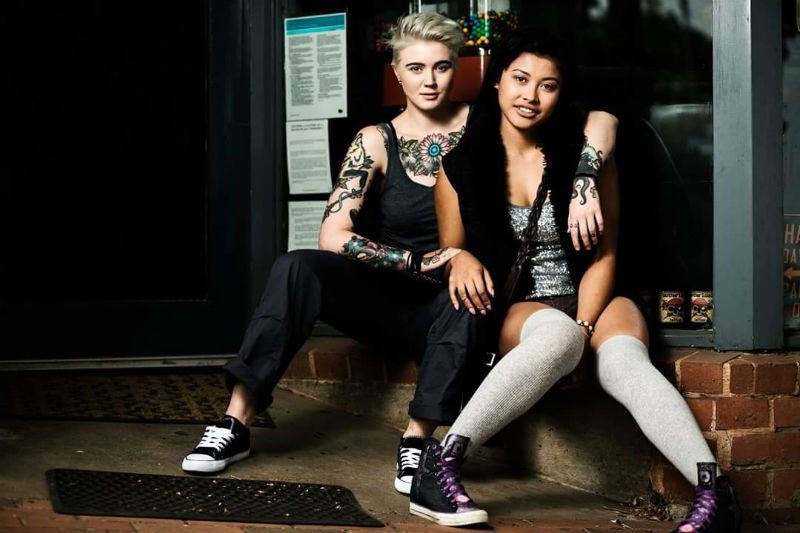 Alex played by Cat Kasey, left, and Zoey, played by Georgina Jones. VIA MARTIN KEEP PHOTOGRAPHY
This queer female representation is something that Chandler wants to contribute too also, but for her this means being able to switch between gendered personas and storytelling in her song writing: "Choosing the point of view that resonates most often dictates gender. Sometimes I write from a feminine perspective while other times it's clearly more masculine," she says. "At the end of the day I hope listeners connect emotionally with my songs."
The song of Chandler's that has been chosen as the series' theme song is "Wishful Thinking," which, thinks Chandler, "sits perfectly as a backdrop to the Back to Goode story. Two couples making a tree change and wanting to transform their lives together from the mundane to a truer, more artistic version of themselves."
While the show can be enjoyed by anyone, regardless of their sexuality and their gender (after all, it is a show about people and relationships), Habermann strongly believes that its lesbianism and its depiction of lesbian characters and relationships is crucial to the very core of what Back To Goode stands for.
"It is super important, especially in this day and age that we all need to see versions of ourselves in the arts. Especially when some areas of our modern society feel the need to tell us we are not good enough, not equal, and even worse, are dangerous or a threat. It makes me really sad. It's bullying and I have always stood up to bullies.
"But rather than be depressed and repressed, I have made a conscious decision to be loud and proud. I always believed living a quiet lesbian life and just getting on with it and not marching was the way to go.
But society has forced my hand. It has made me a marcher and a flag-waver.
"We need LGBTQI representation in the arts as the arts reflect our world. And this is our world. In all its rainbow glory.  I am very proud of my community and who I am. I want to be known for making a difference."