The L Word Reboot Officially In Development!
Try not to freak out, but it looks like our favourite show The L Word, is confirmed for a sequel series!
Yes, you read that right – your all-time favourite show, The L Word, could be coming back to screens VERY soon for a sequel series.
Rumours have been spreading over the last few months about a reboot of the show and fans nearly lost their sh*t when social media blew up with pics of the cast reunion in June this year. After months and months of speculation it looks like we are finally getting the answer we've all been praying to the lesbian gods for!
For those who can remember, back in May, the creator of the show, Ilene Chaiken, posted a frustratingly ambiguous tweet of excitement that left us all in a fit of intrigue.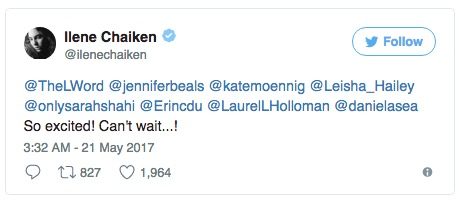 And if that wasn't enough to get the heart pumping with pure lesbian adrenaline, Kate Moennig responded to the Tweet shortly after…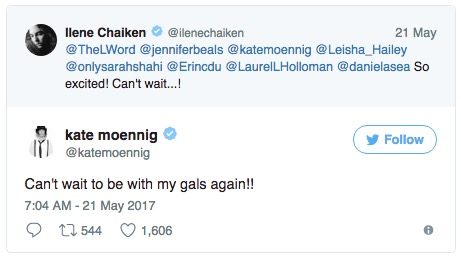 And if THAT didn't leave us practically sobbing on the floor in confusion, this reply from Jennifer Beals definitely did the job.

To say we were all a little perplexed by these mystery-ridden tweets would be the understatement of the year. But as we now know, it seemed like they were referring to the aforementioned cast reunion we all went bananas over. But now that the show is said to be in development for a reboot, we can't help but wonder if they knew about it all along.
Now for the moment you've all been waiting for – the actual proof.
Sources have told Variety that Showtime is indeed working on a reboot of the show that ended (much too soon for our liking) in 2009 and that many of the original cast will be returning, not only as the characters we love, but they will also be serving as producers of the new series. Keeping in the fam, we love it.
Permission to officially breakdown in happy tears, granted.
According to Variety, it's said that the reboot will "center around a new ensemble of women, following their lives, loves and tribulations. However is the project if greenlit, stars Jennifer Beals, Kate Moennig and Leisha Hailey are expected to appear in the series with their characters as a point of connection from the prior series to the new one." Other stars from the original series are also believed to be making an appearance, making our hearts ache with joy.
The groundbreaking original series aired from 2004 and went on to win a number of GLAAD Media Awards for "bringing lesbian characters to the forefront of television". Sarah Kate Ellis, the GLAAD president and CEO, recently said: "The past few years have seen lesbian and queer women characters in television killed off in shockingly high numbers. It is refreshing and exciting to see GLAAD Media Award-winning 'The L Word' returning to television where it can tell nuanced, entertaining, and beautiful stories of a largely underrepresented community."
Bless her soul.
Now there are still many, MANY questions that, for the moment, remain unanswered… Who are these new characters? Who killed Jenny? Will the prospect of a new writer coming on board change things? Who killed Jenny? How long do we have to wait? Who killed Jenny? Will our original favourites' return be recurring or a one off? WHO KILLED JENNY?!
Until we get those answers though, at least we can rest assured knowing our favourite show will soon be back, ready for us to binge.
All good things to those who wait, right?