Lori Lightfoot
Just months before the 50th anniversary of Stonewall, 73% of voters chose a black lesbian for their mayor.
There is no way to overstate the historic nature of Lori Lightfoot's landslide victory to become the next mayor of Chicago. In a runoff that pitted two black Democratic women progressives against each other, Lightfoot's win makes her one of the highest placed black women in U.S. politics and one of the highest placed LGBTQ people.
That the third largest city in America chose a black lesbian to be mayor with 73 percent of the vote across all 50 wards is an amazing achievement. It also sends a message across the U.S. that continues the message voters sent during the November midterms: Voters want women, people of color, LGBTQ to lead. Four years after the nationwide legalization of same-sex marriage and just months before the 50th anniversary of Stonewall, 73 percent of voters chose a black lesbian for their mayor.
Representation matters.
After she was declared the winner, Lightfoot spoke to a jubilant crowd at her victory party. She said, "Out there tonight, a lot of little girls and boys are watching. They're watching us, and they're seeing the beginning of something, well, a little bit different. They're seeing a city reborn."
The morning after the election, Lightfoot greeted Chicagoans with the traditional subway glad-hand as they went to work. Lightfoot told reporters at Chicago's famous Loop, "We felt very comfortable that we would have a nice margin, based upon our internal polling and what we were hearing from other people across the city, but to sweep all 50 wards with that kind of margin, obviously it's historic and it's very, very gratifying."
Gratifying for Lightfoot, inspirational for LGBTQ people
Lightfoot ran as the outsider candidate ready to break with the legendary Chicago political machine against Cook County Board president Toni Preckwinkle, a longtime Chicago politician. It had been an ugly campaign, with anti-gay attacks on Lightfoot that included leafleting cars outside black churches with homophobic messaging. Preckwinkle's own campaign aide, Scott Cisek, had posted a comment on Facebook with a Nazi reference while discussing Lightfoot's career as a federal prosecutor. Cisek eventually removed the post and apologized for it, but Preckwinkle herself never apologized.
Some members of the Bernie Sanders-affiliated political group DSA (Democratic Socialists of America) had also been vocal against Lightfoot, with some mostly white protestors claiming to be "Queers against Lightfoot" asserting that Lightfoot was "a cop" and "bad for black and brown people." Some DSA members have made similar claims about presidential candidate Sen. Kamala Harris (D-CA), who is also a black woman and was attorney general of California and District Attorney of San Francisco. There was a small but vocal disinformation campaign against Lightfoot by self-proclaimed DSA members on both Facebook and Twitter, some of it incorporating screenshots of Cisek's deleted post.
But despite the controversies and machinations against Lightfoot, the outsider candidate pledging to take the city into a new era, won over the voters. Lightfoot was succinct when she told CNN that "being the first black woman and first lesbian to lead the city is monumental."
Lightfoot said, "This is something obviously that we've been talking about, the historic nature of the election, for some time." But the 56 year old Lightfoot also emphasized how important it was that she had broken a different barrier, saying, "I think the most historic thing was beating the old, entrenched Chicago machine and getting such a resounding mandate for change."
The Victory Fund works to elect LGBTQ candidates and had stood behind Lightfoot, working for her election since she first announced her candidacy. Victory Fund president Annise Parker, former mayor of Houston, was the previous holder of highest-placed openly gay mayor. Parker was in Chicago campaigning for Lightfoot on election day. At Lightfoot's victory party Parker said, "A black lesbian taking power in the nation's third-largest city is a historic moment for so many communities that are too often ignored in American politics."
Parker said, "Lori will certainly remain focused on the issues facing Chicago, but as the highest-ranking LGBTQ person ever elected mayor of an American city–a title she takes from me–she is also now a key leader in the movement to build LGBTQ political power nationwide."
Only 0.1 percent of all elected officials in the U.S. identify as LGBTQ.
Lightfoot's win resonated with LGBTQ activists. Human Rights Campaign president Chad Griffin said, "Congratulations to Lori Lightfoot on her historic victory as she becomes the first out LGBTQ person and first Black woman elected mayor of Chicago! HRC looks forward to working with you to advance LGBTQ equality across Chicago!" Charlotte Clymer, who is on HRC's communications team, spoke to the historic impact of this election, tweeting, "Hard not to think of Black LGBTQ children who are watching history unfold and perhaps watching their own futures. Pretty great feeling."
Lightfoot is also the first woman to lead Chicago since Jane Byrne's term ended in 1983. According to 2018 Chicago census estimates, Chicago is 51.5 percent female. That majority finally has representation.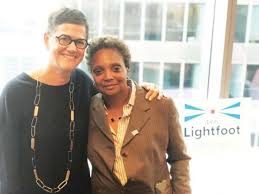 Lightfoot's victory follows the historic midterm elections in November 2018 when a record 36 women won seats in the House of Representatives, including several out bisexual and lesbian candidates. Most of the newly-elected women replaced older white men–just as Lightfoot will replace Mayor Rahm Emanuel when she takes office on May 20.
On the same night of Lori Lightfoot's victory in Chicago, Satya Rhodes Conway was elected the first openly gay mayor of Madison, Wisconsin. Jolie Justus and Jane Castor finished first in initial rounds of mayoral voting in Kansas City, Missouri and Tampa, Florida, respectively. Until this year, only two major U.S. cities have had openly gay female mayors–Parker, who was mayor of Houston from 2010 through 2016, and Jenny Durkan, who is the current mayor of Seattle.
"This is a change election," said the Victory Fund's Parker of Lightfoot's win. "This is citizens wanting someone perceived as an outsider. Frankly, that's often when women ascend."
A'shanti Gholar, political director for Emerge America, which recruits and trains Democratic women candidates, said, "It really does matter when you see other women who are running. It does inspire other LGBTQ women to get out there and do it."
A new NBC/Wall Street Journal poll shows that 68 percent of Americans are either "enthusiastic" or "comfortable" about voting for a gay candidate for president. At the 2006 midterm election, the survey found that more than half the country had "reservations" or would be "uncomfortable" with an openly gay candidate.
Lightfoot said, "It would've been a remarkable thing to see a black lesbian leading her city" when she was a child growing up in small-town Ohio.
"It would've been something that I talked about with my parents and my classmates, and I hope our children are watching," she said. "I want to make sure that I am the leader that respects the fact that kids all over the city and hopefully all over the country really understand that they can do anything that they want to do, that they set their minds to do, as long as they've got good, strong support from adults and love to support them."