Ellen DeGeneres, host of "The Ellen DeGeneres Show,"
Lesbian icon Ellen DeGeneres has been named PETA's 2009 Woman of the Year.
People for the Ethical Treatment of Animals (PETA) is the largest animal rights organization in the world—not to be confused with the other PETA organization, People Eating Tasty Animals.
Despite some controversy over the fact that Ellen is the face of CoverGirl—a product of Procter & Gamble, who still test their products on animals—PETA maintains that as an honoree she has made an outstanding effort to present animal rights issues before a large audience.
DeGeneres switched to a vegan diet in 2008 when she learned of the atrocities that infect our industrial food system. Since then, she has brought numerous animal rights activists onto her daytime talk show in efforts to expose factory farming—the foremost abuser of animal rights. She also utilized her voice as a vegan activist when she publicized her high-profile vegan wedding to actress Portia de Rossi.
Style guru and Project Runway host Tim Gunn, who is openly gay as well, was named PETA's Man of the Year. "Tim Gunn and Ellen DeGeneres show us that one person really can make a difference in the world by rejecting cruel deeds in favor of compassionate acts," PETA President Ingrid E. Newkirk told Curve. "Their message that animals must be treated kindly and respectfully has reached scores of people, and many of them have changed their buying habits, all because Gunn and DeGeneres spoke up for the voiceless."
And what does our lady Ellen think of this honor? Thanks to twitter we know: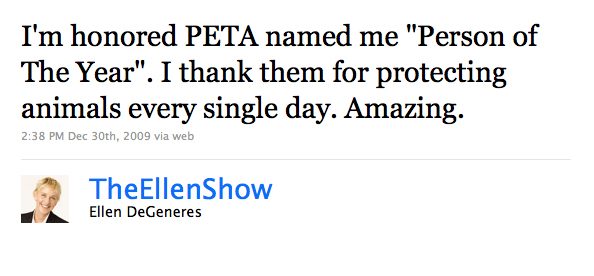 This only expands the success for DeGeneres this year, as she nailed her long-anticipated debut on American Idol—winning over critics who feared she wouldn't take the position seriously—and recently received two GLAAD award nominations. Not to mention the rising popularity of The Ellen DeGeneres Show.
No word on whether or not she'll be posing for one of PETA's infamous "I'd Rather Go Naked Than Wear Fur" photo shoots, but we can hope!