Twelve ways to support breast cancer research this month.
October is here and along with National Coming Out Day and trick 'r' treating, October is also the time of year when we get serious about breast cancer awareness.
How important is it? This year, more than 225,000 people in the U.S. will be diagnosed with breast cancer and nearly 40,000 will die from it.
Plus, with lesbians and bisexual women perhaps at a greater risk of developing breast cancer than heterosexual women, there is no question that we need to get serious about finding a cure, now.
Fortunately, the news is not all bad—every day, researchers are uncovering new clues as to how we are going to prevent, treat, and finally defeat this disease. In order to do so, we need to support causes that keep this research going strong.
So, here are a dozen ways you can shop pink this month, to support breast cancer research and breast cancer survivors.
1. Generous Lips
Skinn Cosmetics' Twin Set Collagen Boost Lipstick and Wet Gloss in Pink Tulip give you lips that really say "Wow," and every penny of each sale goes straight to breast cancer research. ($19, skinn.com) [Adam Brinklow]
2. Buzz-Worthy Benevolence
Fighting breast cancer has never felt better than with Babeland's Power to the Pink gift set. This kindhearted kit (10 percent of your purchase will go to the Young Survival Coalition) includes the Mystic Wand, a 4-ounce bottle of Sliquid lubricant in Pink Lemonade, and the Babeland Buzz. No one said giving back couldn't be sexy! ($94, babeland.com) [Rachel Shatto]
3. Pretty in Pink 
Bobbi Brown is empowering women with its Pink Peony set, including Illuminating Bronzing Powder and a Mini Face Blender Brush. Decorate your cheeks and $10 per purchase will go to breast cancer research. It's said that peonies represent good fortune— great symbolism for an even better cause. ($45, /bobbibrowncosmetics.com) [Kim Hoffman]
4. It's Electric
Wear your Pride with a Casa Por Vida for Wake-Up Call Tees. These top-selling Censored Love, Love, and Equality tees are going neon pink for October. Real L Word star Romi Klinger's brand is inspired by her family, her "house for life," and 10 percent of all sales go to breast cancer research, in honor of preserving your family, your casa por vida. ($26, wakeupcalltees.com) [KH]
5. La Vie en Rose
Pour a glass of vino into Wine Me Company's hand-painted glassware. Wine enthusiast and founder Rebecca Suriano has created pink stems in honor of her grandmother, a breast cancer survivor. This limited-edition run of 31 glasses—one for each day of the month—will send 25 percent of all sales to research. ($35, winemecompany.com) [KH]
6. Watch Word
RumbaTime's Delancey Cotton Candy watch is a sweet and timely way to push for a cure. On sale all year, because there's never a bad time to support a great cause. ($45, rumbatime.com) [ALB]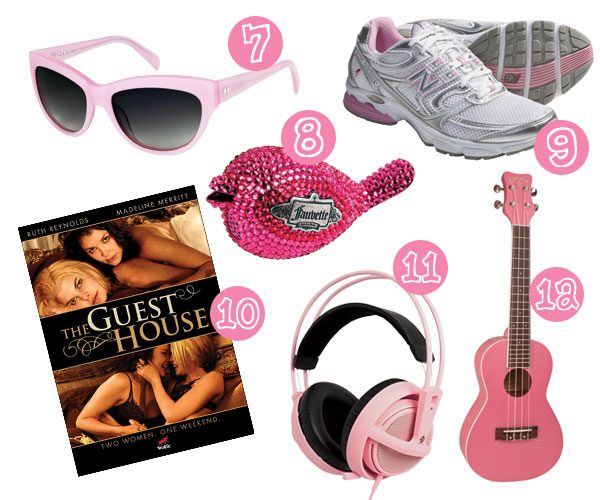 7. Solidarity Shades
Glam up your giving spirit with retro-inspired shades from Unique Vintage. Not only are the Tres Noir Tres A-Go-Go sunglasses adorable, but 20 percent of all proceeds go to the National Breast Cancer Foundation. ($90, unique-vintage.com) [RS]
8. Chic Cure
The Platinum Edition Fauvette Bird Speaker from chicBuds is compatible with your iPod, iPhone, computer—and the quest for a cure, with 20 percent of sales going to cancer research. ($40, chicbuds.com) [ALB]
9. Balanced Approach
Keep putting one foot in front of the other in your New Balance 615 Lace Up for the Cure running shoes. In partnership with Susan G. Komen Foundation, New Balance donates 5 percent of the retail price to cancer research, and the subtle pink ribbon sewn onto the 615 means you'll be supportive in style. ($55, newbalance.com) [ALB]
10. Be Our Guest
When you get acquainted with the new, steamy lesbian movie The Guest House, it'll be for a good cause. Wolfe Video, our go-to LGBT film distributor, is donating 10 percent of its DVD sales on this flick to the Lesbian Health & Research Center. ($20, wolfevideo.com) [KH]
11. Real Steel
Hear that? That's the sound of 10 percent of your purchase price of a SteelSeries Pink Siberia V2 headset going to the Breast Cancer Research Foundation. The unique over-the-head suspension design makes it über-comfortable, and a retractable microphone makes this the perfect headset for gaming gals. ($90, steelseries.com) [RS]
12. Strum for Life
You don't have to be a hipster or a Hawaiian music aficionado to appreciate the sweet, sweet music of the Kohala Rainbow Series concert-size ukulele. That's because 20 percent of this four-stringed beauty's purchase price goes to breast cancer research. That sounds pretty sweet to us! ($120, musicarts.com) [RS]