Nancy Pelosi
Democrats hope Nancy Pelosi will replace Paul Ryan at next SOTU.
In the aftermath of President Trump's divisive, racist. jingoistic and above all alarming first State of the Union Address (SOTU) Tuesday night, House Minority Leader Nancy Pelosi and the Democrats are revving up their fight to #FlipTheHouse come November.
In a SOTU that was red meat for Trump's white, largely working-class base, he lauded his accomplishments—limited as they have been—and misrepresented their impact on those he was directing his speech towards.
Trump emphasized the import of the GOP Tax Plan, which gave a permanent tax cut to corporations and businesses as well as a temporary tax incentive to those making under $100,000 per year.
The tax incentives would double the earned income credit for families with children if they file itemized deductions.
Trump also claimed credit for the repeal of what he termed the "cruel" individual mandate for the Affordable Care Act, also known as Obamacare, which opened the healthcare marketplace to millions more Americans.
The mandate, which cost those who refused to buy health insurance a small annual fee to opt out, but which lowered healthcare costs for everyone, was a cornerstone of the ACA. Without the mandate health insurance premiums will skyrocket immediately, as many are discovering this month.
Source: ABC News
Yet Republicans in the chamber cheered. Republicans have long asserted that former President Obama's signature legislation was bad for America, even though it allowed 26 million previously uninsured Americans to gain access to health insurance.
Trump also continued his attacks on immigrants and immigration. He claimed "chain migration"–what has previously been called "family reunification," wherein spouses, children and parents of immigrants are reunified–was allowing hundreds of distant relatives of legal immigrants into the country. Not only is this false—family reunification is limited to spouses, parents and children of legal immigrants—but Trump's own mother and current wife both came to the U.S. via family reunification plans that were even broader than the current system.
Trump's mother came to America via #ChainMigration.
So did his current wife.#SOTU#StateOfTheUnion

— Victoria Brownworth (@VABVOX) January 31, 2018
Attacks on the DACA (Deferred Action for Childhood Arrivals) recipients were expected from Trump, but his attempts to link DACA kids to the notorious South American drug gang, MS-13 were false and vile, prompting some Latinx members of Congress, like Democrats Luis Gutierrez and Joaquin Castro, to issue their own statements after the SOTU decrying the President's words.
Trump tried to equate #DACADreamers with #MS13 gangs. They have no connection. Immigrants commit fewer crimes than native-born Americans.
The statistics are irrefutable, no matter how much Trump pushes his xenophobic rhetoric.#SOTU
https://t.co/B6r9TShwxS …

— Victoria Brownworth (@VABVOX) January 31, 2018
Trump talked about his attempts to blur the lines between Church and State that were specifically separated in the Constitution. He talked about the importance of God, the importance of guns and how God-fearing Americans should have guns.
Linking religious liberty and guns is a huge error and no one should be applauding this. No one.
In June 2016 a religious zealot murdered 58 people at the #Pulse nightclub.
He had a dozen guns.
Only one candidate was there with the victim/survivors.#SOTUpic.twitter.com/17WZdizB5l

— Victoria Brownworth (@VABVOX) January 31, 2018
While discussing the importance of the second amendment and how more guns would solve the gun crisis in America that has led to mass shootings every week in America, Trump welcomed Rep. Steve Scalise back to the chamber after his near-death experience in a mass shooting at a congressional ball practice last year.
Trump failed to mention Scalise's life was saved by a black lesbian police officer who had been assigned to protect Scalise.
Trump lauds Steve Scalise, one of the most racist and homophobic members of Congress.
His life was saved by #CrystalGriner, a black lesbian member of the Capitol police.#SOTU #StateOfTheUnion I wrote about her here:https://t.co/suOTVKa1nq

— Victoria Brownworth (@VABVOX) January 31, 2018
Unsurprisingly, Democrats in attendance (many boycotted the SOTU altogether) were unresponsive during the wild bouts of applause from their GOP counterparts. Conservative pundits later claimed that leader Pelosi, Senate minority leader Chuck Schumer and other Democrats were anti-American for not applauding some of the accomplishments Trump touted, like a rising stock market (although it had plummeted a record 400 points earlier that day in anticipation of Trump's speech) or the tax cuts or a brief foray into talking about the importance of the America flag.
White House Press Secretary Sarah Huckabee Sanders singled out Leader Pelosi in the press briefing the day after the SOTU. In an incredibly tone-deaf and misogynist statements, Sanders told reporters, "I think [Pelosi] should smile a lot more often. I think the country would be better for it. She seems to kind of embody the bitterness that belongs in the Democrat party right now."
No doubt Pelosi has gotten her share of men cat-calling her over the years to "smile more." Having the female press secretary assert Pelosi—or any woman—smiling is vital to our national leadership was stunning.
Pelosi and the Congressional Black Caucus were also singled out for disdain from the pundits for not showing excitement over Trump's claim that black unemployment is the lowest in years. But while Trump claims credit for this, in fact, it was during the Obama administration that this trend began in 2011, dropping seven full points through 2016. Conversely, during Trump's term as POTUS, it's only dropped one percent.
The black unemployment rate began dropping in 2011 under @POTUS44. #SOTU pic.twitter.com/wOEURlMWuA

— Victoria Brownworth (@VABVOX) January 31, 2018
Democratic women made a strong statement at the SOTU, wearing black in solidarity with the #MeToo movement, signalling to both Trump and congressional Republicans that #TimesUp with regard to the devastating impact on women of recent Trump/GOP legislation which included that very day an attempt to further roll back reproductive rights protections. Attempts by Senate Republicans to pass a bill banning abortions after 20 weeks failed. But across the country, these laws are being put forward in state after state.
Trump was oblivious. The SOTU address never mentioned women once in his 90-minute speech, which was one of the longest SOTU's in history.
This was a far cry from former President Obama's first SOTU, which included references to his signing of the Lilly Ledbetter Fair Pay Act, which amended the Civil Rights Act of 1964 to include women. Trump's elision of women was made more glaring by recent events: Millions of women (and men and kids) held a second Women's March on January 20, the first anniversary of Trump's Inauguration.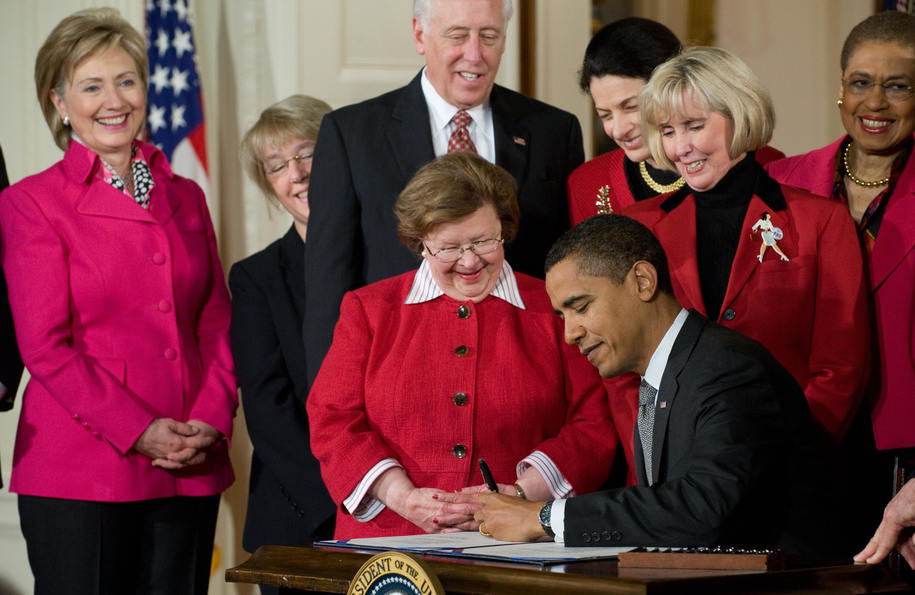 president obama signs lilly ledbetter fair pay act | Source: Daily kos
#BREAKING Los Angeles Mayor says 500,000 attending today's #WomensMarch2018.

Isn't that more people than attended Trump's "American Carnage" Inauguration?

And that's just one city. #WomensMarch2018 pic.twitter.com/RbuXpmT3fu

— Victoria Brownworth (@VABVOX) January 20, 2018
The entire country has been shaken up the Me Too movement and by the firings of highly placed men in politics, journalism and entertainment for sexual harassment and sexual assault of women. Trump has been accused of sexual harassment and sexual assault by 19 women. On January 12 the Wall Street Journal broke the story that an adult film actress, Stephanie Clifford, known professionally as Stormy Daniels, was paid $130,000 by Trump attorney Michael Cohen a month before the 2016 election. Clifford was paid to stay silent about a sexual relationship she had with Trump prior to his being president.
I don't care if Trump had consensual sex with porn stars.

I care that Trump paid for a cover-up while demonizing @HillaryClinton as a criminal.

I care that the women who've accused Trump of sexual haven't not gotten justice.#TIMESUP https://t.co/NamzaWfuUp

— Victoria Brownworth (@VABVOX) January 14, 2018
It was as if none of this had happened. Not Me Too, not Time's Up, not the women who've accused Trump and not gotten justice, not the porn star, not the infidelity. The First Lady, Melania Trump, who did not go to Davos, Switzerland with her husband after the news about Stormy Daniels broke and who was rumoured to have moved out of the White House temporarily, did not accompany her husband to the SOTU.
Melania arrived wearing a white pantsuit, which caused its own buzz.
Source: Breitbart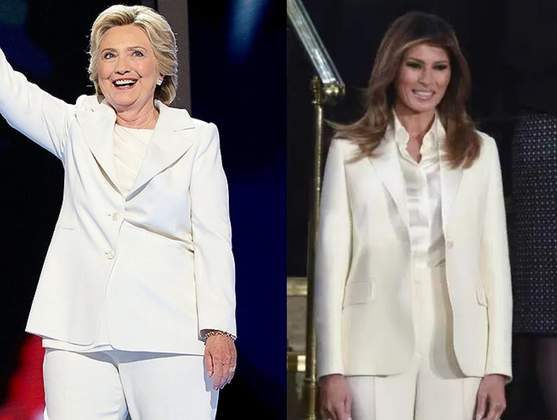 Source: Women.com
Some noted the First Lady was flouting the solidarity of the women wearing black. Others asserted that she was dressed like Hillary Clinton when she accepted the nomination for president and when she attended Trump's Inauguration—white for suffrage and that it was a subtle slam at her husband.
Melania is wearing white in honor of women's #suffrage.

Just kidding.
She's wearing white for Trump's base.#SOTUpic.twitter.com/JRJwa4RTNZ

— Victoria Brownworth (@VABVOX) January 31, 2018
It's not surprising that Trump wanted to ignore all the members of his administration who have been forced to resign for myriad reasons, from involvement in the Russia collusion investigation to ordinary corruption. The day after the SOTU Trump's CDC director was forced to resign due to conflict of interest, just as his first HHS Secretary had been.
None of this made it into the SOTU.
Nor did the ever-mounting volume of GOP congresspersons who are resigning–a record number—with some of those men leaving due to scandals involving sexual harassment and/or assault. Nor did the fact that as a consequence of all of this, more women are running for office in 2018 than ever. Nor did Trump reference the volume of women who have lost their jobs due to massive job cuts in retail or because various industries are on a downturn which Trump does not want to acknowledge. While Trump was in Davos he did an interview with British journalist Piers Morgan where he asserted he was not a feminist. This wasn't news to anyone, but it did serve as punctuation to what we already know.
The president's approval rating among women is the lowest in history–a mere 33 percent while it is 45 percent among men, although that, too, is historically low. (Hillary Clinton won women voters overall and won women of color overwhelmingly.) These factors are not good for Republicans who also poll badly among women who favor Democrats over Republicans in the November midterm elections by 16 points, while men support both parties at parity. Such data indicates that Trump "is not likely to be much help in rallying women to support Republicans in the upcoming midterm elections," said Gallup's Megan Brenan.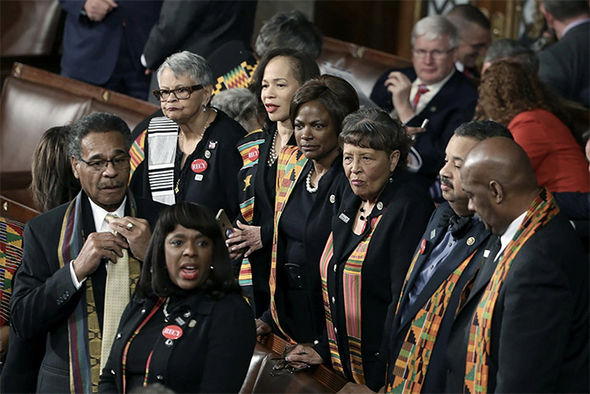 Credit: Daily express
The official Democratic response to the speech was given by Congressman Joseph Kennedy III. Kennedy directly referenced suffrage, Me Too, the women's marches across the country on Jan. 20 and referenced both female opioid addicts and transgender kids in his brief speech, "As if the parent who lies awake terrified that their transgender son will be beaten and bullied at school is any more or less legitimate than the parent whose heart is shattered by a daughter in the grips of opioid addiction," Kennedy said. He referenced the marches and the various movements that have been bolstered by Trump's first year in office: "You proudly marched together last weekend–thousands deep–in the streets of Las Vegas and Philadelphia and Nashville," he said. "You sat high atop your mom's shoulders and held a sign that read: Build a wall and my generation will tear it down. You bravely say, 'me, too.' You steadfastly say, 'black lives matter.'"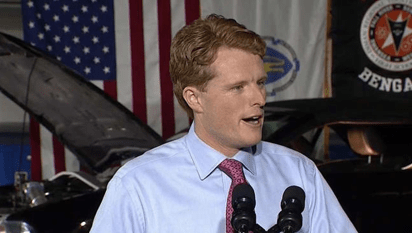 Joseph Kennedy III | Source: NBC MIAMI
Kennedy ended with the kind of hope and change mantra that reminded many of Obama. "Bullies may land a punch," he said. "They might leave a mark. But they have never, not once, in the history of our United States, managed to match the strength and spirit of a people united in defense of their future. Politicians can be cheered for the promises they make. Our country will be judged by the promises we keep. That is the measure of our character. That's who we are. Out of many. One. Ladies and gentlemen, have faith: The state of our union is hopeful, resilient, enduring."
Some complained that Pelosi's choice of the 37-year-old grandson of assassinated former Attorney General and 1968 presidential candidate Robert F. Kennedy and grandnephew of assassinated former president John F. Kennedy was pandering to millennials and to the Kennedy mystique. Others asserted she should have chosen one of the women whose names have been floated as possible presidential contenders in 2020 like Sen. Kamala Harris or Sen. Kirsten Gillibrand. But in choosing Kennedy, Pelosi chose an impassioned speech about the core values of the Democrats, which is what was most essential in counterpoint to Trump. That more people responded positively to Kennedy than to Trump suggests she chose well.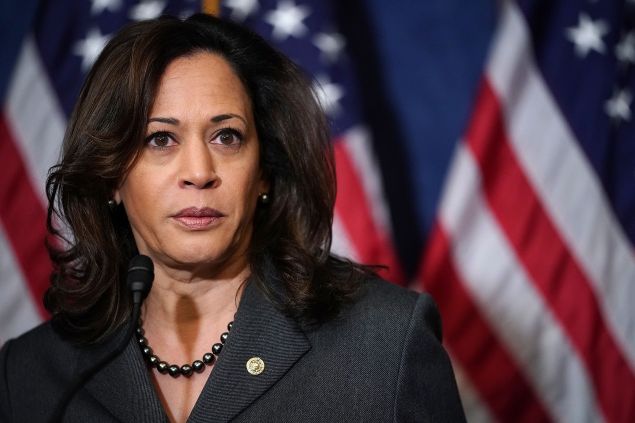 What matters now is what happens next: the primary schedule looms and historically, Democrats sit out mid-term elections. This was disastrous in 2010 when Democrats lost the House and Pelosi lost her speakership. In 2014 Democrats also failed to turn out and subsequently lost the Senate, which led directly to losing a U.S. Supreme Court seat in the final year of Obama's presidency—all of which led to the current circumstance of Republicans holding sway over all three branches of government. Trump touted his influence in reconfiguring the nation's courts, which has already impacted women and LGBTQ people dramatically.
Returning the House to Democratic control is both essential and doable if people vote. So if you watched the SOTU and felt excluded (you were) if you want leadership that is representative of all Americans, then flipping the House is within your control.
Your vote is your voice. Get registered, know your candidates, know when your primaries are. Vote. Women are running all across the country. Right now Congress is less than 20 percent female with only one out lesbian senator (Tammy Baldwin) and only one out bisexual congresswoman (Krysten Sinema).
To make the change we need, we must be in the halls of power. As Shirley Chisholm who ran for president in 1972 said, "If they don't give you a seat at the table, bring a folding chair."
Your vote is your folding chair. Bring it.