Aqua Girl is the largest gay women's charitable event in the nation. This year marked 20 years of excellence for the event.
On a sun-soaked October weekend, in the heart of Miami, women from all walks of life converged on the iconic Marseilles Hotel to celebrate ourselves, our community, and a charitable foundation known as Aqua Girl. Aqua Girl is the largest gay women's charitable event in the nation. This year marked 20 years of excellence for the event.
Proceeds from Aqua Girl go to the Aqua Foundation for Women or AQW. The hope for AQW is to provide and ensure the LGBTQ community of south Florida has the support and programs they need to thrive and help people in our community. Pandora Events, the lesbian event production company based in South Beach, was at the helm of Aqua Girl this year like they have been for many years. Pandora once again worked to bring a fantastic girl party to South Beach and gave us all exactly what we were looking for.
Aqua Girl has long since been the party everyone goes to when they need a lesbian fix. With a 20-year reign, they have proven to be one of the top girl parties in south Florida. This year, their main attraction was Jackie Cruz who plays Flaca from the Netflix series Orange is the New Black. Cruz performed her increasingly popular music and hit us with her effervescent charm. Songs like, "Lucia Ocho" and "Millie" brought the house down. Cruz's stage presence and ability to captivate a room left everyone wanting more. In a few instances Cruz made her way into the heart of the crowd, who all night was waiting to consume her.
As she made her way in and out of the crowd of fangirls she captivated all of us, no spotlight necessary. Add on top of that the famed Les Vixens Burlesque dancers accompanying her with their intoxicating rhythm, and you have yourself a front row seat to a girl party haven.
As the night came to a close, 12-year Aqua Girl veteran DJ Citizen Jane took us home, while Cruz stayed for the duration of the night to meet and greet fans, take selfies, prom-style pictures, and just genuinely have a good time with her fans.
Cruz was a gem in this sometimes-jaded scene. It is no wonder she is beloved by her 1.6 million Instagram followers and continues to see a rise in her popularity everywhere she goes.  Cruz has her debut album called "Hija de Chavez" coming out this week. From the tease she gave us at Aqua Girl, her album is bound to take off on the charts.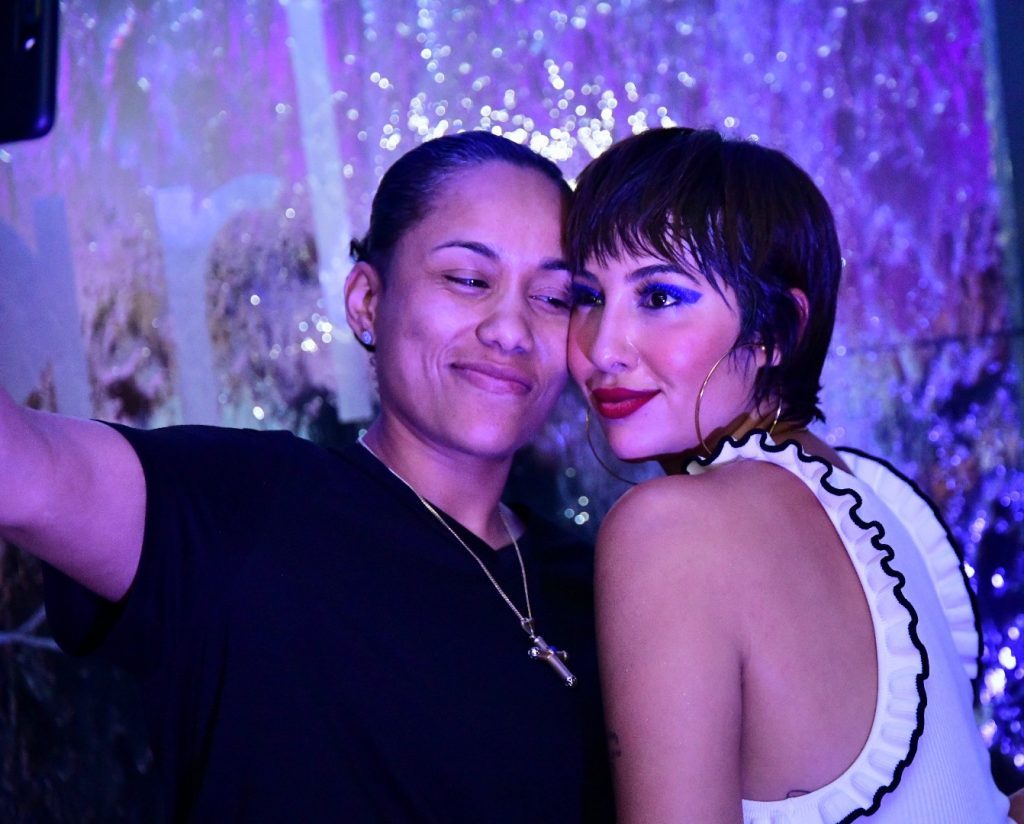 During the day, Aqua Girl took over the backyard of the Marseilles Hotel in South Beach. It was wall to wall women, with pulse pounding music provided by DJ's like DJ Zehno, DJ Pat Pat, DJ Sammi Blendzz and DJ Gigi. Friday, Saturday, and Sunday provided enough beautiful women to last a lifetime, let alone a weekend. Saturday night DJ Sammi Blendzz took over on the 1's and 2's and lit the infamous Treehouse Miami venue on fire. With her intricate blend of hard hitting hip-hop, latin music, and an assist once again from the Les Vixens Burlesque squad, Saturday night's party quickly set South Beach on fire with its heart thumping electricity.
There were some major take-aways from this weekend in Miami, the first was that Aqua Girl is bigger than an aesthetically pleasing girl-party. Aqua Girl is first and foremost a charitable event that goes towards empowering and bettering our LGBTQ community. The second, is Aqua Girl and AQW are doing real work on the ground for our LGBTQ community. It is no wonder they have done this, and done this well for 20 years, because the crux of this, after all, is leaving this community in better shape than we found it."