Dinah Shore
If you're anything like me, you have already looked at your 2020 calendar about a million times and wondered how you're going to make this year, your best year yet.
I'm sure you have been scouring the internet for vacation ideas, weekend getaways, fun nights out, or pool parties-because this is the year you're going to get in shape. Not to worry, I have compiled a comprehensive list of a few events every lesbian or queer person needs to experience this year. You can thank me later.
1. The Dinah Shore Weekend:
Palm Springs, California. April 1-6th
The famed Dinah Shore Weekend was started in 1991 by Mariah Hanson. Mariah originally wanted to throw a great party and give people a feel-good environment to bask in the glory of our community. In her first year, she completely packed the Palm Springs Modern Art Museum which came as no surprise considering this was the first party of its kind.  30 years later, she is looking to bring Palm Springs to its knees with a dirty 30 party no one will be able to forget, because let's be real here, The Dinah is the considered to be the largest lesbian/queer women's event in the world.
The Dinah, as their loyal followers call it, has produced the best parties, but have also collected a list of impressive artists who have graced The Dinah stage. Mariah is known for picking the next up and coming musical acts, and also booking legends.  Amongst the list of music royalty is Lady Gaga, Katy Perry, The Indigo Girls, Kesha, Natasha Bedingfield, Lizzo, Bebe Rexha, Tegan and Sara, Pat Benatar, Colbie Caillat, The Pussycat Dolls, Eve, and Iggy Azalea just to name a few. It is no wonder The Dinah has gotten its own Jeopardy clue.
One major difference between The Dinah and several other events is Mariah has always believed in giving back to our community. It's something that has been near and dear to her heart since the inception of The Dinah. Her mantra of, "Do what you can!" has justly helped her give back to organizations like, The San Francisco Gay and Lesbian Community Center, GLAAD, and The Women's Building, to name just a few. So not only are your dollars going to an incredible weekend of fun in the sun, but it also goes back to important resources in our community. It's a win, win.
Every April, for the last 30 years women from all over the world congregated to listen to good music, be around our community, and enjoy life. It was the party Mariah was searching for, and thirty years later she is looking at her most populated weekend yet. It comes as no surprise the headliner, Ally Brooke, formerly of Fifth Harmony, is getting a lot of buzz for her solo career. Once again Mariah knows how to pick her musical acts. With a super-secret line-up to be announced soon, there is no chance anyone will be disappointed. Do yourself a favor, go and get yourself a weekend pass for the largest queer girl party music festival the world has ever seen. www.TheDinah.com
IG: @thedinahshore
2. Sexacola Girl Weekend:
Pensacola, Florida. Memorial Day weekend, May 21-25th
For 11 years, Sexacola Weekend has taken over Memorial Day weekend on the island of Pensacola Beach. It is the largest girl party in the southeast. A title the creators Jami Atlanta and Jen-Chase Daniels are proud of.
During the day, upwards of 200,000 LGBTQ+ partygoers from around the nation flock to the 1.5-mile-long free, topless (if you so choose), Pensacola Beach. Everyone parties until the sun goes down, and then the real party begins.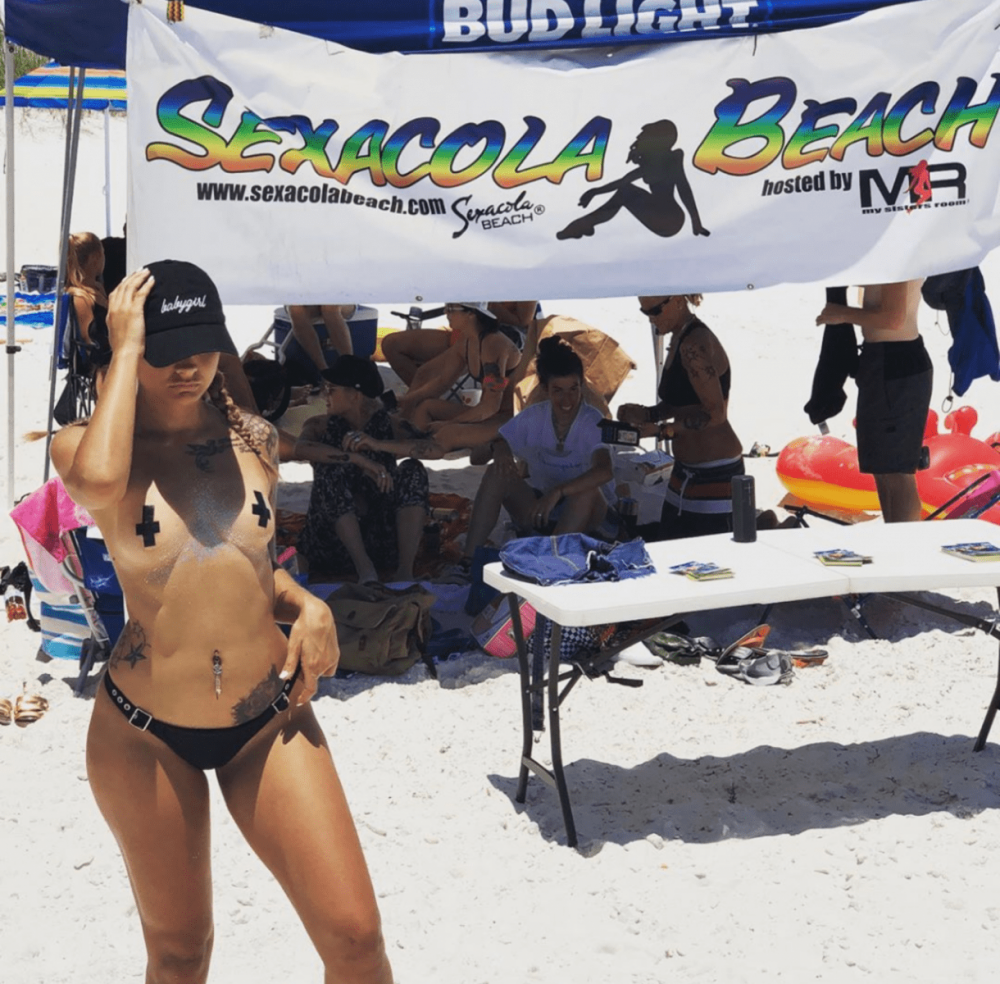 The partiers put on their best threads and makes their way to Sexacola at Capt'n Fun Beach Club where the best DJ's spin all night, the drinks are endless, and the dance floor is packed with the most beautiful people in the southeast.
What makes Sexacola different from any other beach to nightlife party?
Jami and Jen also run My Sister's Room based in Atlanta, Georgia. My Sister's Room is the longest running lesbian bar in the south, 24 years to be exact. So, they know how to get-and keep a party started.
The best part? Weekend passes start at $55 and range to $100. The earlier you get the passes the better.
Memorial Day weekend is quickly approaching, jump on those passes quick.
Get them at: www.sexacolabeach.com
IG: @sexacola_girl_weekend
3. Girls In Wonderland:
Orlando, Florida. June 4-7thth.
Girls in Wonderland kicks off Pride month with a bang. GIW is put on by the powerhouse lesbian event production company Pandora Events. Every year Pandora is responsible for some of the best lesbian parties, events, and weekends. This year, GIW will be celebrating it's 20th anniversary, and as usual they will be doing it big.
With a secret musical line-up for 2020 that has yet to be announced, there is no doubt Pandora Events will come through with something epic because their musical guests in 2019 were The Veronicas. As you can guess The Veronicas were not only a huge hit, but they absolutely shut down the House of Blues in Orlando, on a humid June night. With cathartic hits like "Untouched" and "Take Me on the Floor" we all were hearing the songs of our baby gay youths personified on stage.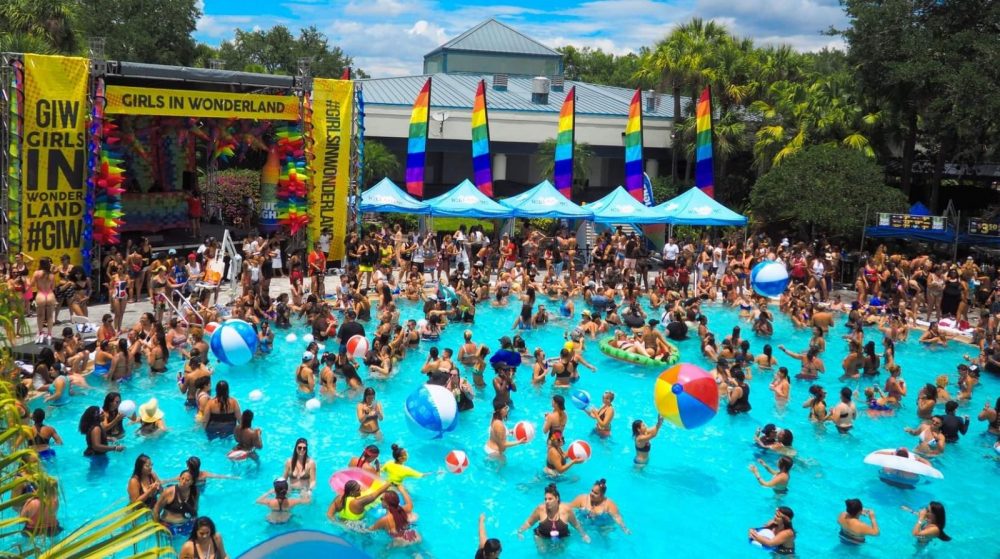 During the day, Girls in Wonderland is every girl's paradise. Scantily clad women as far as the eye can see, go-go dancers lining the aqua blue poolside, shade filled cabanas available for the day, and musical guests to keep us entertained. At night, the hottest DJ's spin, the ever-popular Les-Vixens Burlesque (more on them later in the article) crew go-go dance us into the early morning hours. What's there not to love about a weekend that's literally called Girls in Wonderland?
www.girlsinwonderland.com
IG: @PandoraEvents
4. Back Lot Bash:
Chicago, Illinois. June 27th & 28th
From its inception, Back Lot Bash has given women a space we didn't originally have. During Chicago Pride which brings hundreds of thousands of people to the streets, there was a space carved out of the Andersonville neighborhood just for the girls. Back Lot Bash was started in response to the lack of women's events and the limited presence of female artists in the Chicago LGBTQ community. Back Lot Bash boasts numbers in the thousands every year from all over the Midwest. Even though their moniker is "Where the Girls Come Out and Play" Back Lot Back stands for its unity, equality, diversity, and inclusiveness of everyone in our community. They even have a family friendly day for the little ones to enjoy.
When it comes to their entertainment, they are unrivaled in the Midwest. Past performances and appearances have included, Ruby Rose, Katherine Moennig Leisha Hailey, Uh Huh
Her, Fortune Feimster, Mary Mac, Sarah Shahi, The Veronicas, Jackie Cruz, Dorian Electra, Psalm One, Lea Delaria, Gina Yashere, Chely Wright and more.
Returning this year, Back Lot Bash has teamed up with A Queer Pride to presents:2nd annual CHICAGO IS A DRAG FESTIVAL on June 26th 2020 with line-up to be announced. Last year's sold out event featured Raja, Candis Cayne, Spikey Van Dykey, Tiffany "NEWYORK" Pollard, TS Madison & more..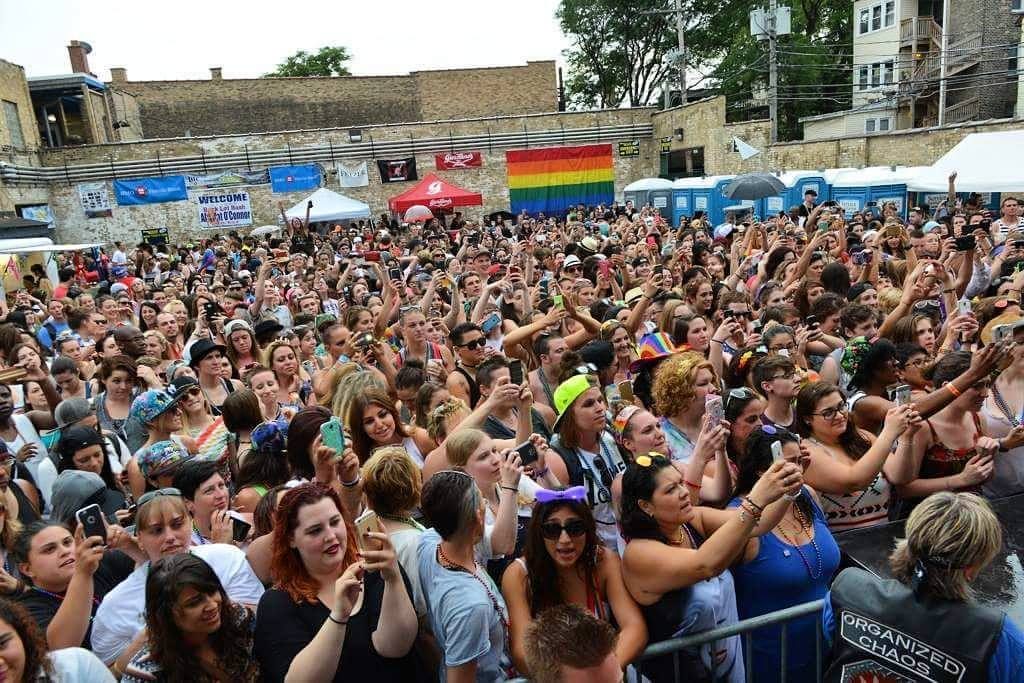 Showcasing local and emerging talent as well as established performers of different genres, Back Lot Bash highlights unity, equality and inclusiveness in an environment that is festive and celebratory of everyone in the LGBTQ community, including families. In 2013, Back Lot Bash created Pride Kids and Family Fest which was Chicago's first and only pride event specifically geared towards LGBTQ families, children, and friends.
"Our goal is for our attendees and performers to leave inspired and to stay invigorated and involved in the community throughout the year." -Christina Wiesmore-Roberts, Co-Founder
"We are motivated and driven by the positive energy Back Lot Bash creates. That energy is harnessed by all who attend and used to ignite momentum, engagement and advocacy of issues that matter to the LGBT Community," -Amie Klujian, Co-Founder
Back Lot Bash will be bringing the heat for their 17th year in business. So, if you're looking for a good time in the Chicago sun, during one of the biggest Pride festivals in the nation, Back Lot Bash needs to be on your list.
www.backlotbashchicago.com
IG: @backlotbashchicago
5. Uhaul San Francisco:
San Francisco, California. Every Friday night at Jolene's Bar.
What do lesbians bring to a second date? If you are in the LGBTQ+ community, you know the once patronizing nature of the answer. Women are used to hearing the asked and answered lines over and over. But in San Francisco, Uhaul took the answer and put an empowered twist on it. Uhaul is the famous long-reigning inclusive Friday night party for women who like women.
Uhaul parties have been popping up all over San Francisco since 2013 thanks to promotor Jolene Linsangan. It wasn't until just over a year ago that Uhaul found a permanent home on Friday nights at the new Jolene's Bar San Francisco, located at 2700 16th Street. Named after Jolene herself and co-owned with Shannon Amitin, inclusivity is paramount, and even though Uhaul parties are for the girls, everyone is welcome. According to Jolene, "That was always the vision behind Jolene's bar; to always have a safe space for womxn and our queer/trans/questioning community."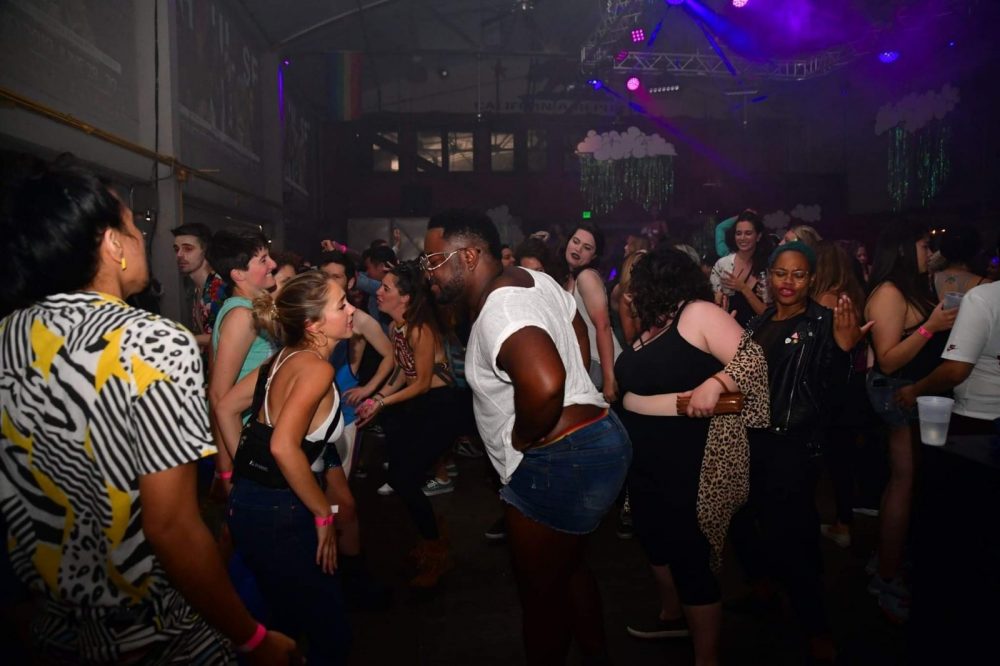 Uhaul is an experience in hard dancing, strangers merging into friends, and people having a safe place to be themselves. In addition to Uhaul taking over Friday nights, Uhaul is launching their third vacation in Puerto Vallarta at Almar Hotel, a luxury LGBTQ resort. They also have started a daytime rooftop event at Everdene at Virgin Hotels every third Saturday from 3-8pm.
In Jolene's bar there is an inverted triangle drenched in neon pink that reads, "YOU ARE SAFE HERE". This sign personifies exactly how everyone feels at each event; safe to be themselves. Authentically, wholly, and unabashedly themselves.
To experience Jolene's infamous Uhaul, get yourself to San Francisco, California.
www.uhaulsf.com
IG: @uhaulsf
@uhaulvacation
6. Girl The Party and The Les Vixens
Orlando, Florida, Southern Nights Orlando. Every Saturday night.
Every Saturday night at Southern Nights Orlando located on the corner of Bumby and South street this beautiful city transforms thanks to the unstoppable force that is one of the nation's most successful queer parties-Girl The Party. Girl The Party (IG: @girltheparty) and their incomparable Les Vixens Burlesque dancers (IG: @lesvixensburlesque) provide a modern twist on burlesque. With a ton of sweat equity, a warm welcoming vibe, and an incomparable set of dancers, they bring something to the queer party table we've never seen before.
To date, Girl the Party is the largest and most consistently packed queer night in the country. It's a party for queer women, put on by queer women, with an open-door policy to the entire LGBTQ+ community. GTP brings in crowds that wrap around the building every week. But to be very clear, GTP is beyond a party, it's an experience, thanks to the Les Vixens.
The Les Vixens are a one of a kind postmodern neo-burlesque and go-go group. They are not your mama's burlesque dancers. They have taken the old school style of burlesque and turned it completely on its head. With their bass bending performances, and go-go stamina it's no surprise people get to Southern Nights Orlando hours early to find a spot along the Les Vixens' stage. The Vixens are made up of a group of unrivaled women who are as diverse as they are fierce. Representation is one point that is near and dear to the heart of their unparalleled fearless leader Eveleena, or as her thousands of followers know her, Ivy (IG: @Eveleena). She has a few requirements for being a Vixen, they must be women with an indescribable x-factor, who own their on-stage character, who are empowered and empower others, and who represent or support the queer community with pride. Ivy's Vixens can flat out put on a show.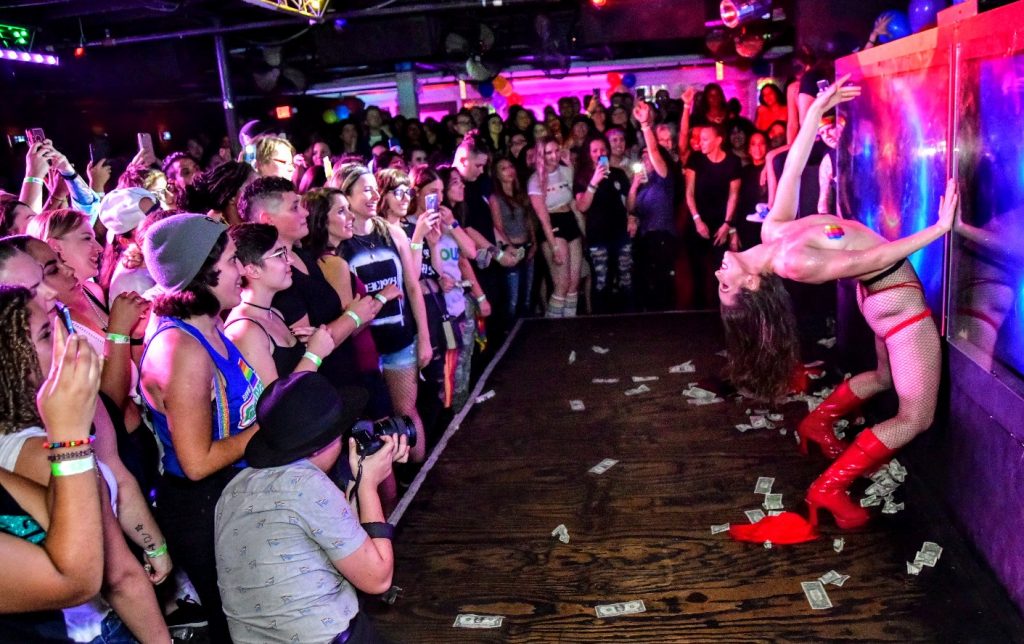 She, with the help of her partner in crime DJ Dlux (IG: @dddjdlux) who's spot on musical taste keep the dance floor populated and pulsing all night long, has demolished your usual queer party and made it an event that people from all over the country are interested in experiencing.
What makes GTP different than other Saturday night parties? First and foremost is the inclusivity and community environment. There are no strangers at GTP, it's a vibe that can only be described as a community you feel at home with. Ivy's main goal for Girl The Party is to provide a safe space for queer women and their LGBTQ community. Mix the talented and aesthetically pleasing Vixens with the bass pounding beats of DJ DLux it's no wonder security has to chase people out of the venue at closing time every Saturday. Get yourself to Southern Nights in Orlando, Florida and experience it yourself.
www.lesvixens.com
www.girltheparty.com
IG: @girltheparty
@lesvixensburlesque