Gabrielle Korn
Meet Gabrielle Korn, the bright, blonde, fashion-forward, proudly lesbian editor-in chief of NYLON magazine.
Since joining the staff of this young women's fashion bible, Gabrielle Korn has transformed it from a monthly print publication for millennials into a digital community for online-savvy women of all ages—particularly the elusive and aware Gen Zs.
As the voice and vision of the NYLON brand, Korn brings unswerving confidence and the expertise that she honed as beauty editor of Refinery29.
A lesbian beauty editor?
Isn't that a contradiction in terms? Not at all. And in some ways, Korn's ability to inhabit that role with such ease and uncompromising commitment delineates exactly how publishing has changed in the digital age, becoming more democratic as well as discerning for women of all attitudes and expressions.
Gone are the days when a women's magazine coerced its readers into attitudes and aspirations that serve advertisers and the dominant culture.
Which is not to say that Korn isn't under commercial pressure to make the new-look NYLON work and become sustainable in an era where images and information saturate us every second across multiple self-curated platforms.
She admits to being the biggest champion of the brand, but the way she shapes the content is spectacularly and singularly down to her. And that's a good thing.
Meeting Korn for lunch this summer I was pleased to find this brilliant young woman at the height of her powers, perfectly integrating her instincts with the desires of her readers. Is the word dead? Do we need magazines or editors anymore? Aren't we a dying breed in an age of Instafamers and AI?
"I think that people still really want experts, and that's what sets media creators apart from readers. We are competing with our readers for engagement, but I think they trust the brand to bring something to the table that users don't," she tells me. And to that extent, Korn's personal aesthetic—as well as her consciousness as a femme lesbian—is something she's keen to share.
I noticed how she beautifully integrated color with pattern, texture, and silhouette for every appearance she made at New York Fashion Week this year, while remaining the epitome of queer cool. "NYLON is defined by being hyper-relevant and super-cool and doing things that other people aren't doing yet—and to me that is what I aspire to be. NYLON's aesthetic is personal for me and that reflects how our readers read it, too."
Korn is one of those rare creatures, an editor you can trust; an editor who selects content because it is good—not because she's selling something. "Our readers want to read about how they can buy sustainable—while also looking cool. I think they come to us for the balance in that. They want to trust us for recommendations of products that will elevate them but also make the world a better place."
When all the decisions were hers to make, one of the first things she did was to assess NYLON's monthly themes and question their deliverables for the readership.
"I don't ever want anyone to look at our fashion content and think that it's not for them. If you don't like that fashion—sure. But if it doesn't speak to you because you're plus-size, or you're minority, or you're queer, then that to me is unacceptable. Our monthly theme needs to speak to a broader topic that is prominent that month, one that people care about."
And so she killed the Denim Issue (it was also one of my pet peeves), finding it to be fairly "arbitrary" in an intersectional digital age. Korn made some other meaningful choices, such as replacing the February Issue, which was a spring fashion review, with Black History Month. "It's so important to put black women front and center," she says.
The old argument, which I've also heard in publishing until recently—that black women on the cover don't sell—is simply not true. Newsstand racism is something that she, and I, are keen to dismantle. "If you don't make a strong anti-racist statement, you're part of the problem," she says.
Similarly, lesbians who wanted to be a part of the fashion and beauty and publishing industries were often laughed out of the room and excluded. "To me, the word queer is a great umbrella term. But it implies a degree of fluidity that I haven't experienced," says Korn, who maintains that the label "lesbian" has truth and value.
But how does lesbian style mix with beauty editorial content?
"At first it didn't," she admits. While she was a beauty editor at Refinery29 she "did a lot of fighting for my representation, but it ended up being really great and one of the most validating things I've ever done, because lesbians are so hungry for representation in beauty and fashion and things they really care about."
Changing things was as simple as acknowledging that beauty is not about telling readers "what lipstick to wear to meet a man." She moved up from being digital director of NYLON to being its editor-in-chief when the print incarnation was retired and the entire magazine became digital. A move that's overdue, she says—although she's keeping the format of monthly themes and covers such as Camila Mendes.
If you'd one day like to walk in Korn's shoes and be an editor-in-chief, she reveals that you'll need to be able to balance creativity with organizational, people, and social skills. It's a rare combination, I note, with less ego than you'd think. (Just in case you thought Korn must have a little "Devil Wears Prada" in her—she doesn't.) "I serve the masthead," she says modestly. And that includes happily applying her gayness to content creation.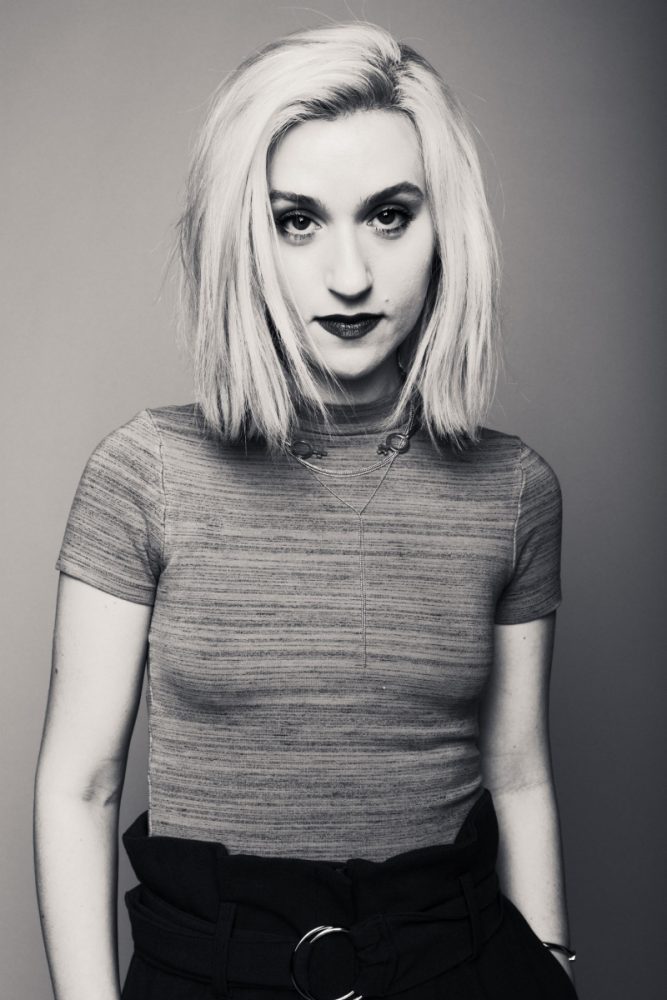 "I quickly realized how gay our readers are because our top performing stories were things like lesbian celebrities, periods, witches, gay sex…they wanted that content, so we just started giving that to them. That's how our audience grew. We have a really solid Gen Z readership, and 51 per cent of Gen Zers identify as 'not straight'," she reveals.
The June issue, which was previously the Music Issue, became, under Korn's stewardship, the Pride Issue. "I put Hayley Kiyoko on the cover and it was one of our most popular covers of all time. I just keep thinking about what my life was when I was 12. If I'd had her, everything would have been different for me." If Korn's readers are on high alert for "racist, classist, privileged media," she herself is vigilant about empowering women through her platform.
"I'm very intentional about hiring all-female crews, so the people creating the image, from the mood board to completion, are all women. So we're creating the images for ourselves. I make sure the subject of a piece is really comfortable with everything we're delivering, so the model, the actors, the musicians, have to like the clothes; they see the photos as we take them; it's very much on their terms.
"For example, the last cover was with Camila Mendes and we put her in something where her nipples showed, and we had a real conversation with her, with her PR team, and with everyone on set, and she was very much like, 'I want to do this. I want to have a nipple moment. We will do something sexy as part of a statement about what sexiness is."
So next time you visit NYLON online, you can rest assured that a lesbian is at the helm. "That's so important to me, because I think people still don't know that fashion is changing and there are actual people working really, really hard to make those changes."