Jody Hall is supporting her local LGBT community one cupcake at a time.
Jody Hall, 40, got her start working for "this tiny entrepreneurial company" you may have heard of called Starbucks. Back in 1989, it had only 55 stories, and over the course of her 11 years there, she did everything from working on charitable giving to a partnership with Lilith Fair, all of which helped guide her when she started her own business, the Seattle bakery Cupcake Royale.
Cupcakes, though, were a secondary part of Hall's mission of "creating joyous experiences and community connection." While today gourmet cupcakes are a trendy treat, at the time, an all-cupcake bakery was seen as a bizarre venture. "My friends thought it was crazy, 'You're going to spend all your Starbucks stock options opening a cupcake place?' "
But Hall wanted to bring back the model of coffee shop society, where cafes were central gathering places. "It's in our DNA to be social, in the real sense," she explains, and she wanted to provide a location for real-time connections in our hyperlinked world.
She'd been observing the success of Top Pot Doughnuts and was on the lookout for a sweet treat to sell when she saw Isaac Mizrahi interviewing Magnolia Bakery fan Maggie Gyllenhaal on a TV show, and knew the single serving baked from scratch treats fit with her mission.
Less than a year after getting laid off from her marketing job at REI Hall opened Cupcake Royale's first shop in December 2003.
Flavors range from bestseller salted caramel to Hall's personal favorite, Dance Party, a vanilla/vanilla cupcake.
Hall's instincts were right, and the company has continued to expand. They recently launched their sixth location, near the famed Pike Place Market, and expanded to offer its own ice cream line. Ethical practices and social action are part of their mission, whether using locally sourced flours and fruits (including pumpkin and huckleberry), to fundraising efforts. "Last year, there was some tragic stuff going on. Tyler Clementi had jumped from the George Washington Bridge after being bullied for being gay; it literally broke my heart," recalls Hall.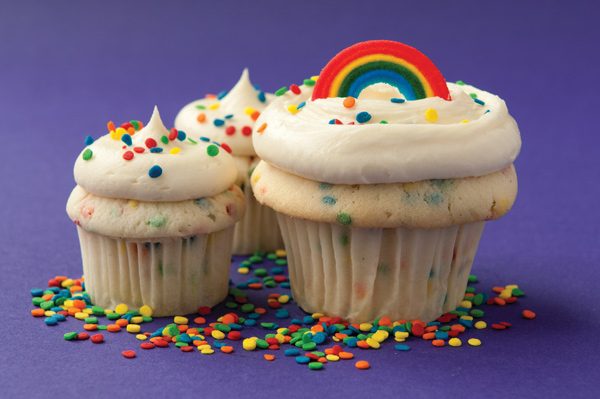 In 2011, Cupcake Royale launched rainbow-adorned "The Gay" cupcake, with $1 from each sale going toward Dan Savage's It Gets Better Foundation, enabling Hall to present the charity with a $10,000 check. In 2012, through cupcake sales and a matching donation, they gave $15,000 toward marriage equality, an effort near and dear to Hall. The bakery's offerings include wedding cupcakes (for all sexual orientations), such as those made for lesbian singer Brandi Carlile's nuptials.
Hall, an out lesbian knows the importance of shared values with her staff, "We will hire people for values over skills, because you can't train that. It's in your heart or it's not. Part of our values are around being an active part of our community and that has to do with having a voice around marriage equality," Hall says when asks if she's ever concerned about alienating potential customers.
Quite the opposite; she reports that even in the tony Bellevue neighborhood, kids who love rainbows come in begging their parents to buy them "the gay" cupcake. "When they say, 'We'll take two gay cupcakes, and two lattes,' I know they had a conversation about these issues that night," says Hall. While seeing the smiles on customers' faces is a highlight of her job, for Hall, cupcakes are more than just a sweet treat, but a vehicle for engaging with the world. "Using the business as a platform for social betterment has been super rewarding.
It's allowed us to have a bigger amplified microphone to talk about issues we think our community cares deeply about." Sounds delish! (cupcakeroyale.com)