Rancho La Puerta Wellness Spa and Resort introduces new wellness experiences just in time for the 2014 San Diego LGBT Pride.
Think warm winds flowing through the interlaced branches of a grove of oak trees, cobblestone pathways weaving through out the grounds, and miles of breathtaking views in all directions; peace is the mantra of this place. If you're looking for somewhere to relax, rejuvenate, maybe even a romantic getaway, look no further than the legendary wellness center and all inclusive day spa, Rancho La Puerta, in Tecate, Mexico.
Recognized in 2013 as the world's best destination spa and the top resort in Mexico, Rancho La Puerta offers a true wellness retreat, providing restoration of mind and body through fitness, meditation, spa and culinary experiences. For 2014, the Ranch is expanding its wellness offerings with the introduction of five new spa and beauty treatments, new product line partnerships and new fitness classes. Just in time for this year's San Diego Pride as well.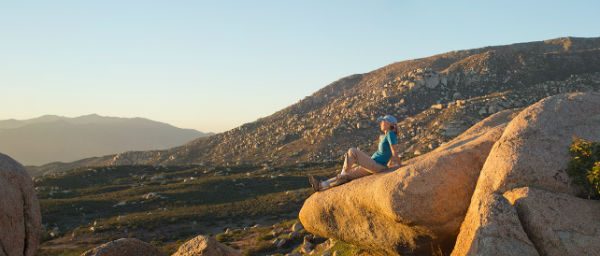 The first true fitness resort and spa in North America, Rancho La Puerta, welcomes guests to its 3,000 private acres of gardens, mountains and meadows with an approach to wellness that strikes a true mind, body and spirit balance. Here you and your partner can sit back and unwind, finding both a sense of peace and connection in an oasis that promotes such self-discovery.
Facilities and amenities include cottage-style casitas, fitness classes, spa, dining, outdoor recreation and more, all available for exclusive use during three, four or seven day stays. Guests enjoy inclusive rates that cover accommodations, fitness classes, semi-vegetarian, gourmet meals, activities and special presentations. Spa treatments, personal training sessions and cooking classes at the ranch's La CocinaQueCanta cooking school are available à la carte throughout the course of a stay.
If you're looking for a place to stay for San Diego Pride this year, let Rancho La Puerta help you get your sparkle and glow on with a trip to one of their amazing spas.Rancho La Puerta's new spa offerings include: a head-to-toe candle oil massage, an extraordinary anti-aging birchwood massage treatment, revitalizing and clearing facials, and manicure and/or pedicures.
Rancho La Puerta's spa treatments are provided among its three health and beauty centers, including the Men's Health Center, Woman's Health Center and Villas Health Center.  The skilled estheticians and therapists, widely trained in several disciplines, use aromatic and medicinal herbs and other healing plants grown at the Ranch's organic gardens. Spa treatments are available for booking with advance reservation or during the course of a three, four or seven day stay.
For you more adventurous and active ladies, Rancho La Puerta is now offering a "Ropes Gone Wild" fitness class that is a high intensity, low impact, full body workout experience. Guests learn basic to advanced training rope moves sequenced in a progressive cardio, strength, and power format 45-minute class.
Kick things up a notch and take your partner to the Salsa y Salsa dance class! A unique three-hour evening experience combines fun, fitness and food at Rancho La Puerta's culinary center—La CocinaQueCanta. Guests arrive at the culinary center and tour the six-acre organic garden, then enjoy a salsa and taco making demonstration from Executive Chef Denise Roa and a delicious, fresh, family style dinner, followed by joining vibrant salsa instructor Manuel for a high-energy dance class teaching salsa moves while burning calories in a fun atmosphere.
Rancho La Puerta is situated at the juncture of the Laguna and Sierra Juarez mountain ranges. It is located three miles from the Tecate Baja California/Mexican border and is within an hour and a half drive of downtown San Diego.
So stop by Rancho La Puerta resort this summer, and take this year's San Diego Pride experience to the next level; make a wonderful experience a true vacation that you, your partner, and your friends will all enjoy and never forget.
Info: www.rancholapuerta.com