Lesbians rule, yet true diversity remains elusive.
After a week of anti-LGBTQ rhetoric from Republican presidential nominee Donald Trump, his VP nominee Gov. Mike Pence and their buddy North Carolina's anti-gay Republican Gov. Pat McCrory, it was so refreshing to see some lesbian faces at the 2016 Emmy Awards on September 18.
One of the first awards went to out lesbian comedian Kate McKinnon, for Outstanding Supporting Actress in a Comedy Series, an award for which she has been nominated four other times. McKinnon's Saturday Night Live impersonations of Justin Bieber, Ellen DeGeneres and Hillary Clinton have propelled her to comedy stardom from her beginnings on Logo's The Big Gay Sketch Show.
Who can forget her tour de force performance on SNL with the real Hillary Clinton as a (seemingly lesbian) bartender, "Val"?
Or her Clinton against Larry David's more-Bernie-than-Bernie Bernie Sanders?
But it was McKinnon's Justin Bieber Calvin Klein ad impression that had many lesbians swooning.
McKinnon is SNL's first openly lesbian cast member in the show's 42 year history. She cried during her acceptance speech, saying it was real not acting: "Thank you to Lorne Michaels for giving me the job of my life. Thank you to my amazing colleagues, the cast and writers. It's really hard making 90 minutes of sketch comedy every week for 42 years," she said, before joking, "Thank you, Ellen DeGeneres. Thank you, Hillary Clinton."
The next lesbian to win an Emmy was Jill Soloway for Outstanding Director of a Comedy Series. Soloway won for her omnisexual comedy Transparent, which she created as an original series for Amazon. The show premiered in September 2014. Soloway won an Emmy for Transparent last year, as well. (Soloway is partnered with lesbian poet Eileen Myles who is portrayed as a fictional character by lesbian actor Cherry Jones on Transparent.)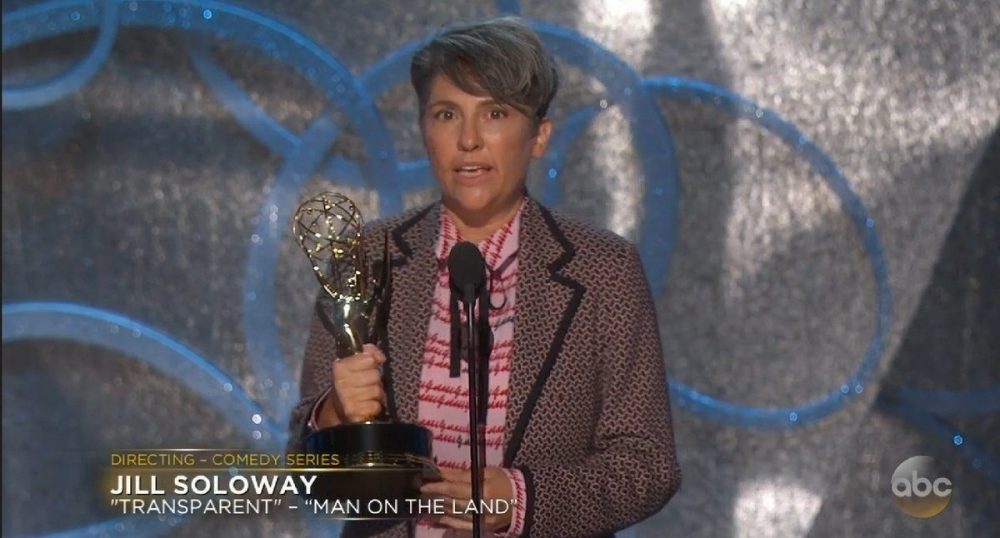 Transparent has been an extraordinarily popular series, with great writing and acting. The series is based on Soloway's own story: her father came out as transgender in 2011, in his 70s, like the series' character.
Transparent star Jeffrey Tambor has also won two Emmys for his role as the Jewish dad of three transitioning late in life to the Jewish mom, Maura Pfefferman. The long-time character actor is genius in the role, although there has been some controversy over the casting of a straight man as a trans woman, just as there was controversy over the episode Soloway won her 2016 Emmy for, which was viewed by many lesbians as an attack on the now-defunct Michigan Womyn's Music Festival. In his own acceptance speech, Tambor called for all future trans roles to be filled by trans actors.
Soloway has been a champion of trans rights and inclusion. The New York Times reported in 2014 that "as part of the making of the show, Soloway enacted a 'transfirmative action program,' whereby transgender applicants were hired in preference to non-transgender ones. As of August 2014, over eighty transgender people have worked on the show, including two transgender consultants. All the bathrooms on set are gender-neutral."
Soloway is also a woman unafraid to use the F word: feminist. So at the Emmys it was both invigorating and unsurprising that she took to the stage in gender-bending butch attire and called for the end to the patriarchy.
"People ask me if it's hard to be a director, and I tell them, no. Life is very hard. Being a good partner, mother, being a good person is hard. Being a good director is so easy, I get to make my dreams come true. It's a privilege, and creates privilege, when you take people of color, women, trans people, queer people, as the subjects of stories, you change the world, we found out. … So I want to thank you, my sweet Jeff Bezos [founder of Amazon], because you changed the world, and invited me to do this thing that these people call television, but I call a revolution. I've always wanted to be part of a movement. This TV show allows me to take my dreams about unlikable Jewish people, queer folk, trans folk, and make them heroes. Thank you to the trans community for your lived lives. Topple the patriarchy!"
Now that's an Emmy speech we can get behind.
Soloway is serious about ending the patriarchy. She and Myles wrote their own manifesto last year, which can be viewed on Soloway's website, Wifey.tv. The couple also registered the domain name, where they posted their charter dubbed, "The Thanksgiving Paris Manifesto." Soloway has urged engagement by lesbians and others to, in her words, "help us rewrite and rewrite the charter until all of this worldwide gun obsessed war obsessed men obsessed with other men silliness is over."
Sounds good.
So did Soloway's attack on Donald Trump at the Emmys, Hollywood still being reliably progressive and anti-fascist since the HUAC (House UnAmerican Activities Committee) days. Backstage where reporters congregated after the awards, Soloway took on Trump, saying, "Jews were otherized in Nazi Germany to gain political power for Hitler, and right now Donald Trump is doing the same thing."
Soloway, who is Jewish and very vocal about Jewish issues, was quoted by The Hollywood Reporter. "[Trump's] Otherizing people. He calls women pigs if they don't look like beauty pageant contestants. He blames Muslims and Mexicans for our problems. He makes fun of disabled people. This is Otherizing with a capital O. And has been used in our history before to start and win wars, and he needs to be called out every chance he gets for being one of the most dangerous monsters to ever approach our lifetimes. He's a complete dangerous monster and any moment that I have to call Trump out for being a inheritor to Hitler, I will."
Soloway wasn't the only one to mention Trump and the election. When Julia Louis-Dreyfus won her record fifth Emmy for Outstanding Actress in a Comedy Series for her role in HBO's Veep, she apologized for "the current political climate," noting that what had seemed like an over-the-top episode of the biting political satire was now everyday life.
The E
David Mandel, the showrunner of Veep, who was also backstage when Soloway was talking Trump, told press that his show couldn't keep up with Trump. "There are days when things we think of pale in comparison to that mad man threatening Hillary Clinton not once but twice. If I wrote that, I'd get fired by HBO. I find the level of discourse in this campaign horrific. A lot of people don't want to laugh about this stuff."
The next lesbian to win an Emmy was Sarah Paulson, a longtime lesbian heartthrob. Paulson won Outstanding Lead Actress in a Limited Series for her brilliant performance as Marcia Clark in The People v. O.J. Simpson: American Crime Story. This was Paulsons's fifth Emmy nomination. Paulson is unarguably one of the great actresses of her generation. Her work on several seasons of American Horror Story has been stellar and netted her two Critic's Choice TV Awards and four Emmy nominations.
Paulson's highly romantic real life affair with actress Holland Taylor has played out on social media and made so many lesbians happy as the two tweet each other. Paulson's Emmy speech was another feminist statement, though quite different from Soloway's as the actress talked about how the country abandoned Marcia Clark and held her responsible for losing the Simpson case. Paulson had brought Clark to the Emmys as her plus one and backstage had Clark's name engraved on her Emmy: Sarah Paulson as Marcia Clark.
In her heartfelt speech, Paulson told the audience, "The responsibility of playing a real person is an enormous one. You want to get it right, not for you, but for them. I, along with the rest of the world, had been superficial and careless in my judgment. And I am glad that I'm able to stand here in front of everyone today and say, I'm sorry."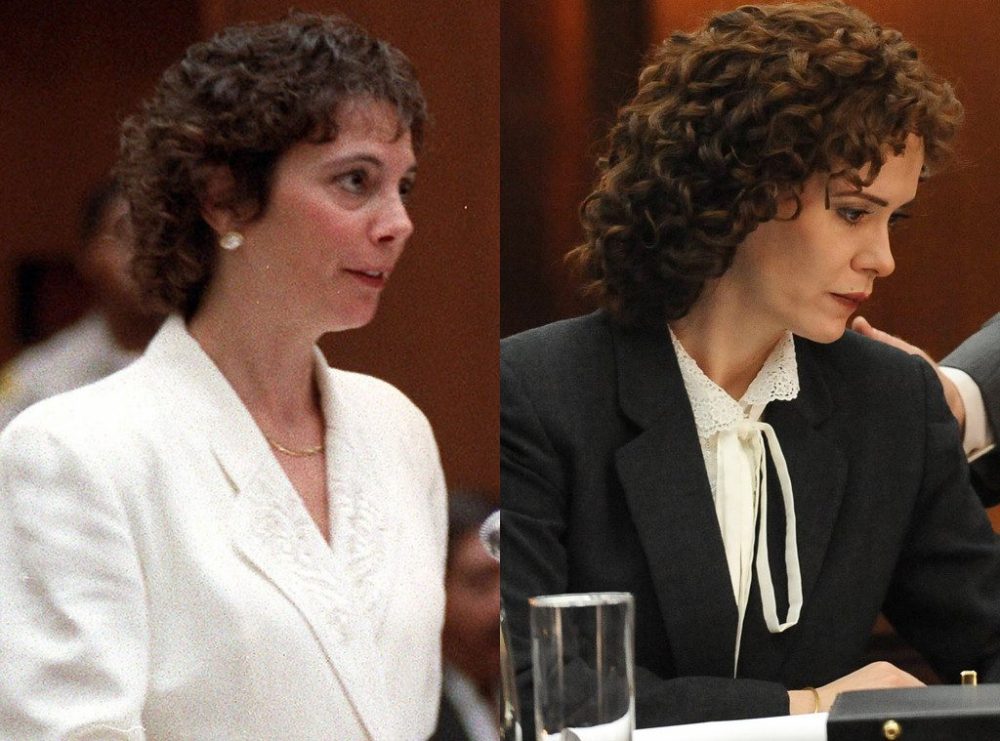 Paulson's portrayal of Clark illumined the misogyny Clark was forced to deal with on a daily basis while trying the case and how hard it was for her as a single mother. "I was able to stand up in front of everyone and say something that I think the world should say to her," Paulson told assembled reporters. "Because I do think there was a collective failing by women for Marcia during the time of the trial."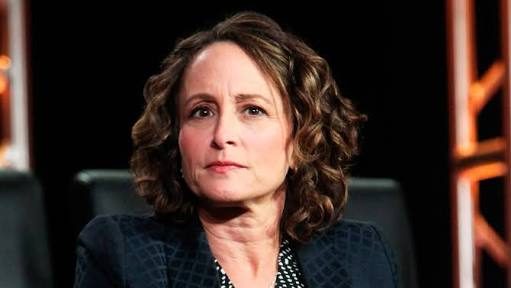 The series was one of the best dramas on TV last season and the many awards the show netted were well-deserved. Ryan Murphy and Nina Jacobson, two of the show's executive producers, are both gay and also won awards for the show. (There was a general cry of foul when the orchestra played over Jacobson, who also produced and co-wrote the screenplays for The Hunger Games films, as she thanked her wife.) Paulson credits Murphy with stoking her career – all her awards and nominations have come from work she's done with him.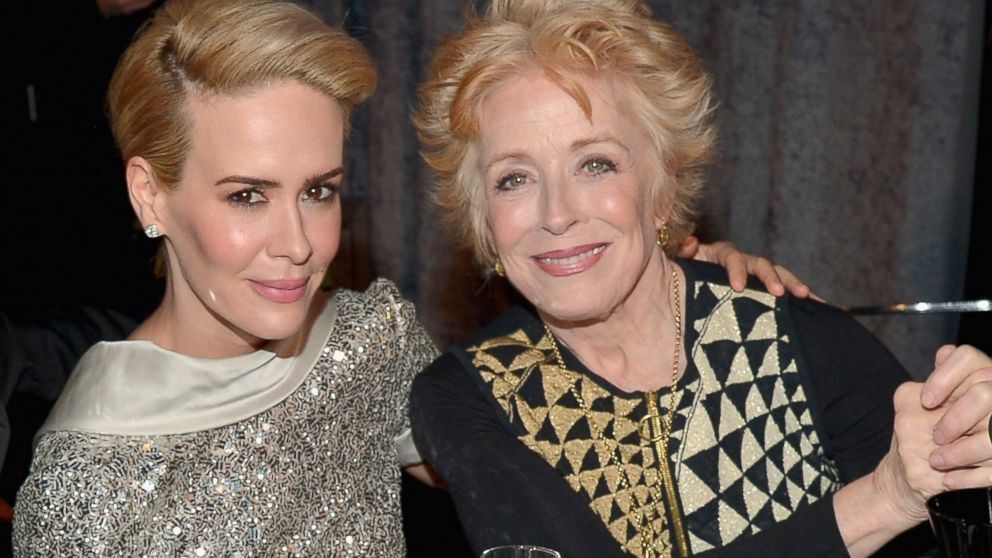 But Clark and Murphy were not the only people Paulson mentioned in her speech. She ended with "Holland Taylor, I love you! Thank you." which assuaged any fears that devoted fans might have had when Taylor didn't accompany Paulson. (Taylor was in New York for dress rehearsals for her latest play.)
A flurry of tweets from Taylor was adorably romantic.
Having a heart attack… pic.twitter.com/KS9MxqcLTn

— Holland Taylor (@HollandTaylor) September 18, 2016
and
If I'm watching…?? If I'm WATCHING???
YES, I'm watching–!!!
good LORD! …
I LOVE you!!! pic.twitter.com/63341mz81C

— Holland Taylor (@HollandTaylor) September 18, 2016
and
OH, OH, OH, MY. GOD….. Glorious.

— Holland Taylor (@HollandTaylor) September 18, 2016
The sweetness of Paulson's victory was topped by Taylor's tweets. For her part, Paulson showed off her hard-won, much-deserved Emmy:
No filter pic.twitter.com/tQkJoegYHa

— Sarah Paulson (@MsSarahPaulson) September 22, 2016
Tatiana Maslany isn't a lesbian, but on BBC America's sci-fi thriller Orphan Black she plays nearly a dozen different roles, one of them a lesbian character and she has long been a lesbian favorite. Maslany's tour de force performance on the show – often playing against the green screen version of herself – had made her seem the most likely winner in previous years. But there is no more stellar category than Outstanding Actress in a Drama Series and this time Maslany beat out the likes of last year's winner, Viola Davis and Empire's Taraji P. Henson, among others. She was shaking as she gave her speech and thanked the show for creating such great female characters.
Other lesbian performers were nominated for awards but didn't win: comedian Tig Notaro  and comedy icon Lily Tomlin. But their presence at the Emmys was another layer of lesbian visibility and overall diversity for the Emmys. Out lesbian actress and Veep co-star Clea Duvall was up on stage when the show won.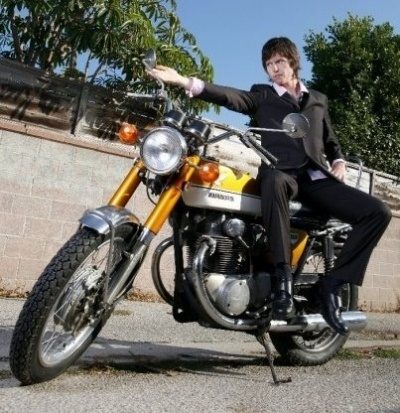 There's no question that it was a good night for lesbians at the Emmys – and that TV, especially newer venues like Amazon, Netflix and Hulu, have allowed more expansive roles for women – including lesbians. It's equally true that there were a lot of exciting wins at the Emmys for actors of color: The People vs. O.J. Simpson stars Courtney B. Vance and Sterling K. Brown, Mr. Robot star Rami Malek, American Crime star Regina King all made for a strong presence at the Emmys and provided quite the counterpoint to the #OscarsSoWhite a few months ago. Alan Yang, creator of the hilarious Master of None, gave a speech which underscored the importance of opening up TV to actors of color and writers of color.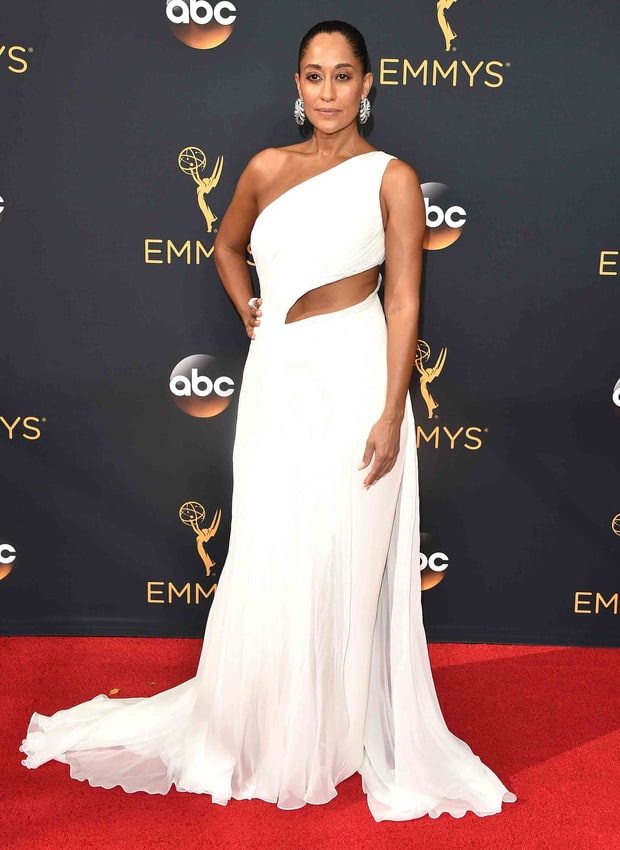 But for all the self-congratulation of the night – some of it certainly deserved–the reality of TV remains far less diverse than the major wins at the Emmys 2016 suggested. Tracee Ellis Ross, daughter of Diana Ross and co-star of ABC's fabulous black-ish, didn't win in her comedy category, but her nomination itself was historic: Ellis Ross was the first black actress to be nominated in the Outstanding Leading Actress in a Comedy Series category in 30 years.
Thirty. Years.
Not since Phylicia Rashad was nominated for The Cosby Show in 1986.
Last year Viola Davis became the first black actress to win in the lead actress category.
First.
It's exciting that McKinnon, Soloway, Paulson and Jacobson won at the Emmys and that Notaro and Tomlin were nominated. Their visibility means a lot for all of us. But all these women are white. We need lesbian women of color to be celebrated as well. There was a disturbing irony in seeing the soignée trans actress Laverne Cox presenting an award while Jeffrey Tambor—a straight white man–was winning an Emmy for playing a trans woman.
The lesbian winners at the Emmys proved the importance of diversity as they represented all sides of the camera. But it's incumbent upon people in positions of relative power—like Murphy, Soloway and Jacobson—to meet the call for true diversity. Murphy is known for having gender, racial and LGBT balance in his shows. But few other showrunners who are not themselves women and/or people of color, like Shonda Rhimes, make the same effort.
Just days before the Emmys the Directors Guild of America released a report that made it clear things are not great behind the camera for women and people of color. And that impacts who is in front of the camera.
DGA reported that in "4,000 episodes from 299 scripted series produced in the 2015-2016 network TV season and the 2015 cable television season were considered. In the 2015-16 season, 67 percent of episodes were directed by Caucasian males, 14 percent by Caucasian females, 16 percent by minority males, and a paltry three percent by minority females. As bad as things are for women in Hollywood, women of color have it so, so much worse, both behind-the-scenes and onscreen."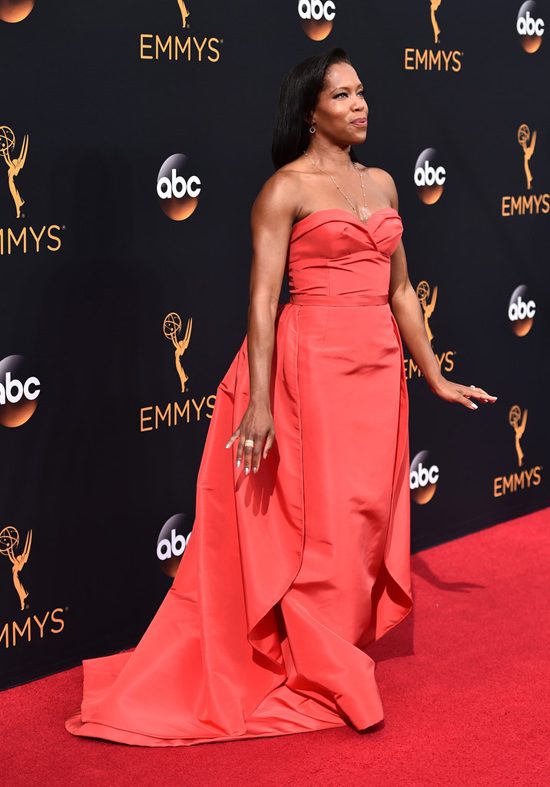 The Diversity Report was disheartening for us all and put those Emmy wins in perspective:
"Overall, 83 percent of episodes were directed by men, and 17 percent by women. Last year, women directed 16 percent of episodes so that's a mere one percent increase. Caucasian directors accounted for 81 percent of episodes, minority directors 19 percent."
So while the Emmys were definitely a feel-good moment for lesbians, for women on the non-acting side of the camera and for black actors, there is so much more that must be done to create true diversity. McKinnon shouldn't still be the only LGBT comedian on a show that's been on TV continuously longer than any other. And SNL only has a handful of black comics on the show.
We must do better. If Ryan Murphy and Shonda Rhimes can create shows with diverse casting and storylines that touch the LGBT community as much as the straight community, then so can other showrunners. Then perhaps Emmys 2017 will add some color and yet more lesbians to the small screen where most of us are still searching for representations of ourselves.