Sarah Paulson and Holland Taylor
It is never too late to come out.
Holland Taylor is a lesbian.
Few tidbits of celebrity gossip have thrilled me the way this news has. Holland revealed in a Nov. 30 interview with Anna Sale of WNYC that she's seeing another woman. A younger woman.
"It's the most wonderful, extraordinary thing that could have ever possibly happened in my life," she said of her romance, rumored to be with Oscar-nominated actress Sarah Paulson, who has been seen stepping out with Taylor in recent months and tweeting with her (how cute is that?!).
That pairing makes me positively giddy. Two stunning, brilliant actresses together? Two women we can all admire?
Who wouldn't want that as their coming-out template?
Is that who sent Taylor these roses on Valentine's Day, prompting this tweet?
By day-the shortcomings of the phone are glaring. The blood velvet, the lushness, well– I can't tell you. Smitten.
Let's face it, Holland Taylor is the kind of older lesbian every younger woman dreams about. Smart, sophisticated, accomplished, soignée–she's the prototype for it gets better.
She's also the prototype for it never being too late to come out. At 72, after leading a quietly open lesbian life for decades, she finally just said it in an interview on WNYC.
And we can't stop buzzing.
"I haven't come out because I am out," said Taylor. "I live out."
Oh. Yes.
And she added, marriage is certainly on the table. "Well, my relationship is with a woman, and I have not—given my generation it would not be something that would automatically occur to me. But she's mentioned it because just from a spiritual point of view, from a heart point of view, as a—as a—as a deed that has a very rich symbolic gesture to it, it has its attraction. But it's been a very casual conversation at this point. But it's not—it would be a very private thing. I would not do that publicly. But as a symbol, as a pledge, as a plighting one's troth I would see it—that it would be a wonderful thing to do."
Plighting one's troth.
It would indeed be a wonderful thing to do. Oh the wedding pictures. Taylor in a suit, Paulson in a gown. You can see it, can't you? We surely can.
What makes Taylor coming out different from some of the coming out stories of celebs in the past year or so (looking at you, Maria Bello) is Taylor's not trying to obfuscate nor is she trying to cash in. She's happy to be a lesbian. She seems slightly embarrassed that she didn't say it sooner. She seems thrilled to be in love with another woman. She's not doing the bisexual dance (no shade to bisexual women–we love and respect you–but you also get erased by lesbians who are too scared of losing work to admit they are indeed lesbian and not bi). But Taylor? She's here, she's always been queer and oh-how-we-love-her.
Taylor was shy about her proclamation, which was so sweet.
"Well, I feel at this point in the conversation it feels kind of awkward. Now I feel very very shy of it. I've been really wrestling with this lately because most of my relationships have been with women and I don't like talking about them because I don't like talking about the politics of it all because I'm not political about it. I think we're ridiculous in this country about it. Ridiculous. And so, it's awkward because if I talk about relationships in my life or people that have been in my life, or somebody I've been seeing for a while or this, that and the other thing, I'd like to be able to just say that, without having to stop and say, 'so have you come out?' No, I haven't come out because I am out. I live out."
Taylor acknowledged that the age difference (Paulson is 40–if she is indeed Taylor's beloved) is a bit daunting (something male actors never seem to think, we might add. Michael Douglas and Catherine Zeta-Jones have almost the exact age difference as Taylor and Paulson.)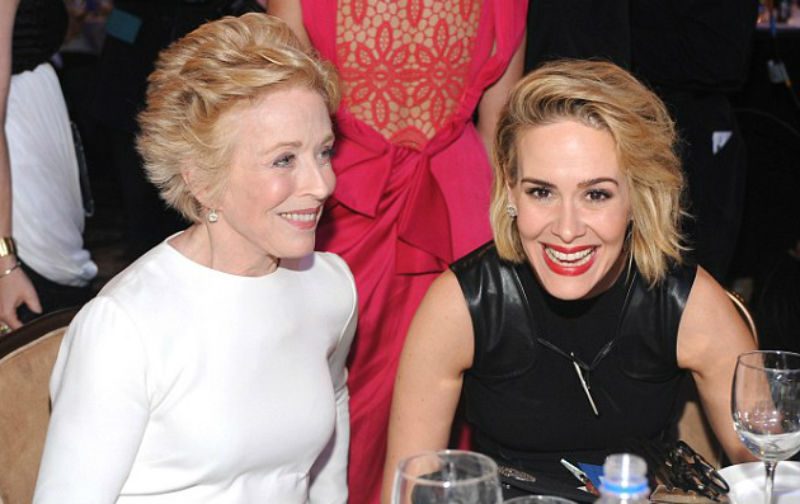 "There's a very big age difference between us which I'm sure shocks a lot of people, and it startles me. But you know, it's not a statement original to me—I've heard it as a joke once in my past, but as they say, 'If she dies, she dies.'"
Add wry sense of humor to the list of Taylor's charms.
But in the interview she explains some of why now, not before, in opening up.
It's not politics, it's not age, it's not that she felt she needed to make a statement.
Rather, mourning her mother's death and suffering from depression for years made her suddenly aware that she wasn't living her best life, professional accomplishments notwithstanding. She said, "I just suddenly got the sense that I was living a very shallow life," and added, "I had not had wonderful relationships. I had stayed very solo."
Solo no more. She's rarely alone these days and Paulson, who is currently co-starring in "Carol," was there for the premiere of Taylor's play "Ripcord" in New York in October at the Manhattan Theater Club.
David Lindsay-Abaire's off-Broadway comedy has received strong reviews and the New York Times said Taylor was "perfectly cast" and "On both stage and screen, Ms. Taylor [seen to fine advantage on Broadway two years ago as Gov. Ann Richards in 'Ann'] has made a specialty of crisp, take-charge patrician women."
Theater is where Taylor's career began and noted New York Magazine critic John Simon said of her in 1983 that Taylor was "one of the few utterly graceful, attractive, elegant and technically accomplished actresses in our theatre."
Taylor is one of those actresses you've been seeing for years on TV. She was the billionaire Peggy Peabody on "The L Word."
Charlie and Alan's bisexual mother, Evelyn Harper on "Two and a Half Men," for which she was nominated for four Emmys.
Judge Roberta Kittleson on "The Practice," for which she won an Emmy.
Ruth Dunbar on the encoded lesbian cult classic, "Bosom Buddies" in the 1980s.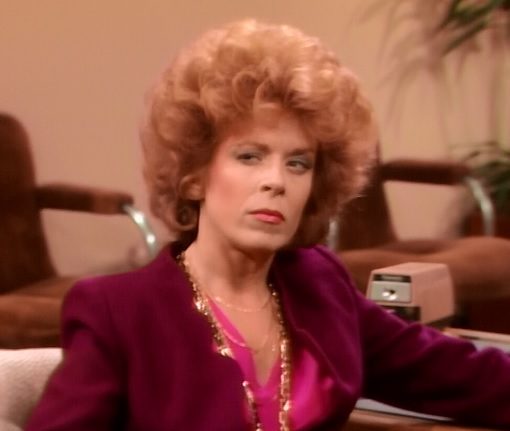 She spent a decade on various soap operas while also appearing on prime time on some of TV's most notable shows, including "Ally McBeal," "ER," "Monk," "American Dad" and also continuing to star in numerous plays on and off Broadway.
In 2013 she was nominated for a Tony for Best Lead Actress in a Play for her role in "Ann," a one-woman play she wrote and produced about Texas governor Ann Richards. She's appeared in more than three dozen films including the lesbian classic, "D.E.B.S."
But as her career continued apace, Taylor says her personal life was not-quite-there. "I was always at a certain safe remove I think," Taylor said. "No matter how much I might have loved a person, I was at some sort of a safe ground, still with a foot on my own island."
Island no more. Taylor is singing her love to all and sundry. And, ahem, we see this tweet from the actress at the New York premiere of "Carol," for which she was Paulson's plus one
Epic, isn't it?
In these dark days for lesbians around the world, it's fabulous to have a moment to celebrate.
I'm raising a toast to Taylor and Paulson. Brava, women. It's never too late to come out and it's never, ever too late to fall in lesbian love.
Listen to the entire interview with Holland Taylor and WYNC here