Frida Kahlo
*gelatin silver print
*Oct. 16 / 1932
Making Herself Up feels incredibly personal, and yet, it lacks one fundamental detail of her life: her bisexuality
Frida Kahlo is infamous for a great many things.
Her art; her socialist views; her disability, and her sexuality are all fundamental jigsaw pieces of her life.
Many focus on her marriage to Diego Rivera, ignoring the outstanding evidence of the relationships she had with women and her self-proclaimed bisexuality. (She had an affair with Josephine Baker, for goodness' sake!)
Many were discovered in The Blue House in 2004, fifty years after her death. Rivera ordered her bathroom to be sealed, locking away a great many treasures. The patriarchy, eh?
Frida allegedly had affairs with her husband's mistresses, as well as with figures such as the infamous Josephine Baker; Paulette Goddard and Dolores del Rio, as well as with fellow painters Georgia O'Keeffe and Jacqueline Lamba.
Born in 1907 in Mexico City, Frida was confident in her identity from a young age.
As a teenager, she raided her father's wardrobe and posed in a three-piece suit for a family photograph.
This was not an isolated occasion: Frida frequently dressed in men's clothes.
Her 1940 painting Self-Portrait with Cropped Hair features her in an oversized, navy suit, having just cut her hair to spite her husband after an argument.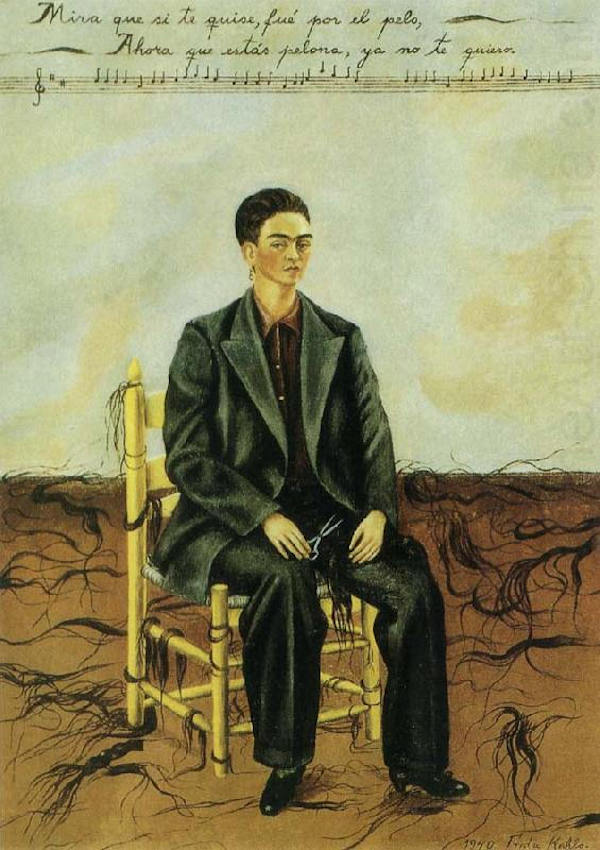 Frida  is an icon for many people, and for many different reasons.
Artists praise her for her originality and attention to detail; feminists idolise her for her refusal to adhere to gender norms, and the LGBTQ+ community cherishes her for how open she was about her sexuality.
Her bisexuality is just as important as her art. For a woman to have lived and loved as freely as she did in twentieth century Mexico is a remarkable thing. And yet, the V&A appears to have forgotten this teeny, tiny detail.
Too often, history attempts to erase women from the narrative. Frida, fortunately, was not one of these cases.
She wasn't a pauper in life and a celebrity in death, as was the case with Van Gogh. She was famous in life, and on her own terms, as opposed to her husband's. But to ignore her bisexuality and attempt to erase it would be a great shame.
Her life was as colourful as her paintings, and this should not be forgotten.