As the co-chair of Trans March, it has been an honor to give honorary Trans March t-shirts to some of the most visible trans women of color in the nation, including Laverne Cox
Remember the mantra-Keep Calm and Trans March on!
When most people think of Pride weekend, they immediately conjure up the festivities involved with the Pride Parades held nationally on the last Sunday in June. Yet for some years now, and for a growing number of celebrants in major cities, Sunday's events can feel overwhelming and even alienating. Given Pride Sunday's emphasis on corporate sponsorship and mainstream gay politics, as well as the difficulties caused by rowdy crowds fueled by the heady mixture of hot temperatures and an over-abundance of alcohol, makes Pride itself an event that many skip.
Yet, the evolution of the marches leading up to Pride Sunday-the Dyke March on Saturday night, and the Trans March, now a regular Pride fixture in most municipalities the Friday before Pride, have become spirited events defining many people's entire Pride experience. These separate events-more vibrant, more participatory, and more rebel-minded, retain more of the original spirit of Pride as a defiant protest and street party, not driven by corporate sponsorship or the dictates of the gay political cause du jour.
Having myself regularly skipped out on Sunday's "official" events long ago in favor of attending the alternative marches, I decided to focus this column on San Francisco's annual Trans March. I spoke with Tracy Garza, one of this year's co-chairs, about both the history and current state of Pride's fiercest spin-off.
Garza, who's been involved in LGBT advocacy in the Bay Area for 15 years, says that the impetus for the first trans march may have been in response to the verdicts in the Gwen Araujo trial, which began in 2004.
Arajo was a young trans woman murdered after her trans identity was discovered by several young men she knew. Her brutal death and the subsequent trial-in which a defense of "trans-panic" was introduced to prevent the defendants from being charged with hate crimes- became a national tipping point of outrage among trans people.
In part to raise consciousness, in part to claim space, trans activists and allies put out the call in San Francisco for the first trans march back in 2004. That first year, 2000 people attended.
By the next year, attendance had doubled, and it kept growing, year after year. It is now a huge event, attracting upwards of 7,000 people, making it possibly the largest annual trans gathering in the world. The gathering and rally beforehand completely take over San Francisco's Dolores Park, an exuberant see and be seen celebration of all forms of gender identity and expression, a can't miss event for both locals and those visiting the Bay Area for Pride.
In keeping with its activist roots, Garza states that far from being just a party, the Trans March also focuses on "working especially hard to empower the people in the trans community who usually face the worst abuse and violence, especially trans women of color, and give them a place where they can feel safe and empowered. And while we honor and seek to empower trans women of color, it is also very important to note that we strive to make our event a truly representative one, for people of all ages and gender identities." Part of this work, Garza notes, is to host events such as a Youth and Elder brunch, in partnership with other community organizations, to celebrate community building between trans people of different generations.
Garza notes that this year, The Trans March has been selected as the Organizational Grand Marshal for SF pride. In addition, three prominent trans women of color – Miss Major, Jewlyes Gutierrez, and Janet Mock – are also grand marshals for SF Pride. Chelsea Manning will also be an honorary grand marshal.
Although run by volunteers, The Trans March has become a major player in local organizing, hosting an informational and inspirational Facebook page, developing a sassy clothing line (last year's T shirt, which read 'Keep calm and Trans March on,' sold out) and hob-knobbing with the new wave of trans celebrities. Says Garza, "As the co-chair of Trans March, it has been an honor to give honorary Trans March t-shirts to some of the most visible trans women of color in the nation, including Laverne Cox, Janet Mock, CeCe McDonald and Monica Jones." And this year, Garza says, there will be an official unveiling of a city street renamed for legendary trans performer Vicki Marlane, who died in 2011 at 76. Having moved to San Francisco in the 1960's, Marlane became a stage regular, was known as "the liquid spine" for her amazing moves, and was a Grand Marshall in SF's Pride Parade in 2003. Says Garza, "We expect to have a huge turnout not just throughout the March but also for the end-of-March ceremony at the unveiling."
As the visibility of trans people and an understanding of their issues continues to increase in the mainstream consciousness (witness the recent ascent of the incredible Laverne Cox from little known actress to Time magazine cover model) it seems clear that the importance of the Trans March as an organizing and celebratory event will only increase. Show your solidarity and join in this year's festivities if you can, in a city near you, and remember the mantra: Keep Calm, and Trans March on!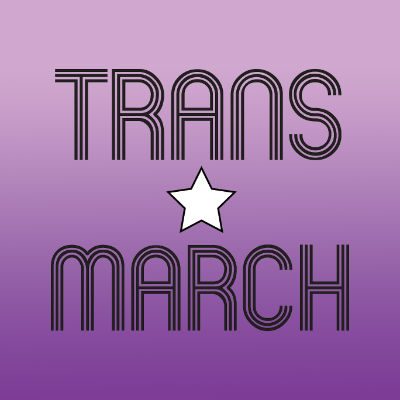 For more information on San Francisco's Trans March:https://www.facebook.com/transmarch orhttp://www.transmarch.org