Religious Freedom v LGBT rights in Montana.
A month into the Trump presidency Americans have become used to seeing huge protests erupt all over the country against one or another of the new president's Draconian measures, like the Muslim ban.
In the states, Trump's discriminatory language and executive orders have emboldened state legislators to either propose anti-LGBT legislation or fight anti-discrimination bills.
February 15, Montana became the latest state to attempt to protect LGBT citizens. Predictably, opposition was immediate.
Montana ranks 44th for population, with only 1.1.million residents. But that's twice the population of Vermont, the 49th most populous state and Vermont is constantly in the news.
But Big Sky Country differs from New England in both politics and temperament. Long a red state, having voted Republican in every presidential election since 1968 with the sole exception of 1992, LGBT rights have never been a priority in Montana.
In 2016, local politician Denise Juneau, a Native American and out lesbian who spent nearly a decade as the state's superintendent of education, became the first out lesbian to run for Congress from Montana. She lost her bid to incumbent Ryan Zinke, who has since been nominated for Secretary of the Interior by President Trump.
For more than two decades Montanans have tried to pass anti-LGBT discrimination laws, most recently in 2014. Each time the legislation has failed. But when Rep. Kelly McCarthy (D-Billings) proposed HB417, he told local news media he believed it could pass.
Let's hope he's right, because anti-LGBT discrimination is happening in Montana just as it is everywhere else in America.
On Feb. 12, a gay couple was the victim of an apparent hate crime outside the Rhino gay nightclub in Missoula. David Herrera, a local activist working with the Western Montana LGBT Community Center, told news media the assault was disturbing.
"People tend to think that Missoula is such a progressive community, and yet it's kind of surprising when this stuff does happen and make us realize that we still need to be careful," Herrera said. "There are people that truly hate us and will attack us."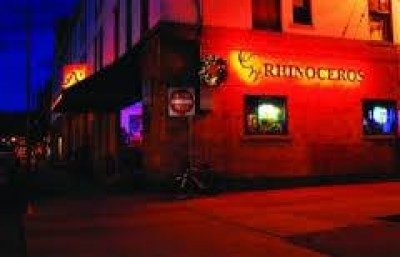 On February 15, lesbians, gay men and allies testified for HB417 and others testified against it, notably religious leaders and others with anti-gay sentiments. Similar bills have been
proposed and voted down over the course of 20 years, with some Montana politicians consistently arguing that such legislation is unnecessary.
Some of the testimony on Feb. 15 proved just how necessary it is. McCarthy hopes that both the testimony and the current political climate will propel his bill forward. After the hearing, McCarthy told MTN News he believes HB417 "can make it to the House floor, and possibly pass."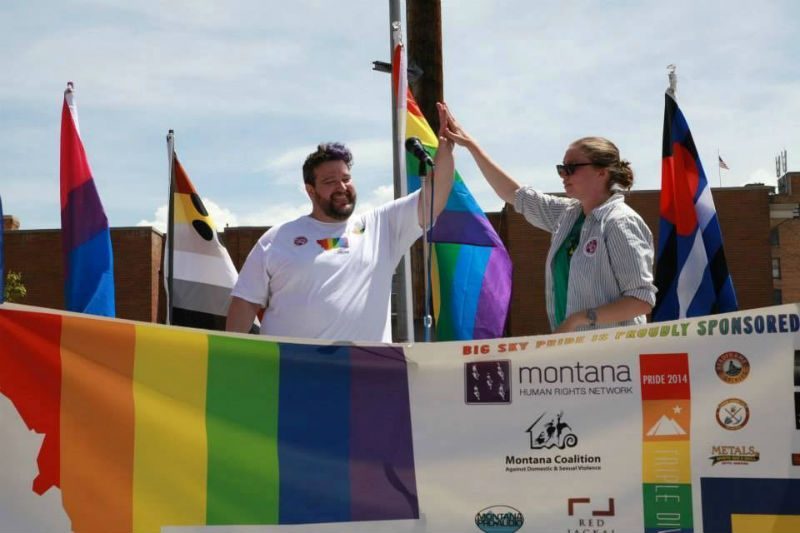 Yet opposition remains strong. As local Montana news outlets in Billings and Missoula reported, opponents of the HB 417 urged the House Judiciary Committee, which is, like 31 other states, controlled by Republicans, to kill the measure. The main argument used against McCarthy's bill is "it's being pushed by a fringe segment of our population" and that a majority of Montanans don't want it.
"HB417 threatens religious freedoms under the First Amendment … by forcing dangerous policies on schools, businesses and public places, and punishing those who refuse to bow down to a fringe agenda," said Constance Neumann, a businesswoman from Kalispell.
Race, creed, color, sex, age and national origin are already protected by anti-discrimination legislation in Montana. HB417 would add "sexual orientation" and "gender identity or expression." Most importantly, the law would prohibit discrimination in housing, jobs, public accommodations, financial transactions and most public services.
In other words, it would make LGBT Montanans equal to everyone else. Hardly "dangerous policy."
McCarthy's argument for the statewide non-discrimination law is it would outlaw all discrimination, especially in housing where such discrimination is rampant, throughout the state.
Like many heterosexuals who has gay people in his life, McCarthy has learned just how insidious anti-LGBT discrimination is through his niece, Kathleen O'Donnell, who he says has been denied housing twice in Billings because she's a lesbian.
O'Donnell testified at the hearing about how a landlord had asked her who would be living with her in the house. "I answered, `Me, my fiancée Casey, and my son,'" O'Donnell said. "The first thing he asked me, 'is Casey a boy or a girl?' I was a little taken aback. I answered, 'a girl.' He looked me directly in the eye and said, 'I do not rent to your kind.'"
O'Donnell said, "Many emotions rang through my head — confusion, anger, sadness. 'My kind' was a person who had a stable job and a good rental history in search of a home."
Not all religious leaders are against McCarthy's bill. Rev. Susan Otey of Christ United Methodist Church in Great Falls testified that Jesus spoke out against judging others.
"Passing the bill would show Montana lives up to Judeo-Christian values. It is time for us as the state of Montana to let go of judgment, to let go of fear," Otey said at the hearing. "It is time for us to stand with our friends, our colleagues, our brothers, our sisters, our neighbors who are lesbian, gay, bisexual, transgender and queer."
But the specter of religious freedom and the plethora of bills protecting religious people against LGBT people was hovering over the hearing. Other pastors and religious leaders testified against HB417, saying it "could create a backlash against those who believe homosexuality is wrong, exposing them to criminal or civil charges of discrimination."
Other Montanans argued that HB417 seeks to "legitimize and protect homosexuality" and those voices were the most vitriolic against the proposed legislation.
"There is an agenda behind this type of legislation … and that is to create a vehicle to use the coercive power of government to target, attack and, if possible, destroy people who actually have a conscience, who still have character and will not compromise for the sake of economic or political expediency," said Rick Vaught of the Christian Education Association of Montana, who argued against McCarthy's assertion that the law would make the state more inviting to national businesses that have avoided states like North Carolina with anti-LGBT legislation like HB2. McCarthy has argued the legislation could increase state revenue.
"Let's not give anybody a reason not to come here," McCarthy said, invoking North Carolina and other states with discriminatory legislation, at the hearing.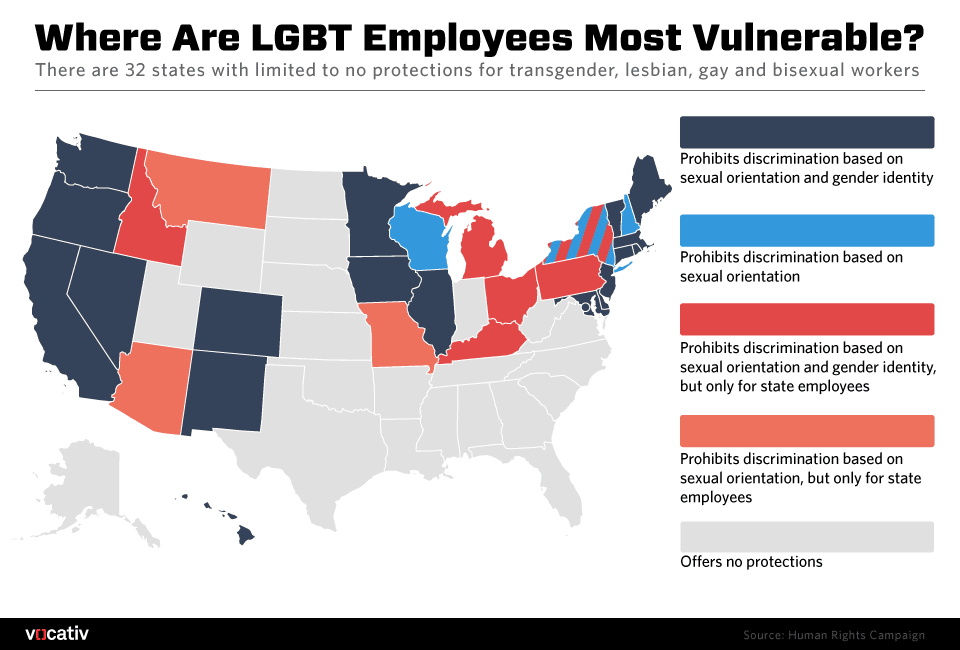 Jeff Laszloffy of the Montana Family Foundation raised the common right wing argument that HB417 says people must be admitted to bathrooms or dressing rooms "based on their gender identity." Laszloffy said, "If you pass this, women and girls across the state will no longer have the assurance that they can undress in a locker room without the possibility of a man walking in on them. Is that what you intend to do? And more importantly, is that what you want as a society?"
Laszloffy added, "For those concerned about unintended consequences, this bill should set off all kinds of alarm bells," he said. "If you pass this bill, it would give boys and men unfettered access to girls' locker rooms."
There have been no reported incidents of trans women attacking women or girls in restrooms, but there have been incidents of men attacking trans women in men's restrooms, making the argument that trans women are less safe if forced to use restrooms of their birth sex.
The wording of the law itself seems so benign, it's difficult to imagine the outcry against it. HB417 reads simply: "A BILL FOR AN ACT ENTITLED: "AN ACT PROTECTING GENDER IDENTITY OR EXPRESSION AND SEXUAL ORIENTATION UNDER THE LAWS PROHIBITING DISCRIMINATION; DEFINING "GENDER IDENTITY OR EXPRESSION" AND "SEXUAL ORIENTATION"; AMENDING SECTIONS 49-1-102, 49-2-303, 49-2-304, 49-2-305, 49-2-306, 49-2-307, 49-2-308, 49-2-403, 49-2-404, 49-2-602, 49-3-201, 49-3-202, 49-3-203, 49-3-204, 49-3-205, 49-3-206, AND 49-3-207, MCA; AND PROVIDING AN EFFECTIVE DATE, BE IT ENACTED BY THE LEGISLATURE OF THE STATE OF MONTANA."
Very few states protect against workplace and housing discrimination. Hopefully Montana will become one of them in the coming months.
It's vital to remember LGBT people are not just those coastal elites the Trump team keeps telling us about, but that LGBT people are everywhere–and need protection wherever they live, work and love.