But forever young, Vienna knows how to share her romance with her visitors
Land-locked and lovely, that is Austria. A country of modest proportions that is neatly wrapped into a package that contains almost everything a visitor could desire. There are the sounds of music, Mozart, mountains, strudel, lakes, cakes, castles and mighty fine museums, sparkling Christmas markets and brilliant ski fields, in fact, the perfect place for a honeymoon or just a holiday for romance and inclusiveness.
On top of the delicious Austrian cake is the capital and Grand Dame of the country—big, bold, hip and a work of exquisite art—Vienna. And there is wonderful news for Australians, Vienna is inviting first honeymooners under the new law! With the result of the same sex marriage survey a 'yes' for equality it has been felt even on the other side of the world.
Austria is still waiting for the green light for legal same sex marriage, but while feet are tapping patiently Vienna, in its infinite generosity, has initiated a ceremony to suit newly-weds.
The Vienna Tourist Board is inviting a visit from the first same-sex couple that ties the knot in Australia
Vienna has always been a romantic destination and the Vienna Tourist Board is inviting a visit from the first same-sex couple that ties the knot in Australia and sends their marriage certificate to honeymoon@vienna.info Vienna. The lucky couple, and let us cheer on the lesbians, will spend an unforgettable honeymoon in the European hotspot for the gay and lesbian community.
Vienna knows how to celebrate and has been practising great lesbian celebrations since 2010 when civil ceremonies were first performed. Let us send our good vibes and wishes for same sex marriage equality across the oceans!
Let Vienna be the one for you! A city that has not only rested on its elegant, pedigree but continually reinvents itself at regular intervals. Perennially gay-and-lesbian-friendly with parties and weekend festivals—out and proud here is de rigueur.
Women for women's places
Vienna has a lot to offer to lesbian visitors who will find plenty of places and events created by women for women.
The Frauencafé was originally founded as a collective by a group of lesbians in the 70s
The Frauencafé (Women's Café) on Lange Gasse 11 was founded in 1977 and has been popular ever since. The new proprietors, a group of dedicated lesbians with a lot of experience in arts and catering, took over this café from a single woman, who managed it all by herself. The Frauencafé was originally founded as a collective by a group of lesbians in the 70s. It is women-only and transgender welcome.
The Frauenzentrum Bar (Women's Centre Bar), commonly called FZ, greatly contributes to the women's and lesbian scene in Vienna by regularly hosting parties and events (for women only).
Particularly worth recommending are the Las Chicas women's clubbing sessions, which have built up a dedicated fan community over several years. The regularly held G.Spot parties are also highly recommended to all women.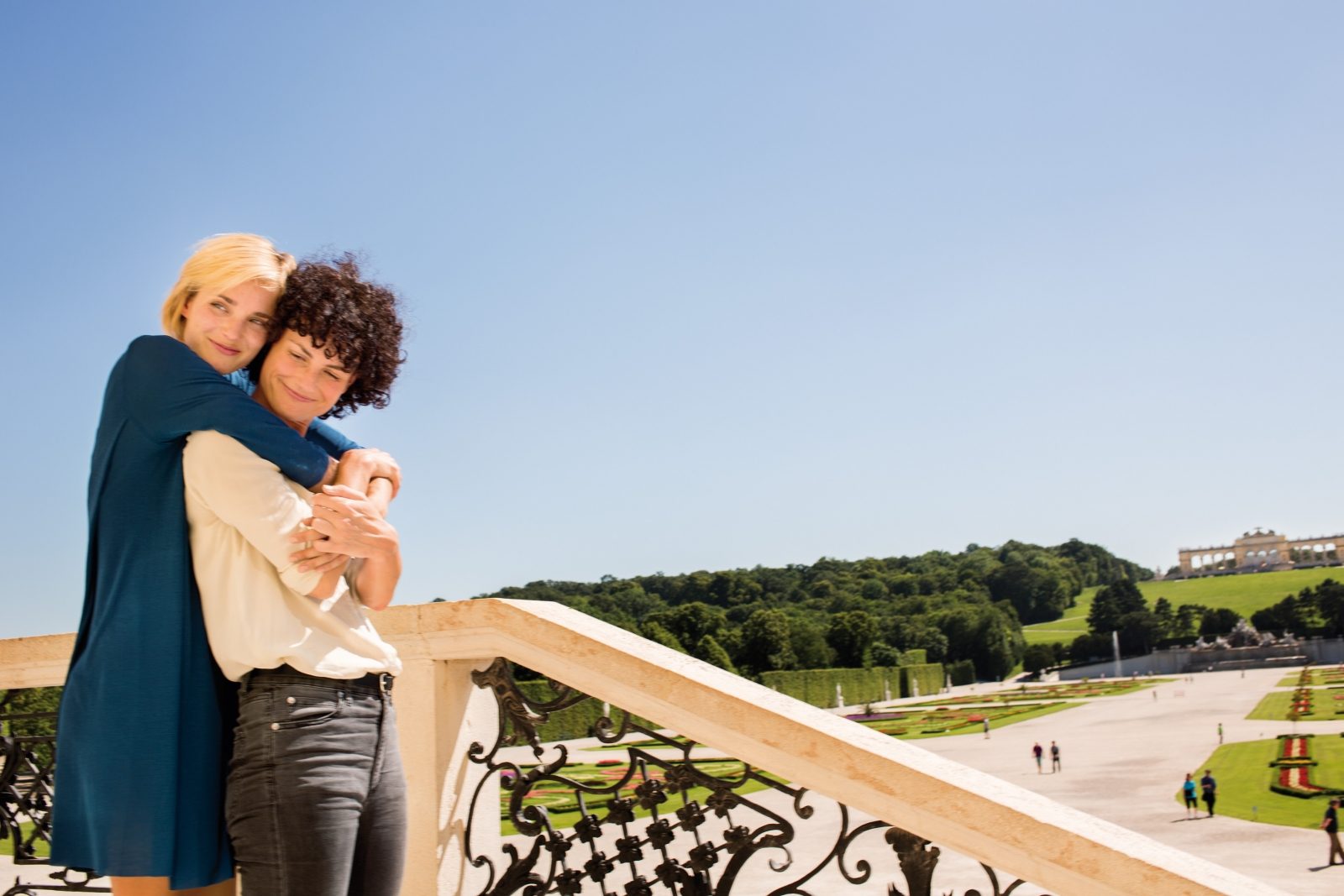 taken by Peter Rigaud Legend
Discover Vienna by walking!
The city reveals treasures around every corner. Start your day with a purposeful amble along and around the Ringstrasse—the road that leads to all things cultural and historic. Pedestrian precincts take in the grand architecture from the Baroque to Art Deco and 70s glass-houses.
Switch between the sights of the magnificent Vienna State Opera House to a clutch of old-school and hip-and-happening cafes—yes, coffee and café culture reigns supreme here along with music, cakes and the best collection of museums in the world.
The city encourages and nurtures all cultural pursuits and galleries and museums have constantly changing exhibitions for young artists. Museums include left-of-field subjects such as Schnapps; Textiles; Undertakers; Graphic Artists, Torture and many more.
But the classic stalwarts are the Kunsthistoriches Museum; Leopold; Liechtenstein Palace and for equine magnificence—the Lipizzaner Museum.
Recommended attractions and experiences
There are certain attractions to see in Vienna and experiences not to be missed. My considered and totally biased opinion is for you to follow my lead:
As Vienna's cultural ascendancy continues to rise each year, head to any exhibition that is on. From Gothic to Biedemeier to classic art to modern—it is here.
Book for an evening at the Vienna State Opera House—even if you have never seen an opera before it is time to change your mind-set.
Must-tastes are: Tafelspitz slow boiled beef served with horseradish and chive sauce; Vienna Schnitzel (the king of the table), tender flat veal, crumbed and served cooked to a golden colour—and usually in very large servings.
Get a list of restaurants from the tourism bureau and, that way, you can eat your way though the entire menu of the Hapsburg Empire plus the delights of the new world.
Mixing old and new is de rigueur in Vienna so sample the city's finest traditional food and signature tiny sandwiches at Zum Schwarzen Kameel, The Black Camel, a great place to start your food adventure.
Now, let us get serious about cakes and pastries! Patisseries are the sweet temples of our time and they include the famous Demel and Schokov Bakery and Coffee House that display cream pastries and cakes that will bring a little tear of happiness to your eye and a life-changing experience to your mouth. Sacher Torte reigns supreme in all its glossy, chocolaty gorgeousness. You can purchase the Sacher Torte around town, but it's all about the occasion when you have cake and coffee at the Hotel Sacher (best to go to the source). A wedding cake perhaps?
Take an evening stroll through the Naschmarkt, the city's fresh food open market selling olives, chesses, oil, meats and sauerkraut from huge vats.
Coffee, coffee, coffee—no trip to Vienna is complete without a visit to a coffee house, an institution ingrained in the DNA of the Viennese. Enter the world of aroma and elegance and very good taste. Try a Kleiner Schwarzer. Well before the espresso was invented, this little shot of black coffee invigorated Vienna's populace. For milk fanciers, go for a Melange, the mixture that is quintessentially Viennese—a perfect marriage between coffee, milk and textured milk foam, with a pastry or apfelstrudel, of course.
Favourite coffee houses include: vintage Cafe Central, Kleines Cafe, Cafe Korb, Cafe Diglas and Demel.
Go to see the famous white horses performing at the Lipizzaner Show, the Spanish Riding School, for precision and tradition on show with magnificent horses.
Love a palace? There are tours through the divine 18th century Schonbrunn Palace. The lavish rococo rooms leave a lasting impression—think gold, gold, gold.
Vienna is a green place with serene parks. Walk through the Volksgarten, Stadtpark and Burggarten for fragrant roses and old trees that have many tales to tell.
Shopping? There is lots. The main hub for shopping is the city centre where there is fashion on show. Also there are many small boutiques specialising in young designers' work. Watches, leather, homewares are being created by designers from diverse origins. And if you can bypass a snow globe there are beautiful souvenirs to purchase that are not kitsch or cliché. Souvenirs as gifts—f you can bear to part with them.
It is difficult to sum Vienna up on a couple of pages; hard to explain its vibrant personality, its fierce loyalty to tradition and its bold acceptance of the new and adventurous.
It is difficult to sum Vienna up on a couple of pages; hard to explain its vibrant personality, its fierce loyalty to tradition and its bold acceptance of the new and adventurous. The art of enjoyment is what Vienna is about.
Vienna is shortlisted in the Destination Category of the Australian LGBT Awards 2018 and in 2019. The capital will host Europride which is expected to attract more than a million participants.
Check out www.facebook.com.ViennaTouristBoard/videos
TIPS: Buy a Vienna Card on arrival for visits to lots of attractions and transport. It is great value. AND you must take a ride in a Fiaka.
Follow LOTL on Facebook and Twitter.
Support your LGBTQI Media