Curvette Emelina Minero shares her experience being a camper at Autostraddle's queer camp, A-Camp.
What would it feel like to wake up and start your day without any self-critical thoughts, without worrying about how others will perceive you and without any concerns of having to act a certain way to fit in? Do you know what it feels like to be supported and to feel empowered to be exactly who you are?
This is what I experienced at Autostraddle's A-Camp 4.0.
What is A-Camp? A-Camp was like my orientation week as a first-year at Randolph-Macon Woman's College. A-Camp is community. A-Camp is a congregation of beautiful human beings and queer feminists who are emotionally honest and who foster a safe space for others to be emotionally honest. A-Camp is part woman's college, part summer camp and part that queer community you feel is missing from your life.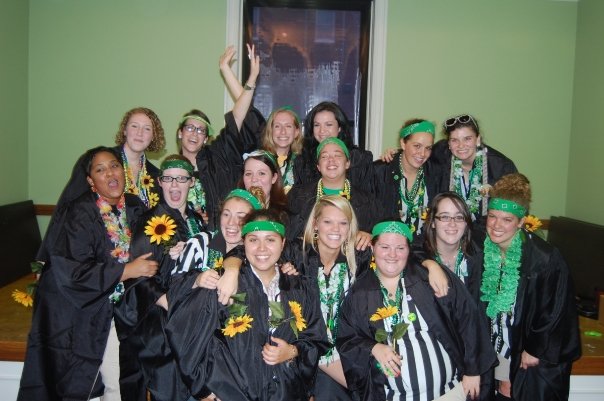 The Woman's College Experience, 2010 Etas from Randolph-Macon Woman's College
A-Camp is a 4-day queer camping experience in the mountains of Alpine Meadows in Angelus Oaks, California, two hours from Los Angeles.
My A-Camp experience began when I got off the plane in LAX from SFO at nine in the morning and walked up to a group of women in terminal six asking, "Is this for A-Camp?" I introduced myself to about 20 queer women, asking each of them their names in exchange for mine.
I met Brittney from Louisiana who was returning to A-Camp for the second time. She shared with me what A-Camp was like for her and answered my questions about the color wars, pranking and what kind of activities I could expect.
I met Kate from Illinois who brought me back a large iced vanilla latte from her airport Starbucks run.
I met Kerrie and Cassie from Canada. I felt incredibly at ease with them, like we were already friends, when in reality we were all meeting for the first time. I learned about Cassie and Kerrie's connection to music and the current political climate in Canada. I told them that I was going to do standup at the A-Camp Carnival and that I was going to give a CAMP Talk, either revolving around developing a self-love practice or how people impose their understanding of labels onto the identities of others. I hadn't prepared anything yet for either and was nervous that I'd go blank on stage. They told me that they'd sit in the front of the room, cheer for me and laugh, even if I wasn't funny.
A-Camp hadn't even officially started, and I already felt like I was experiencing something special. A couple of hours at the LAX airport, and I already felt like I was in a safe space. Being out in the real world, I sometimes underestimate the power that comes from living in a safe space. In my hometown, four days post A-Camp, I had already experienced feeling unsafe due to my gender expression. I was standing outside, waiting for the bus, and I felt like my physical safety was compromised. I walked away to a different bus station.
The safe space that A-Camp provided allowed me to let my walls down, allowed me to be emotionally honest and it allowed me to feel completely comfortable and confident in myself exactly as I was. That sense of safety and comfort opens the door to honest and genuine communication with others, and that was what made A-Camp unique.
The difference between A-Camp and mainstream queer spaces is that everyone was approachable at A-Camp. When I go to a club environment, everyone is in their cliques or carries a standoffish attitude, but at A-Camp it seemed like nobody held any pretenses, and the majority of people were coming for the first time without knowing anyone else.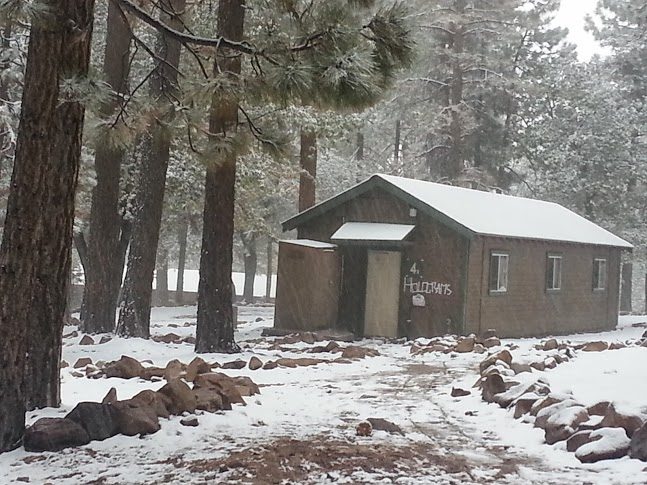 An A-Camp Cabin
When we arrived to A-Camp, most of us were surprised by the Thomas Kincaid backdrop. The ground was covered a few inches deep in snow and it was still falling as we were walking to the registration cabin, greeted by multiple "Hello's" and "Welcome to A-Camp's." When I saw Robin Roemer on the way to the registration cabin, the A-Camp co-director, she greeted me with a big hug. I had been emailing Roemer for the past three years in relation to Curve and Autostraddle, and it was great to finally meet her in-person.
When we got into the cabin, the staff greetings continued. As I was moving through the line, sipping on hot cider, picking up my A-Camp bag and swag from sponsors, signing forms and getting my picture taken, I heard "It's so nice to see you." Rachel Kincaid, Autostraddle's Senior Editor, greeted me with such warmth and familiarity that I wondered if I had met her before. A lot of people told me that they felt overwhelmed at their first A-Camp. They loved it. It was life changing, but overwhelming. I didn't feel overwhelmed. I felt at home.
After registration, we were directed to our cabins. I was put into the Heartthrobs cabin, inspired by Tegan and Sara's latest album. I, along with one of my cabinmates, walked through the snow to the outskirts of camp and entered into our heated, two-bathroom cabin that held about eight bunk beds. I wondered if there would be any awkward moments over only having two bathrooms among 16 people and how we'd go about claiming beds, but I had no reason to worry. We all got along well, we didn't have any problems concerning the bathrooms and these people who I first viewed as strangers quickly became my comfort.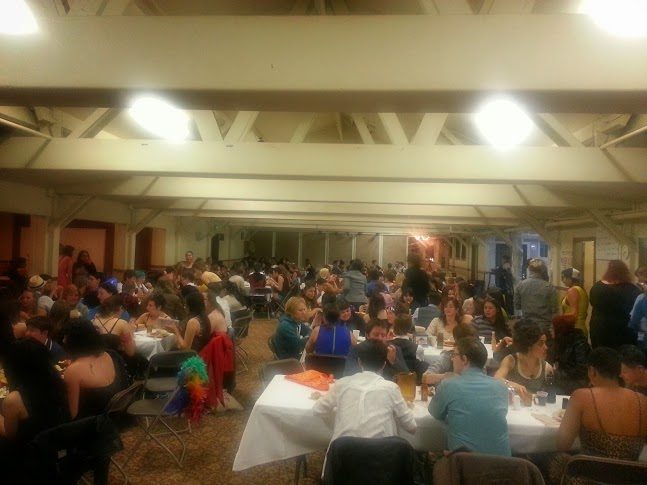 A-Camp Cafeteria
Once settled in, everyone met up for dinner. It was a mix of Hogwarts and being back at my college cafeteria. We sat with our cabinmates, and introductions and announcements bellowed from the front in a beginning-of-term-Dumbledoresque manner.
9:00 p.m. marked cabin initiations, reminiscent of my secret society days at Randolph-Macon Woman's College. My camp counselors, Hansen and Crystal, made each of us necklaces, and two of our cabinmates brought each of us sunflowers. Sleeping in the Heartthrobs cabin, Hansen and Crystal had us each pick a heartthrob before we arrived at camp, and during our cabin initiation we went around in a circle, introducing ourselves and our heartthrobs. My heartthrob was Rachel Skarsten, Tamsin from the TV show Lost Girl. I chose her for her strong personality and in-charge attitude. We also created a cabin cheer that involved both our cabin name and our color. We were orange, along with two other cabins. Each cabin is given a color to compete in the color wars, a series of activities spread throughout the week where we can compete for points for our team. Purple won the color wars the previous two years. Unfortunately for purple, and fortunately for me, orange won this year. 
Later in the evening was the opening campfire, which happened indoors due to the unexpected snow. Two hundred plus queer women and gender queer and trans* people filled an assembly room, sitting on folding chairs, with a faux fire place flickering on a projector. The opening campfire kicked off with some impromptu singing and guitar playing by the staff and counselors, followed by our cabin cheers. Each cabin went to the stage to show off their cabin cheer, and I may sound biased, but it was unanimous that the heartthrobs had the best cabin cheer.
After dinner that night, Roemer asked me what I thought of A-Camp so far, and I told her that it exceeded my expectations, and it hadn't even officially started yet.
Support your LGBTQI Media