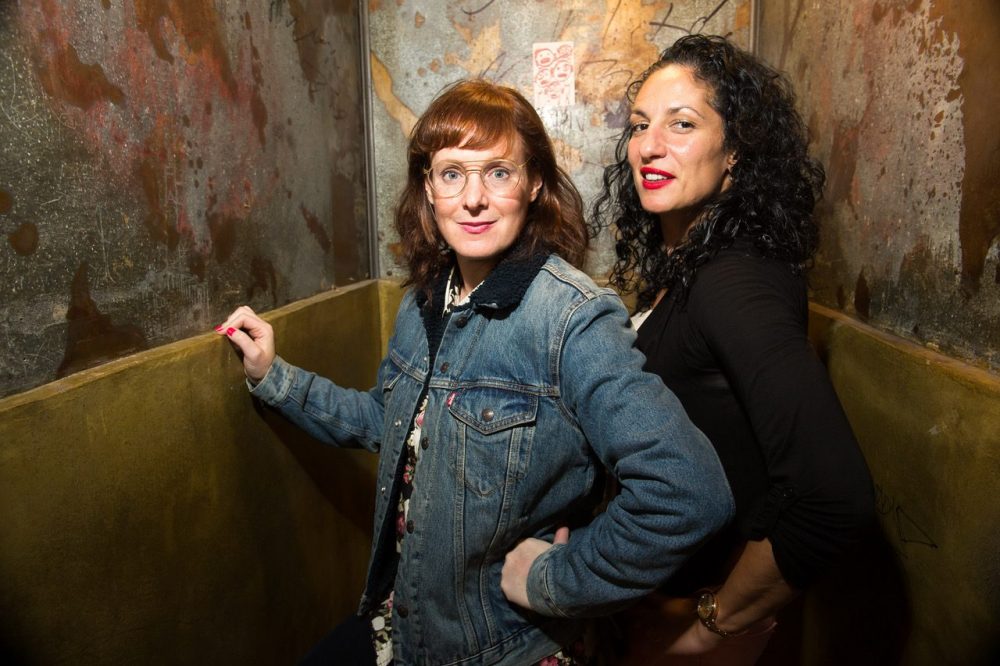 RSVP at Arlo; A really sexy variety show!
If you're in New York and you find that theater—or the cover charge and two-drink minimum at a standup comedy club or music venue—is out of your price range but you'd like to experience live performance in a classy and intimate setting, girl, do I have a tip for you!
RSVP at Arlo is an extremely fun, cool, relaxed, and cutting-edge variety show that features a lineup of established and emerging variety performers: with stand-up comedy, drag, burlesque, singing and satire—often with a very queer twist—this is one of my favorite discoveries of the year.
RSVP at Arlo was designed to shake up the usual after dark offerings of New York City nightlife. With a mixed bill of acts curated by husband-and-husband team Jason Jude Hill and Daniel Sears, this is an insider's take on accessible and enjoyable performance art that will leave you amused, astonished, and entertained.
Set in a sophisticated, lounge-like environment on the mezzanine level of the Arlo Hotel in Manhattan's NoMad district, it's a perfect choice for anyone: couples on a date, friends looking for a fun group activity, or a memorable celebration.
The 'RSVP' stands for Real Sexy Variety Party, and it is! The adult-themed performance lineup has included: Grammy-nominated singer/songwriter Chaney Sims, musical comedy duo Reformed Whores, ventriloquist Carla Rhodes, comedians Katie Hartman and Khalid Rahmaan, tap buskers Mediocre Flow, trans performer Becca Blackwell, jazz club icons Irini Res & The Jazz Mix, performance artists Kristine Haruna Lee & Jen Goma, cosmic country crooners Goldenchild, downtown reggae rocker Felice Rosser, and lesbian married couple The El-Salomons (featured in the Spring issue of Curve).
And to get you in the mood, a complimentary cocktail is included with all tickets, and drink specials are available throughout the show at BARlo, which serves craft cocktails and $8 house wine/beer. RSVP ticket holders receive 15% off pre or post-show dinner at Arlo NoMad's lovely first-floor restaurant.
The seating at RSVP makes you feel like you're in a fabulous design-centric penthouse but it won't break the bank. Choose from $5 cushioned, front-row floor seats with ticket holders able to upgrade their seats for free before showtime if capacity allows. Fun games and nifty prizes are awarded during the show.
LGBTQ+ performers at the fabulous February shows included: Anne Rodeman and Damian Bellino (comics and pop culture critics), Mehran Khaghani (comic and host), Mona Mour (aka Andrew Fitzpatrick; drag queen), and Fab the Duo (singer-songwriter boyfriends).
I'm looking forward to the march shows featuring Vodka Stinger (aka Garth Schilling; drag cabaret and host), Shihori (award-winning Japanese singer-songwriter), Cornelius Loy (Theremin Virtuoso), Tanya Solomon (Preposterous Comedy-Magic), Sharon Spell (No Bummers Storytelling), Vipe X Feetz (Amazing Flexn Dance), and more surprises! And here's a heads-up for the exceptional talent Ganessa James (soul/funk/rock singer-songwriter) in May.
RSVP is the place to relish fearless thespians and spot rising stars before the rest of the city catches on! It's in this intimate and immersive environment that I discovered two recent favorites: out and proud pop-rock act Fab the Duo, and Jewish-Palestinean couple Jess Salomon & Eman El Husseini.
I know I'll encounter more unique and fabulous talent throughout the year at this brilliant concept in NYC nightlife. And with tickets starting at five bucks I promise you it's the best deal in town. But shhh, don't tell anybody!
WHERE: Arlo NoMad 11 East 31st Street, New York, NY 10016
WHEN: Mar 22-23, May 17-18. Shows at 7:30pm & 10:00pm
TICKETS: $5 floor seats (cushion provided), $25 general admission (comfy couches and chairs). A free drink included with ALL TICKETS! Also $8 house beer/wine all night, and 15% off dinner before/after RSVP at Arlo NoMad's first-floor restaurant.
Support your LGBTQI Media