Photo (C) Lydia Marcus Photography
An Evening With Women
.
Cyndi Lauper, Others Show True Colors at LA Evening With Women
From the look on Jesse James' face, you have to wonder if he was shell-shocked by all the recent media attention, or maybe just stunned by the number of queers crowding into the Beverly Hilton for the LA Gay & Lesbian Center's annual Evening With Women.
James gamely strode the red carpet with Kat Von D (LA Ink), a fervent supporter of the Center since pal Linda Perry began orchestrating the entertainment program three years ago.

Kat Von D introduces fiancée Jesse James to Linda Perry on the red carpet at An Evening With Women.
Von D drew more attention inside the ballroom, igniting a bidding war during an auction for an exclusive luxury vacation spot on Kaui, which looked impressively paparazzi-proof. She was the highest bidder at $16,000, then offered her tattoo handiwork up for bid, bringing in more than 10 grand.
In all, the night amassed $360,000 for the center's youth and senior programs, an admirable accomplishment as the center enters its 40th year of providing social services.
Singer-songwriter Linda Perry, who's wrangled in such A-listers as Pink, Cristina Aguilara, Heart and Renee Zellweger over the last few years, continues to make An Evening With Women a must-see show.
Chely Wright (right) arrives on the arm of fiancée Lauren Blitzer:
"I'm really here because Linda Perry called me a couple weeks ago and said come on, get on a plane," said Wright. "We've been collaborating and developing a friendship and I just adore her."
"All those people who came were thanks to Linda, and Linda does more than just get celebrities," says Executive Director Lorri L. Jean. "Linda rolls up her sleeves and works to pull off this event."
This year headliner Cyndi Lauper followed the soulful Cat Power, Sarah Silverman's un-PC but hilarious comedy and the gritty goods from actress-singer Juliette Lewis.
Before the event Lewis said: "I'm here tonight to lend my voice and energy to the gay and lesbian center and hopefully we'll raise a lot of funds." Her first EP was produced by Linda Perry, and since Lewis has "toured the world" and made three records while still making films, including 2010's Due Date and The Switch with Jennifer Aniston.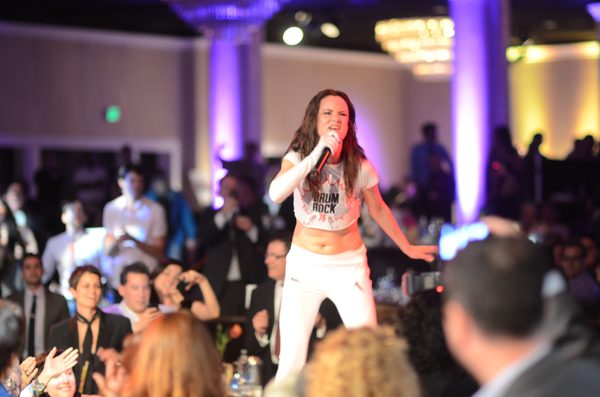 Juliette Lewis rocks the table tops singing Proud Mary.
It was a gutsy move for Lewis to attempt Tina Turner's Proud Mary (as it would be for anyone), but the girl rocked the house and the table tops at the Bev Hilton.
Not to be outdone, Cyndi Lauper also tip-toed among the water glasses as she dug into her blues roots. She crooned the gay community fave "True Colors," which has resonance for her, she says, because she originally sang it for a dying friend.
Cyndi Lauper sings her signature "True Colors" at Evening With Women gala.
The finale had everyone singing along, "girls just wanna have fun, oh girls … they wanna have fu-un."
And we di-id.